World Track Championships - CM
Stuttgart, Germany, July 30 - August 3, 2003
Event program and results Men's IP Women's IP
Women's 3000m Individual Pursuit
Qualification - Zijlaard quickest, but Mactier close
By Valkerie Mangnall in Stuttgart, Germany
Leontien van Moorsel
Photo: © Hennes Roth

World record holder Leontien Ziljaard-Van Moorsel received a wake-up call from Australia's Katie Mactier, who clocked an impressive 3:32.464 to qualify second in the women's 3000m individual pursuit, just behind the Dutchwoman's 3:32.002. Ziljaard-Van Moorsel will go up against Katherine Bates in the first round after the Australian qualified eighth (3:39.347). Mactier meets Frenchwoman Juliette Vandekerckhove.
New Zealand's Sarah Ulmer qualified fourth behind Russian Olga Slusareva, who last night won her third straight points race title. Also through to the next round are Diana Ziliute of Lithuania and Switzerland's Karin Thurig.
Final - Leontien tops
Leontien Van Moorsel
Photo: © Hennes Roth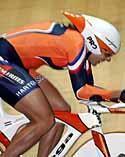 The queen of women's track endurance riding Leontien Zijlaard-Van Moorsel held onto her individual pursuit crown today, despite getting a big fright from a raw newcomer to the discipline. Former Australian road champion Katie Mactier, who has only been riding on the track since April, showed her enormous potential for Athens 2004 when she clocked an impressive three minutes 31.500 seconds in this morning's first round. Her time was just outside Olympic champion Zijlaard-Van Moorsel's world record of 3:30.16 and faster than the Dutchwoman's first round time of 3:31.736 as the pair set up a duel for the gold medal.
In the final, Mactier took off like a shot to lead the reigning world record holder and Olympic champion by more than two seconds after the first 1000m and more than one second at the 2000m mark.
Mactier admitted she had gone out too hard when the Dutchwoman fought back over the final kilometre to win in 3:32.657, compared to Mactier's 3:33.784.
And the Australian expressed mixed feelings about the result. "You go out to win but at the same time, I'm very realistic, and coming to the world championships was a thrill in itself and certainly anything that I came back with was going to be a bonus," Mactier said.
Katie Mactier
Photo: © Hennes Roth

"But if you get close to the goal, that's when it becomes ingrained in your head. However, there's always next year and 2004 is really in the heads of my coaches and in my mind and that's what I'm going to be preparing and training hard for."
While Zijlaard-Van Moorsel claimed her fourth world title for the event, she was aware she would need to improve to stay in front of Mactier. "I was really nervous in the morning because I knew that she was quicker and I knew I would have to fight really hard to the end," Zijlaard-Van Moorsel said.
"I knew my last kilometre was better and I was never watching the other side. I rode my race, watched my coach and my time and then with a lap to the end saw we were on the same time and I thought, 'now I need to sprint.'"
"I think she's a really good rider to train for three months and do those times, she is a big challenger for next year. I know I have to do 3:29 to beat her when she's in the same shape. I have to train really hard but that's good motivation."
Mactier's performance was made all the more remarkable by the fact she almost fell into the event. The 28-year-old from Melbourne was waiting for a visa to allow her to ride for professional team Saturn in the United States.
A delay meant she was going to still be in Australia during the national titles and so she entered the individual pursuit and won, earning an automatic start at the worlds as the Oceania champion.
Russia's Olga Slyusareva was third.
Photos
Qualifying
Images by Hennes Roth/www.roth-foto.de
Round 1
Images by Hennes Roth/www.roth-foto.de
Final
Images by Hennes Roth/www.roth-foto.de
Results
Qualification

1 Leontien Zijlaard-Van Moorsen (Ned)           3.32.002 (50.94 km/h)
2 Katie Mactier (Aus)                           3.32.464
3 Olga Slusareva (Rus)                          3.34.600
4 Sarah Ulmer (NZl)                             3.34.818
5 Diana Ziliute (Ltu)                           3.37.417
6 Karin Thürig (Swi)                            3.38.467
7 Juliette Vandekerckhove (Fra)                 3.39.343
8 Katherine Bates (Aus)                         3.39.347
9 Alison Wright (Aus)                           3.39.614
10 Emma Davies (GBr)                            3.40.538
11 Svetlana Ivakhonenkova (Blr)                 3.41.671
12 Marion Clignet (Fra)                         3.43.589
13 Erin Mirabella (USA)                         3.44.444
14 Anouska Van Der Zee (Ned)                    3.44.870
15 Gema Pascual Torrecilla (Spa)                3.45.449
16 Meifang Li (Chn)                             3.46.767
17 Diana Elmentaite (Ltu)                       3.49.404
18 Pernille Jakobsen (Den)                      3.50.121
19 Erin Carter (Can)                            3.50.545
20 Verena Joos (Ger)                            3.51.398
21 Evelyn Garcia (ESa)                          3.52.553
22 Belem Guerrero Mendez (Mex)                  3.56.242

First round

Heat 1

1 Sarah Ulmer (New Zealand)                     3.33.840 (50.504 km/h)
2 Diana Ziliute (Lithuania)                     3.37.880

Heat 2

1 Olga Slusareva (Russia)                       3.32.970 (50.709 km/h)
2 Karin Thürig (Switzerland)                    3.33.560

Heat 3

1 Katie Mactier (Australia)                     3.31.500 (51.063 km/h)
2 Juliette Vandekerckhove (France)              3.36.539

Heat 4

1 Leontien Zijlaard-Van Moorsel (Netherlands)   3.31.730 (51.006 km/h)
2 Katherine Bates (Australia)                   3.38.332

Finals

For gold and silver

1 Leontien Zijlaard-Van Moorsel (Netherlands)   3.32.657 (50.786 km/h)
2 Katie Mactier (Australia)                     3.33.784 

For bronze

3 Olga Slusareva (Russia)                       3.31.938 (50.96 km/h) 
4 Sarah Ulmer (New Zealand)                     3.33.661