Recently on Cyclingnews.com
Book review - November 16, 2003
Put me back on my bike - In search of Tom Simpson by William Fotheringham
Much more than a tragic death
Tom Simpson is remembered today for dying on Mont Ventoux in the 1967 Tour de france. But John Stevenson finds that William Fotheringham's biography of Simpson takes the reader on a journey that finds here was far, far more to Simpson than his final moments.
A must-read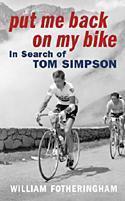 The manner of his subject's death hangs like a pall over William Fotheringham's superb biography of brilliant but ill-starred British cyclist Tom Simpson, which has just become available in paperback. Simpson died of heat stroke and cardiac failure on the slopes of Mont Ventoux during the 1967 Tour de France. He had amphetamine in his bloodstream and was reported by team-mates to have drunk brandy before the mountain to try and ease stomach pain. Over the course of this biography - which has elements of documentary as Fotheringham uncovers and develops a deep affection for a man who died while the writer was, as he puts it, "still in nappies" - it becomes clear that it's far too simplistic to blame Simpson's death on drugs, though they were undoubtedly a factor.
Simpson was the first British rider to wear the yellow jersey in the Tour de France and the only Briton ever to win the professional world road race championships, Milan-San Remo, the Tour of Flanders and the Giro di Lombardia. Simpson's achievements on the bike were all the more remarkable for the time they happened. While English-speaking riders are now common in the European peloton, in the early 60s a lad from County Durham in the North of England was a rare bird indeed.
Although just forty years separate Simpson's time from today, the sense Fotheringham conveys of cycling in the 60s was that it wasn't just another country, but a different planet. Drug use was routine, and there's a strong sense that the outrage expressed by riders such as Simpson's contemporary Jacques Anquetil over drug controls was fuelled in part by the feeling that it was the fault of race organisers and the fans they catered to that riders resorted to stimulants in the first place. To make a living, riders endured brutal schedules, as when Simpson raced 18 times in three weeks after winning the world championships, driving 12,000 miles between events in the process. After a similar whirlwind of racing following his first Tour de France in 1960 Simpson managed to put himself in hospital with exhaustion. Drugs were just part of the lifestyle.
The Tom Simpson who rode into this lifestyle when he signed for the Rapha-Geminiani team in 1959 was a prodigiously talented and driven young man who already had a reputation for a 'win or die trying' riding style. A prankster and a risk taker with the charisma that often accompanies tremendous talent, he soon became a respected member of cycling's elite in the early 60s: a friend of Jacques Anquetil and later a team-mate and mentor to another massive talent, a young Belgian called Eddy Merckx.
Simpson's drive and ability to ride himself into the ground was another factor in his death, as was the woeful state of athletic science in cycling at the time. Riders believed that too much water during a race could be detrimental and race organisers forbade riders from taking water from team cars, fearful that they would use the hand-up to get a tow. Riders were forced to scavenge for water from fans, roadside fountains and the like, and regularly finished races in states of severe dehydration. In hindsight it seems almost inevitable that the combination of poor hydration, stimulants and naked ambition was going to kill someone. That someone was Tom Simpson.
Simpson's passing left a powerful sense of loss with everyone who was close to him. It's clear that he was deeply loved for his charm, wit and energy as well as for his ability on the bike. Simpson was always full of ideas and schemes, from investment and property development projects to carry him past retirement to the notion of a British pro team funded by fan subscriptions - an idea fulfilled 30 years later by the Euskaltel-Euskadi squad. His relentless energy seems to have carried along everyone around him.
I started this review not wanting to write too much about Simpson's death, and I suspect Fotheringham did the same. But the events of July 13 1967 are unavoidable, and on the way to explaining how and why Simpson died, Fotheringham has done a sensitive and insightful job of describing a complex, talented and intense character who deserves to be remembered for far more than the manner of his death. On the way, you get to look over Fotheringham's shoulder as he journeys around the UK, Belgium and France in search of Simpson, and a sense of deepening affection and respect for the rider who died over three decades before pervades the book.
If you missed the hardback earlier this year, don't miss the paperback edition - this is a book you should own.
To order this book
Cyclingnews and Amazon have joined to bring this book to the rest of the world. Priced at just £6.39 plus postage, you can own this essential addition to every cyclist's bookshelf. To order from Europe and the UK, just click here. To order the hardback in North America, Asia-Pacific and rest of the world, use this link.
Recommended retail price: £7.99 from bookshops, £6.39 from Amazon
Available: Good bookshops
Cyclingnews Rating:

What do you think of the 'Put me back on my bike'? Let us know
Recent tech
Tour tech: Zipp's slippery new wheel revealed
On test: Klein Palomino XV
June 25 news: New Giant carbon, Crank Bros, Colnago proto, Scott, Topolino
Book review: Lance Armstrong: Images of a champion
New bike for Van Moorsel
New bikes from BT
Cicli Pinarello displays its racing history: Fifty years of classic bikes
June 17 new arrivals: Specialized, Crank Bros, Thomson, Bicycling Science, Drop In
Pro bike: Iban Mayo's Euskaltel-Euskadi Orbea TT climbing prototype
On test: Campagnolo Eurus G3 wheels
Pro bike: Lance Armstrong's Trek Madone SSL proto
Pro bike: Emanuele Sella's Battaglin
June 8 news, part 1: Giro's Rev Six revs up at Dauphine, Rebellin conquers on Wilier carbon proto, Giant spy photos at the T-Mobile Service Course
June 8 news, part 2: Specialized unveils new kit, Cervelo & CSC fine-tune at MIT, New forks from Alpha Q, Paint job of the year?
Pro bike: Dede Demet-Barry's T-Mobile Giant TCR Carbon
Bikes of the Giro part 2: The mountains
New arrivals: DMT, Jaggad, Blue Steel, Cannibal, Ellsworth, LeMond Fitness, Atomic Mount
On test: Park Tool IB-1 & IB-2 multi-tools
De Marchi responds
On test: Giro Monza
On test: De Marchi Contour bib shorts,
On test: DeFeet Armskins
May 21 news: Petacchi's new Pinarello, Mayo's Orbea TT secret weapon, adidas, Mavic, Ambrosio, True Temper
On test: White Industries Eccentric ENO hub
World exclusive pro bike: Marion Clignet's Look 496 track bike
On test: Carnac Quartz road shoes
Repair & maintenance: Recording MTB position
Pro bike: Chris Horner's Webcor Lemond TT bike
May 13 news: New Shimano wheels, 29inch victory, CycleOps, Naviion
New arrivals: Crank Bros, Park Tool, Sports Instruments, Morningstar & Panasonic,
New arrivals: 2004 clothing from Campagnolo
On test: Orbea Orca - Real-world team issue
On Test: Specialized Bar Phat tape
Bikes of the Tour de Georgia
Apr 30 news: Campagnolo, Klein, Giant, Sports Instruments, Burley, La Ruta
Apr 27 news: IRD, Oval, Fi'zi:k, Camelbak