Tech News – June 25, 2004
Edited by John Stevenson
Got tech? Send press releases, news, and tech questions to the Cyclingnews tech-heads.
Giant's new TCR Advanced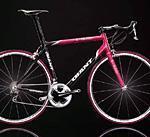 The TCR Advanced's new seat tube design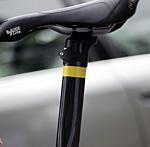 Giant Europe's Tom Davies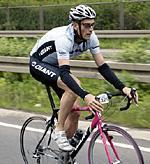 Giant gets lighter with TCR Advanced
By Ben Atkins
In time for this year's Tour de France Giant has unveiled the next generation of its composite frames: the TCR Advanced.
The frame has been developed using new and different kinds of composite fibres and resin; a "scientifically selected and custom made combination of several different special aerospace grade high strength high modulus fibers" (according to Giant) has been combined with a "new nano resin" to make the frame both lighter and stiffer than the existing TCR Composite.
Giant says its engineers have combined finite element analysis, dynamic vibration analysis, strength testing and input from pro riders to optimise the design. Heavy influence from riders in teams such as T-Mobile has allowed them to "increase both the strength and rigidity of the frame whilst using less material."
The most obvious new feature of the frame is the extended seat tube, which negates the need for a separate seat post - Giant also claims this enhances comfort. The specially designed clamp allows for 20mm of height adjustment.
The claimed weight of the medium size frame and fork is less than 1250 grams, which Giant says is a considerable saving on the conventional frame which needs an additional seat post and clamp (an extra 175 grams according to Giant).
The frame also features a new Advanced fork. Giant's objective was to "keep the same lateral comfort as the current design but to enhance the lateral rigidity". They have managed to achieve their objectives and also keep the weight down to a claimed 350 grams.
A modified version of the TCR Advanced has been ridden by Jan Ullrich and Erik Zabel in races this spring, including the Tour of Germany. The version they rode did not have the elongated seat tube, but was identical in all other areas, it can be identified by the narrower head tube area. Jan Ullrich obviously enjoyed the experience, riding strongly in the Tour of Germany and winning the Tour of Switzerland. The full elongated seat tube version was ridden in the later stages of the Giant Tour by Tom Davies, Sports Marketing Manager of Giant Europe.
The TCR Advanced will be ridden in this year's Tour by selected members of the T-Mobile team and will be the standard issue team bike for the 2005 season. It will be available for sale as a frameset only (in sizes S, M, L) through selected Giant dealers for an estimated €2990 as part of the 2005 range.
Crank Brothers Quattro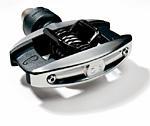 Crank Brothers hits the road
Adding to its existing three-item line-up of pedals, component and accessory maker crank brothers has introduced the Quattro road pedal, providing a road-specific alternative for riders like Fred Rodriguez who have been pressing its Egg Beater mountain bike pedals into service on the road.
The Quattro uses Crank Brothers' four-sided spring-and-bar engagement mechanism, with a fiber-composite body and stainless steel side-pates and a new cleat design for a stable interface between shoe and pedal. The Quattro also boasts a narrower Q-factor (the distance between your feet) than Crank Brothers MTB pedals.
Claimed weight is 312g per pair (363g with cleats), and RRP is expected to be US$170.
Extra photos
The top view of the Quattra
Levi Leipheimer's proto C50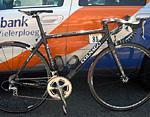 Classic Colnago stays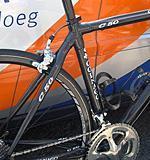 Cinelli Ram handlebars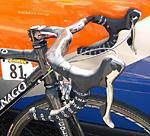 Levi Leipheimer's Rabobank Colnago C50 prototype
By Tim Maloney
Levi Leipheimer has been riding his Colnago C50 prototype since Liege-Bastogne-Liege, when he and his two Rabobank teammates Boogerd and Rasmussen also got this special version of Ernesto Colnago's latest carbon fibre dream bike. "This bike is perfect; we've gotten the bikes and wheels dialed in 100 percent" enthused the usually more reserved Leipheimer when we asked him about his new ride at the Dauphiné Libéré.
When we asked Colnago why this bike was not painted in the usual orange and white Rabobank team livery, the mago of Cambiago explained, "we have only given this frame a clear coat to save some weight; painting can add 200 grams to a bike, you know." Colnago explained that this new C50 was lighter than the current production model and would replace the existing C50 for 2005.
"But that's not all", said Colnago with a twinkle in his eye. "We're preparing a special extra light prototype version of the C50 for the l'Alpe d'Huez TT in the Tour for Leipheimer, Boogerd and Rasmussen. If this model tests well, and proves to be safe as well as light, we will have a limited edition for 2005 as well." With that, Colnago pulled out Leipheimer's 48cm sloping frame and placed it on a scale, showing 920 grams without fork.
"Boogerd's 56cm bike will weigh in at 950 grams," said Colnago. "You have to understand that we can go lighter, but then the frame is too light and can break easily. That's not the way we build bikes here at Colnago."
Specification
Frame: Colnago C50 protoype 48cm sloping
Fork: Colnago Star Full Carbon monocoque fork
Colour: Proto Black
Cranks: Shimano Dura-Ace 10 speed 172.5 / 53X39
Chain: Shimano Dura-Ace
Front derailleur: Shimano Dura-Ace
Rear derailleur: Shimano Dura-Ace
Brakes: Shimano Dura-Ace
Levers: Shimano Dura-Ace
Rear sprockets: Shimano Dura-Ace 12-23
Wheels: Shimano Dura-Ace 7800 tubular
Tyres: Vittoria Tubulars 21mm
Bars & Stem: Cinelli Ram Carbon Fibre Integrated
Headset: Shimano Dura-Ace
Pedals: Shimano Dura-Ace
Saddle: Selle San Marco Aspide
Seatpost: Colnago carbon fibre
Scott weighs in on Rebellin's bike
A couple of weeks ago we ran a little item on the bike Davide Rebellin rode in his amazing string of Classics victories this year, quoting a claim by Gerolsteiner's bike sponsor Wilier that it was a prototype. Quite a few readers wrote in to point out that the bike bore more than a passing resemblance to a Scott CR-1, and it seems that Scott has noticed this too.
Scott's European office recently put out a statement about Rebellin's bike, saying, "We at Scott became aware of Davide Rebellin and other team members' use of a Scott CR1 frame early in the season when we first saw the design in early season races. We were flattered that the riders so valued the properties of our product that they would be willing to race it competitively. At that time we decided internally that we would not publicize the use of the Scott CR1 frame in respect for Wilier's situation."
However, Wilier has earned Scott's ire with claims such as the presentation to Cyclingnews of Rebellin's bike as a Wilier proto, and a press release issued in March that said, "Rebellin has won the Amstel Gold Race using a "Team" full carbon frame that won't appear in the trade until next September and that will be presented in the upcoming trade fairs. With its 920 grams weight, the frame is the lightest in the professional scene today."
In its statement, Scott hit back: "Rebellin indeed uses the lightest frame in the pro peloton. The Scott CR1 size 56cm weighs 895g and is available today around the world via Scott and its distributors."
While there's been no official comment out of Wilier yet, Cyclingnews understands that Wilier is working on 2005 models with the same Taiwanese manufacturer that makes the CR1 for Scott. Any development project has to start somewhere and the jumping off point in this case is the CR1, as the bike already coming out of this builder.
Topolino wins award
Composite wheel manufacturer Topolino has won a major design award from the Society of Plastics Engineers. The SPE gave it's annual Consumer Plastics Product Design Award to Topolini for "the synergistic combination of its polymer composite spokes, its composite hub, and most important, the construction methods used to transform these materials into a wheel," according to the SPE's website.
Topolino's founder and president Raphael Schlanger was understandably pleased, saying, "We knew significant performance and weight benefits could be realized by integrating a composite spoke and hub shell, but the technology literally didn't exist. We really had to re-think the whole way the wheel is constructed. It's a great feeling to have our final product, after of years of intense development, recognized by such a distinguished group of fellow engineers."
Cyclingnews is currently subjecting a pair of Topolino wheels to the Jeff Jones long-term torture test. Jeff reports that with several thousand kilometres of Belgian roads under them, they're holding up well, and "work on cobbles."