New Arrivals – June 17, 2004
Edited by John Stevenson
Got Tech? Send press releases, news, and tech questions to the Cyclingnews tech-heads.
Welcome to New Arrivals, a section showcasing the latest equipment that's landed on the Cyclingnews tech desk. Look out for reviews over the next few months when we've clocked up some saddle time with this stuff.
Specialized Pro Carbon 04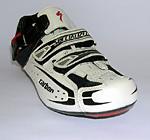 Specialized Pro Carbon road shoes
The 2004 fruit of Specialized's Body geometry shoe design program is these carbon-soled, synthetic leather-uppered, three-strap units that tip the scales at 630g/pr and will put a US$185 hole in your credit card should you decide to plonk down some of your hard-earned on them.
Features include a three-strap closure with two Velcro straps and a ratchet buckle; Body geometry comfort features such as a Varus wedge, metatarsal button, medial arch support and three-density Performance Footbed; and moulded heel cup.
There are fittings for SPD, SPD-SL, Look and Speedplay cleats and the buckle and strap are replaceable.
More info: www.specialized.com
Price: US$185

Crank Bros Mallet M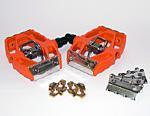 Crank Bros mallet C pedals
After grabbing everyone's attention a couple of years ago with the innovative Egg Beater pedal, Crank Bros has continued to develop the design, introducing the general-purpose semi-platform Candy pedal last year, and most recently the Mallet C platform for riders who want a lot more support.
The Mallet Cs weighed 540g/pr and while that's not a bad weight for a clipless/platform pedal - and it doesn't matter much to downhillers, one of the main users of this sort of pedal - lots of people who also ride uphill like the comfort of platform pedals. For them, Crank Bros has introduced the Mallet M. That's M for magnesium, used for the body of a pedal that tips the scale at 460g/pr. That makes the Mallet Ms the lightest clipless platform that we're aware of.
Mallet Ms are available in silver and team issue orange and an extra set of the replaceable metal end plates is included with longer teeth for better pedal grip.
Price: US$140; Au$269
Weight: $460g/pr
Colours: Silver, orange

Thomson Elite X4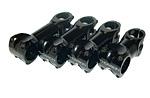 Thomson Elite X4 31.8 MTB stems
From the good folks at stem and seatpost gurus LH Thomson come these mountain bike stems sized to grab a 31.8mm handlebar. The Elite X4 gets its name from the four bolts used to hold the handlebar, while a pair of bolts grabs the steerer. Torque wrench fans will be pleased to see torque settings etched into the stem.
Currently, the available sizes are 70, 90, 100, 110mm in zero-degree angle, with 120, 130, 140 and 50 coming soon, followed by a ten degree option.
Thomson bills the Elite X4 as "the lightest, strongest 31.8 stems available" and the weight claim certainly seems fair - we've not been able to find any 31.8mm MTB stems lighter than these, and the Elite X4 is lighter than plenty of road 31.8mm stems.
Weights: 110mm - 171g; 100mm - 167g; 90mm - 159g; 70mm - 147g
More info: www.lhthomson.com

Bicycling Science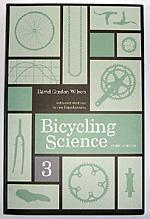 Bicycling Science
It's been a long time coming, but the third edition of classic cycling tech book 'Bicyling Science' has finally arrived. The 1982 second edition, by current author David Gordon Wilson and Frank Rowland Whitt, who died of the after-effects of a stroke in the early 80s, has been out of print for a few years and a third edition was therefore long overdue.
The second edition was an essential part of any cycling tech-head's book-shelf - so much so that another cycling tech-head liked my copy enough that they never returned it after borrowing it back in the '80s! The third edition looks likely to be similarly essential with chapters on cycling history, human power generation and cooling, seven chapters on physics and engineering topics such as aerodynamics, braking, materials and steering and a final pair of chapters on human powered vehicles and machines beyond the standard bike.
This almost certainly isn't a book anyone will read cover to cover, but it looks like excellent dip-in and reference reading. Look for a full review in a few weeks' time, or if you can't wait, scoot on over to Amazon US or Amazon UK for your copy.

Drop In II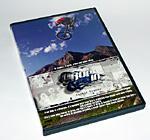 Drop In II
Drop In is a Canadian-made TV series featuring a band of mountain bike daredevils traveling to various super-technical riding hotspots and throwing themselves and their bikes down stuff that would have sane people reaching for the abseiling gear or calling a helicopter.
This pair of DVDs features all 13 episodes of the second series in locations such as Vancouver Island, Whistler, and Kamloops.
Price: $41.99
From: www.pinkbike.com