Recently on Cyclingnews.com
Tech News – June 8, 2004, part 2
Edited by John Stevenson
Got tech? Send press releases, news, and tech questions to the Cyclingnews tech-heads.
Specialized's aero TT helmet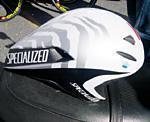 Specialized's carbon-reinforced Decibel helmet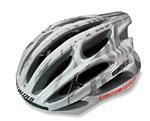 Specialized's new Optics eyewear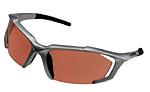 Specialized 2005 Roubaix Pro shoes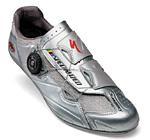 Specialized unveils new kit
Specialized had released information on a few new items in advance of the usual late-summer deluge of new gear releases; the Big Red S company was also trialing an aero helmet design on Domina Vacanze riders at the Giro, though there's no word as yet as to when or even if it will make it to production.
One helmet that definitely will make it to production is the new Decibel, a radical evolution from Specialized's previous top of the line S2 lid. The Decibel features a carbon-reinforced shell that Specialized says has allowed bigger vents and deeper internal air channels for even better cooling (and the S2 was no slouch in that department). The Decibel is intended for both on- and off-road use and comes with clip-on visor.
Decibel will be available in July, in three sizes and six colours. There will also be a less-expensive version, the Aurora, which will also be available in a women's-specific design.
Probably the most starting news is that Specialized is getting into eyewear. Specialized's Optics line of glasses will comprise four designs, two for road and two for mountain biking. Unusually for cycling eyewear, all four use photochromic lenses, that is, lenses that change colour in response to the intensity of the light striking them.
For road cycling, the large-lensed San Remo and smaller-lensed Cortina glasses have a lens that has a darker range of colours overall, and a tint intended to enhance colour recognition, according to Specialized. The mountain bike range of Chicane (large lenses) and smaller Singletrack use lighter-coloured lenses that become completely clear in low light. All four use a lens material originally developed for Apache helicopter windscreens, and Specialized claims a darkening response of 15 seconds from lightest to darkest shade.
For its top-of-the-line 2005 S-Works Road shoes, Specialized is adopting the BOA dial closure previously seen on Pearl Izumi shoes, and combining it with existing FACT carbon fiber technology and Body Geometry design for shoe that are claimed to weigh a feathery 610g/pr in a size 42. They also boast on of those features that's either an ingenious gimmick or a damn good idea: 'chromed' fibers in the outside of the sole to reflect road heat and help keep your feet cool.
Finally, there's a new production version of one of the bikes Domina Vacanze has been campaigning this year, the S-Works Tarmac Road. Specialized's unusual aluminium-and-carbon design is to weigh just 1100g in a 56cm frame and will be available as a complete bike with a full complement of Specialized's FACT carbon components (fork, seatpost, bar, stem and headset spacers) and a Dura-Ace group.
More info: www.specialized.com
Cervelo & CSC fine-tune at MIT
The CSC, Cervelo and MIT test crew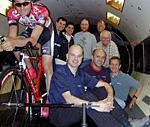 With the Tour de France just weeks away and the time trials expected to be crucial, Ivan Basso and Carlos Sastre of Team CSC and Phil White and Gerard Vroomen of bike sponsor Cervelo have been spending time at MIT's Wright Brothers Wind Tunnel getting Basso and Sastre's time-trial positions just right.
Cervelo has been working with MIT since 2002, when, after wind tunnel testing some of their bikes, White and Vroomen and Kim Blair of MIT's Center for Sports Innovation (CSI) decided to update test equipment at the wind tunnel in order to make it much more accurate and user friendly.
Basso and sastre were the first to use the newly-tweaked wind tunnel, which boasts a new computer interface that provides test engineers with immediate read-outs, adjusted in real-time for wind tunnel temperature, humidity, airflow speed, barometric pressure, and tare (the drag of the equipment without the test specimen) at each yaw angle (relative direction of wind). The single drag number is corrected to a constant air density and air speed so that immediate comparison with previous runs can be made. MIT says that this program is currently the only one of its kind capable of instantly adjusting the data for all these variables.
The revamped equipment also has a new bicycle test jig that is able to test at large crosswinds without the bicycle support interfering with the data. "The new set-up allows us to test incredibly fast," says Cervélo's Dave Kennedy. "We did ninety runs in one and a half days of run time. I have never seen anything this efficient before. On top of that, the repeatability was excellent, all tares were within 0.02lb and we could repeat Carlos' final position to within 0.25%, a value often even hard to achieve with still objects. That demonstrates both how stable the set-up is and how smooth these riders can pedal."
More info: www.cervelo.com
Alpha Q Sub 3 fork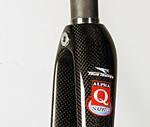 New forks from Alpha Q
Alpha Q has announced five new versions of four of its fork models. The economy-level EX and original Pro models are now available in a 38mm offset (as well as 41 mm and 44 mm) and the super-light Sub 3 fork now comes in 38mm and 50mm. Finally, the Aero fork gets a 650C incarnation for compact triathlon bikes and other machines using the smaller wheel size. All the new forks have all-carbon 1 1/8in steerer tubes.
More info: www.truetemper.com
Paint job of the year?
If Cyclingnews had a Paint job of the Year award, German companies Endorfin and Starshot would surely be in the running for this spectacular paint job to commemorate this year's 101st anniversary Tour de France.
Only 101 frames will be produced, of course. Yours for a mere €2,000, or €6,600 for the complete bike.
More info: www.endorfinbikes.de
| | | | |
| --- | --- | --- | --- |
| Endorfin & Starshot's astoundingly painted Tour special | An always newsworthy rider | Even the chainstay is painted | Lance Armstrong gets in the act |
June 8 tech news, part 1: Giro's Rev Six revs up at Dauphine, Rebellin conquers on Wilier carbon proto, Giant spy photos at the T-Mobile Service Course
Recent tech
Tour tech: Zipp's slippery new wheel revealed
On test: Klein Palomino XV
June 25 news: New Giant carbon, Crank Bros, Colnago proto, Scott, Topolino
Book review: Lance Armstrong: Images of a champion
New bike for Van Moorsel
New bikes from BT
Cicli Pinarello displays its racing history: Fifty years of classic bikes
June 17 new arrivals: Specialized, Crank Bros, Thomson, Bicycling Science, Drop In
Pro bike: Iban Mayo's Euskaltel-Euskadi Orbea TT climbing prototype
On test: Campagnolo Eurus G3 wheels
Pro bike: Lance Armstrong's Trek Madone SSL proto
Pro bike: Emanuele Sella's Battaglin
June 8 news, part 1: Giro's Rev Six revs up at Dauphine, Rebellin conquers on Wilier carbon proto, Giant spy photos at the T-Mobile Service Course
June 8 news, part 2: Specialized unveils new kit, Cervelo & CSC fine-tune at MIT, New forks from Alpha Q, Paint job of the year?
Pro bike: Dede Demet-Barry's T-Mobile Giant TCR Carbon
Bikes of the Giro part 2: The mountains
New arrivals: DMT, Jaggad, Blue Steel, Cannibal, Ellsworth, LeMond Fitness, Atomic Mount
On test: Park Tool IB-1 & IB-2 multi-tools
De Marchi responds
On test: Giro Monza
On test: De Marchi Contour bib shorts,
On test: DeFeet Armskins
May 21 news: Petacchi's new Pinarello, Mayo's Orbea TT secret weapon, adidas, Mavic, Ambrosio, True Temper
On test: White Industries Eccentric ENO hub
World exclusive pro bike: Marion Clignet's Look 496 track bike
On test: Carnac Quartz road shoes
Repair & maintenance: Recording MTB position
Pro bike: Chris Horner's Webcor Lemond TT bike
May 13 news: New Shimano wheels, 29inch victory, CycleOps, Naviion
New arrivals: Crank Bros, Park Tool, Sports Instruments, Morningstar & Panasonic,
New arrivals: 2004 clothing from Campagnolo
On test: Orbea Orca - Real-world team issue
On Test: Specialized Bar Phat tape
Bikes of the Tour de Georgia
Apr 30 news: Campagnolo, Klein, Giant, Sports Instruments, Burley, La Ruta
Apr 27 news: IRD, Oval, Fi'zi:k, Camelbak