Tech News – April 30, 2004
Edited by John Stevenson
Got tech? Send press releases, news, and tech questions to the Cyclingnews tech-heads.
Campagnolo goes compact
Campagnolo Chorus CT crank

Campagnolo Record CT crank

Here's a first look at two of Campagnolo's goodies for 2005: compact versions of the Record and Chorus carbon cranks, dubbed Record CT and Chorus CT.
Compact cranks leapt into the limelight at last year's Tour de France when Tyler Hamilton used 34/50 chainrings to allow himself to keep up a higher cadence in the mountains and so avoid the need to load his cracked collarbone hauling on the handlebars in a big gear. The notion was an immediate hit - many riders just don't need a 53 x 11 big gear, but can put a 34 ring to good use. The 110mm bolt circle used for most compact cranks was the standard on mountain bikes until a few years ago, so the usual resistance to the bike industry's 'Standard of the Month' syndrome wasn't an issue - indeed, plenty of us still have 110mm gear kicking around.
Campagnolo isn't just making a crank and chainrings, but a complete compact drivetrain. In particular, this means there will be a specific front derailleur for the compact cranks, to handle the smaller circumference of the rings, and the larger gap between sizes.
However, Campagnolo's CT cranks aren't 110mm. Campagnolo wanted to change the design of its carbon crank as little as possible, so the bolt placement on the crank arm is in a different position from the other four, which means only Campagnolo's own rings will fit.
Mountain bikes moved away from the 110mm standard to even smaller chainrings in the search for better ground clearance, and also lighter weight. We expect we'll see a lot of Record CT cranks on weight-weenie bikes at this year's trade shows as a compact drivetrain means lighter rings and cranks, but also less chain, one of the hardest parts to shave weight and still end up with a viable bike (titanium chains count as cheating).
As well as the Chorus and Record incarnations, there'll be a CT crank and front derailleur at the Centaur level too. The crank will be carbon, and a carbon Centaur crank will be available in Campagnolo's conventional 135mm bolt circle too. All the CT cranks will be available in 34/48, 34/50 and 36/50 combinations, in 170, 172.5 and 175 mm lengths.
More info: www.campagnolo.com
Klein absorbs shock
Klein Reve

Gary Klein has always had an eye on ways of reducing shock to the rider through his stiff, aluminium-framed bikes. He's experimented with boron fiber inserts in his frames, and his very early bikes sported touring bike length chainstays to reduce the amount of whack going straight up the rider's backside.
Klein Reve

Klein's latest foray into shock-reducing frames was launched at Sea Otter: the Reve frame incorporates an elastomer bumper in the seatstay that provides 0.5in of rear wheel travel. Not something downhill mountain bikers are going to get excited about, but plenty to take the edge off the bumps if your favourite roads are less than smooth.
The Reve also features longer chainstays than a typical road bike, a sloping top tube and long head tube for a more upright riding position, and clearance for 28mm tyres with fenders.
More info: www.kleinbikes.com
Giant gets sleeker and lighter
Giant third generation TCR composite

Giant was also at Sea Otter (as was just about everyone you can think of, but Cyclingnews was run off its feet covering the racing and only managed to snap a few highlights in the expo area). A lighter version of Giants TCR Composite frame has been rumoured for a whilemand Giant had it on display at Sea Otter - the third generation of the composite frame technology that has been a huge success for the Taiwanese bike builder.
The slimmed-down head tube area

Details are hard to come by but for the new TCR Giant looks to us to have deliberately slimmed-down the formerly massive head tube and seat cluster areas, using less carbon and ending up with a substantially more conventional look. It's only when you inspect the still-curvaceous bottom bracket area that you realize this is still a monocoque carbon frame.
Rumoured weight for the frame is 850g, which would make it the lightest mass-production frame that we're aware of, and among the lightest in existence.
More info: www.giantbicycle.com
Sports Instruments' auto training zones
Sports Instruments Pro Metal 9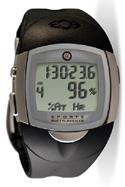 Sports Instruments' Pro Metal 9 is yet another entry in the incredibly crowded heart rate monitor arena. Two things set it apart from the herd, according to Sports Instruments: it looks good, with forged and machined stainless steel case, mineral glass lens and silicone rubber band, and it provides heart rate information in terms of your training zone instead of just giving you a raw number to deal with.
From your maximum heart rate or lactate threshold, the Pro Metal 9 automatically calculates and tracks your five training zones, and then stores information on the time you spend in each zone, percentage of time in each zone, workload index of the workout and average, maximum and ending heart rate for each lap and split.
Other functions include a memory that stores all the details of your last five workouts and a 100-Lap 200-Hour chronograph.
More info: www.sportsinstruments.com
More road from Burley
Burley cross/touring bike
Bike builder Burley is shedding its staid image as a maker of tandems and trailers with droolsome steel road bikes like these, on show at Sea Otter.
Burley Wolf creek

The screaming yellow rig is the 2005 version of Wolf Creek, which is now available hung with Dura-Ace, for a bike nobody will fail to notice. The frame is built from True Temper OX Platinum steel, and weighs a claimed 3.5lb. It's available as a bare frame or complete bike with a True Temper Alpha Q Pro carbon fork.
New from Burley is an as-yet-unnamed cyclo-cross/touring bike, also made from True Temper steel tubing, but in very different thicknesses and butting profiles from the Wolf Creek. To show off the prowess of its welders, Burley is finishing this bike in clear coat, providing an unadorned view of the welds.
More info: www.burley.com
La Ruta claims MTB lightness crown
La Ruta cross-country MTB

Inspired by the Ruta de la Conquistadores mountain bike race, the La Ruta is claimed by its creators, the 285 Design Group, to be the lightest cross-country suspension mountain bike ever. 285 doesn't make a specific claim about the frame's weight, but two features should certainly keep it down: the main frame material is titanium, and instead of bearing pivots the frame uses flexible sections at the chainstays and shock mount to provide rear subframe motion - 80-100mm of it, which is currently considered plenty for cross-country racing (though we remember when that was more than most downhill bikes had)
285 claims two years of development and offers the La Ruta with Manitou SPV and the Progressive 5th Element. 285 Design's website isn't up and running yet, but it will be at www.285.us.
Photography