Recently on Cyclingnews.com
Tech News– March 13, 2003
Edited by Paul Mirtschin
Got tech? Send press releases, news, and tech questions to the Cyclingnews tech-heads.
New toys
Photo: © Shimano

2004 Shimano: new Saint group for downhill
As we have mentioned a few times in the past months, Shimano is preparing to release a new mountain bike group, aimed at the downhill and 'freeride' set, but roughly the same quality level as the 2003 XTR. Now we can bring you all the news on it.
Called "Saint", and not XTX as previously mentioned, the new groups sits between XT (M7xx) and XTR (M9xx) in Shimano's coding system - the components have parts numbers M8xx. The images we have been able to obtain so far are of about half a group: chainsets, rear derailleur, hubs and brakes. Pedals are rumoured, but for the moment it seems you're expected to use Shimano's existing platforms or SPDs. Saint also doesn't yet have shifters, so XTR or 2004 XT STI shifter/levers (see below) are the go.
The two-piece Hollowtech2 cranks are some of the burliest we have seen, come in a triple, double and single ring configurations, and use the same integrated bottom bracket system as the 2003 XTR.

The new hubs use cup and cone bearings, with the front coming in a 20mm bolt-through size only, while the rear uses a new axle that is 20mm thick at the bearings but steps down to 10mm to fit in standard dropouts. The new Rapid-Rise rear derailleur mounts directly on the axle. This is claimed by Shimano to add durability and improve shifting performance.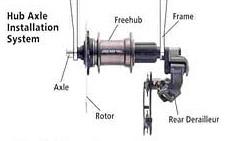 Three sizes of Rapid-Rise rear derailleur are available to go with the three cranksets.
Also part of the new group is a new hydraulic disc brake. Like the 2003 XTR, the system uses mineral oil to force dual pistons down on the new oversized Center Lock mount rotor. Styling is similar to the 2003 XTR, so it looks as good as it works. Both 160mm and 203mm sizes are available, and international A-Type/Post-Type mounts are used.
XT revamp
Also due for a 2004 release is a new XT group, taking the best of the new XTR group and making it available for the less financially endowed.
The new cranks will use the two-piece Hollowtech2 design that debuted on the 2003 XTR. This design is also expected to appear on other 2004 high-end group and to trickle down to the lower groups in the coming years.
XT will also get a new disc brake, again with the curvaceous styling of the XTR and Saint groups and the new Center Lock rotor design. This also means new hubs to accommodate the Center Lock system.
Shifting looks set to feature the dual control system of XTR, and Rapid-Rise derailleurs are a given.
An XT tubeless wheelset is also due for release.
Ritchey folds
Road bike in a case
Photo: © Ritchey

Folding bike maker Dahon California has announced it has entered into an agreement with Ritchey to use Ritchey designed frames for a new line of portable 700C performance road bikes. The frames will feature patented Ritchey technology that allows the frames to be split apart for easy transportation.
The Dahon road bikes will be identical in performance and looks to any standard 700c road bike. The frame will feature classic Ritchey road geometry and will be manufactured from Ritchey WCS steel tubing. Components will be a mix of Shimano, American Classic, and Ritchey.
"The initial response to this project has been amazing ­ every serious roadie we've mentioned it to wants one of these bikes," said Joshua Hon, Dahon's vice president of sales and marketing.
Dahon will preview the bike at the Taipei International Cycle show starting on March 29 and production will begin in October 2003. Prices are expected to start at US $1,800.
Team Diet Rite to ride Masi frames
For the second year in a row, the Team Diet Rite Women's Cycling Team will ride Masi 3VS Volumetrica frames for the 2003 season. The team, made up of 2002 U.S. National Criterium Champion and World Championship team member Tina Mayolo-Pic, Kori Kelly, Kerry Soraci-Schmatz, Cybil DiGiustini, Joanne Kiesanownski and New Zealand's Tania Duff-Miller, is one of the strongest criterium teams in the U.S.
"The girls absolutely love their bikes," said Team Diet Rite General Manager Jeff Corbett. "If I would have had to tell them they would ride something other than Masi frames this season, I don't think it would have went over very well."
Accumen buys Vetta
Getting Vetta all the time
Photo: © Vetta

Acumen Manufacturing, has announced the signing of a letter-of-intent to purchase the worldwide rights to the Vetta brand.
The purchase of Vetta, manufacturers of bicycle computers, heart-rate monitors and saddles, is hoped by Acumen to "result in establishing a forwarding-thinking division with a reputation for consistently delivering innovative new products to the marketplace."
Since 1996, Acumen has designed, manufactured and distributed an extensive line of fitness products including heart rate monitors and pedometers.
Recent tech
Tour tech: Zipp's slippery new wheel revealed
On test: Klein Palomino XV
June 25 news: New Giant carbon, Crank Bros, Colnago proto, Scott, Topolino
Book review: Lance Armstrong: Images of a champion
New bike for Van Moorsel
New bikes from BT
Cicli Pinarello displays its racing history: Fifty years of classic bikes
June 17 new arrivals: Specialized, Crank Bros, Thomson, Bicycling Science, Drop In
Pro bike: Iban Mayo's Euskaltel-Euskadi Orbea TT climbing prototype
On test: Campagnolo Eurus G3 wheels
Pro bike: Lance Armstrong's Trek Madone SSL proto
Pro bike: Emanuele Sella's Battaglin
June 8 news, part 1: Giro's Rev Six revs up at Dauphine, Rebellin conquers on Wilier carbon proto, Giant spy photos at the T-Mobile Service Course
June 8 news, part 2: Specialized unveils new kit, Cervelo & CSC fine-tune at MIT, New forks from Alpha Q, Paint job of the year?
Pro bike: Dede Demet-Barry's T-Mobile Giant TCR Carbon
Bikes of the Giro part 2: The mountains
New arrivals: DMT, Jaggad, Blue Steel, Cannibal, Ellsworth, LeMond Fitness, Atomic Mount
On test: Park Tool IB-1 & IB-2 multi-tools
De Marchi responds
On test: Giro Monza
On test: De Marchi Contour bib shorts,
On test: DeFeet Armskins
May 21 news: Petacchi's new Pinarello, Mayo's Orbea TT secret weapon, adidas, Mavic, Ambrosio, True Temper
On test: White Industries Eccentric ENO hub
World exclusive pro bike: Marion Clignet's Look 496 track bike
On test: Carnac Quartz road shoes
Repair & maintenance: Recording MTB position
Pro bike: Chris Horner's Webcor Lemond TT bike
May 13 news: New Shimano wheels, 29inch victory, CycleOps, Naviion
New arrivals: Crank Bros, Park Tool, Sports Instruments, Morningstar & Panasonic,
New arrivals: 2004 clothing from Campagnolo
On test: Orbea Orca - Real-world team issue
On Test: Specialized Bar Phat tape
Bikes of the Tour de Georgia
Apr 30 news: Campagnolo, Klein, Giant, Sports Instruments, Burley, La Ruta
Apr 27 news: IRD, Oval, Fi'zi:k, Camelbak