Recently on Cyclingnews.com
New Arrivals – April 2, 2003
Edited by Paul Mirtschin
Got Tech? Send press releases, news, and tech questions to the Cyclingnews tech-heads.
Welcome to New Arrivals, a weekly section showcasing the latest equipment that's landed on the Cyclingnews tech desk. Look out for reviews over the next few months when we've clocked up some saddle time with this stuff.

Photo: © Cyclingnews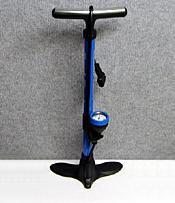 Park PFP-3 Home Mechanic Floor Pump
The PFP-3 is designed for the home mechanic who wants pro quality.
A steel body and handle provides durability needed of a track pump, while the three point base gives the stability needed. The composite head will fit both Presta and Schrader valves, and the mid-mounted, industrial quality pressure gauge provides easy reading.
Like the PFP-2, the pump is completely rebuildable.
Cost: US$23.95

Photo: © Cyclingnews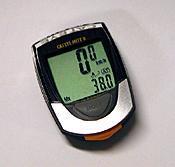 Cateye Mity 8 bike computer
The Cateye Mity 8 features a redesigned body style allowing for a larger screen size and numbers along with a lightweight sensor wire for on-road use.
Dual trip distance for keeping track of intermediate or multi-day distances while the dual tire size means the computer can be swapped between bikes.
Features also include cadence, maximum/average/current speed and distance, and the clamp will fit almost any fork and bar diameter.
Price: US$20.00

Photo: © Cyclingnews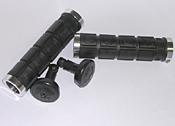 Oury Lock-On grips
Combining the the stability of a lock-on grip, with the comfort and quality of Oury's anti-vibration, large pad design, the new ODI Lock Jaw compatible grips are perfect for mountain bike usage in all conditions.
The extremely soft rubber grip is held in place with the ODI Lock Jaw clamps, and the grip section can be replaced when worn.
The grips are available as either a grip only, or as a bonus pack with ODI Lock Jaw clamps and end plugs as shown.
Price: US$24.99 (grips only)

Recent tech
Tour tech: Zipp's slippery new wheel revealed
On test: Klein Palomino XV
June 25 news: New Giant carbon, Crank Bros, Colnago proto, Scott, Topolino
Book review: Lance Armstrong: Images of a champion
New bike for Van Moorsel
New bikes from BT
Cicli Pinarello displays its racing history: Fifty years of classic bikes
June 17 new arrivals: Specialized, Crank Bros, Thomson, Bicycling Science, Drop In
Pro bike: Iban Mayo's Euskaltel-Euskadi Orbea TT climbing prototype
On test: Campagnolo Eurus G3 wheels
Pro bike: Lance Armstrong's Trek Madone SSL proto
Pro bike: Emanuele Sella's Battaglin
June 8 news, part 1: Giro's Rev Six revs up at Dauphine, Rebellin conquers on Wilier carbon proto, Giant spy photos at the T-Mobile Service Course
June 8 news, part 2: Specialized unveils new kit, Cervelo & CSC fine-tune at MIT, New forks from Alpha Q, Paint job of the year?
Pro bike: Dede Demet-Barry's T-Mobile Giant TCR Carbon
Bikes of the Giro part 2: The mountains
New arrivals: DMT, Jaggad, Blue Steel, Cannibal, Ellsworth, LeMond Fitness, Atomic Mount
On test: Park Tool IB-1 & IB-2 multi-tools
De Marchi responds
On test: Giro Monza
On test: De Marchi Contour bib shorts,
On test: DeFeet Armskins
May 21 news: Petacchi's new Pinarello, Mayo's Orbea TT secret weapon, adidas, Mavic, Ambrosio, True Temper
On test: White Industries Eccentric ENO hub
World exclusive pro bike: Marion Clignet's Look 496 track bike
On test: Carnac Quartz road shoes
Repair & maintenance: Recording MTB position
Pro bike: Chris Horner's Webcor Lemond TT bike
May 13 news: New Shimano wheels, 29inch victory, CycleOps, Naviion
New arrivals: Crank Bros, Park Tool, Sports Instruments, Morningstar & Panasonic,
New arrivals: 2004 clothing from Campagnolo
On test: Orbea Orca - Real-world team issue
On Test: Specialized Bar Phat tape
Bikes of the Tour de Georgia
Apr 30 news: Campagnolo, Klein, Giant, Sports Instruments, Burley, La Ruta
Apr 27 news: IRD, Oval, Fi'zi:k, Camelbak