A sneak preview of the 50th anniversary bikes
Happy Anniversary
By Tim Maloney
50 years in the making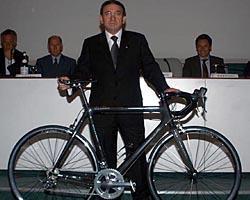 When visitors arrive at this years EICMA show, held in Milan , Italy from September 20 - 23, they will be able to see landmark bikes from two of the most significant bicycle manufacturers in history, Colnago and De Rosa.
Cyclingnews was granted a sneak peak at the bikes both companies have created to celebrate half a century of making some of the world's best bikes: the Colnago Anniversary and the De Rosa Cinquanta
To celebrate his 50th anniversary of building great bicycles, Ernesto Colnago has created his newest model in carbon fibre, the Anniversary, a frame that mates a front monocoque carbon triangle to Colnago's new carbon fibre rear triangle with B-Stay, and a more rounded version of Colnago's High Power chainstays.
Colnago's exclusive design is built in Italian carbon manufacturer ATR's high-tech factory and is available in eight sizes, including four with sloping top tubes. Ernesto Colnago's Anniversary will be produced in only a limited number and is available only as a complete bicycle.
Cheers all round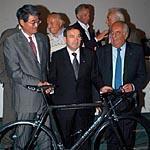 The Anniversary has been created in two versions; one version has the new Shimano Dura Ace 10 speed group personalized exclusively for Colnago, with the Colnago 50th anniversary logo on each component. The other version of the Anniversary has Campagnolo's 10-speed group with Colnago's carbon fibre crankset, also personalized with the Colnago 50th anniversary logo.
Colnago's Anniversary has a new 1.125-inch headtube, which is coupled with a new lighter version of Colnago's Carbon Star fork. Additional personalized components on the Colnago Anniversary are Cinelli's RAM monocoque carbon fibre handlebars, Vittoria tires, Ambrosio rims, Selle San Marco saddle and Elite Carbon Fibre water bottle cage.
Photos
Images by Fotoreporter Sirotti
Other features: