A Cyclingnews special sponsorship feature - March, 2002
Creating the best bikes – Part 1: The man & the collection
A visit with Ernesto Colnago and an exclusive look at his personal museum
By Cyclingnews staff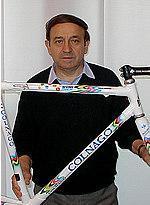 Ernesto Colnago shows off Oscar Freire's new bike
Photo: © Cyclingnews
Ernesto Colnago's world headquarters outside of Milano is a temple to the sport of cycling. When you enter the spacious, marble floored reception area, you are greeted by a rush of thoroughbred bicycles and world-class memorabilia that is almost overwhelming. Twenty-one world championship jerseys, jerseys from the UCI world cup, Italian, Belgian, Czech, Dutch, Swiss, European, and Olympic champion jerseys, not to mention the Vuelta amarillo, Giro d'Italia and Tour de France tunics of Merckx, Motta and other Colnago riders, and the wool World Champion jerseys of Beppe Saronni. And that's just the beginning…
Currently on display are the Colnago C-40s of two world champions from Lisbon, Oscar Freire and Yaroslav Popovych, not to mention Tony Rominger's World Hour Record bike on top of a loaded trophy cabinet, next to a Ferrari Formula One nose cone perched above Colnago's CF2 suspension mountain bike.
But despite the temptation, Cyclingnews didn't dally in the antechambers of casa Colnago for long. Instead, we were ushered into the sanctum sanctorum, the holy of holies, Ernesto Colnago's personal bike collection where He has preserved his "capolavori", his masterpieces and show bikes from the last quarter-century. Cyclingnews is the first ever media outlet to have free run of Colnago's collection.
"In a few years, we hope to build a museum of all the rare and special Colnago bikes like this," Alex Colnago, Ernesto's nephew told us. "We have so many interesting items in our collection and my uncle would like to share these with cycling fans all over the world." For now, the Colnago Museum is still on the drawing board, but like so many of Ernesto Colnago's projects, it will undoubtedly come to fruition.
Prior to visiting the collection, we had a brief chat with Colnago himself.
Cyclingnews: Well it's one year after our last interview, Ernesto. At that time you told us how proud you were of being associated with a new generation of young riders like Popovych, who seems to have confirmed your faith in him (Popovych; 2001 World U23 Champion in Lisbon, Portugal has now passed pro with the Colnago-Landbouwkrediet team)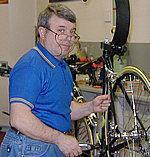 Paolino Colnago, Ernesto's brother and right hand
Photo: © Cyclingnews
Ernesto Colnago: We are very happy the way everything has worked out with Popovych. Rather than put a young guy like this in a big team where he might get lost, we decided to take matters into our own hands and sponsor a team directly. We have a good friend in Belgium, Gerard Bulens who had a team we already sponsored and we brought in (Marco) Saligari as well to be a team technico. So far things are going well (as of March 18, Colnago-Landbouwkrediet is the number one ranked TT2 squad.)
We won a small race at the beginning of the season and it's too bad that Metluschenko got hurt; after his crash in France, his eyeball was exposed and he had 30 stitches in his head.
But he's coming back and the team is riding very well.
CN: How do you see the bike market today?
EC: It is difficult but fortunately we are doing quite well. We notice that a lot of big bike companies are interested in pro road racing; that they are throwing a lot of money around. This had brought more standardization like the trend for sloping geometry. Top riders saying that they are happy with a standard bike. Does that mean that when I made over 20 different bikes for Merckx to use in the Giro I was wrong?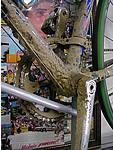 Carefully-preserved
Photo: © Cyclingnews
Look, we've had more than 2000 (pro and amateur) riders come through these doors and that's how we have developed our geometry. These standard measures, well that's okay for some but I don't believe in it.
Colnago then showed us round his collection of some of the greatest of the special bikes he has built over the years.
For an exclusive look at the bikes in Colnago's personal museum see part two: the bikes.