A Cyclingnews special sponsorship feature
Creating the best bikes – Part 2: The bikes
A visit with Ernesto Colnago and an exclusive look at his personal museum
By Cyclingnews staff
Ernesto Colnago plans to have a dedicated museum for these bikes, but if you can't make the trip to Milano to see them in the metal, here's a selection of over 30 years of ground-breaking bike development.
1995 Abraham Olano World Championship Bititan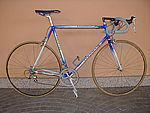 Olano's world's winner
Photo: ©Cyclingnews
EC: Oh yes, the Bititan. Well, it was a period where we were refining our expertise in titanium and so we built a bike with a double downtube configuration, so it was more rigid. We built this for Olano, for other riders. Rominger won the Vuelta two times on a Bititan. Olano was a brilliant rider; he came from the track and made a lot of progress at Mapei, where he learned a lot of things from champion riders like Rominger, and Museeuw. That's where he learned the art of cycling. His win was sensational; he was there with his team-mate Indurain and Pantani. I noticed when he attacked at the end, the cameraman was shooting Olano's rear wheel with the flat tire. I was just praying that he would make it to the finish line!
Detail - those paired downtubes in full
1979 Master Track Prototype
Pink pista
Photo: © Cyclingnews
EC: We built that bike for a Russian sprinter (Rapp?); to test the position and the overall concept but unfortunately there just wasn't time to develop this further for the track worlds.
However, this same concept was developed into the bike that the Russian 100km TTT squad used. (1980 Olympic Champions; Kashrin, Logvin, Chelpakov, Jarkin in 2:01:27.07.) We built a frame that was similar to this with a 26in front wheel and the handlebars were welded on to the fork crown and they won at over 50km/hr average speed!
Detail - Triple triangle and pink everything!
Detail - Because too many stems are never enough
1979 Colnago Mexico Gold, built for Pope John Paul II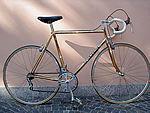 Golden
Photo: ©Cyclingnews
EC: We built this golden bike for the Pope in '79. It was a special day when we went to the Vatican to present it to him. Very emotional for me. I went with my entire family; my brother Paolo and his son Alessandro. We heard that the Pope liked to ride a bike and that he did a ride of 38km two times a week when he was in Krakow and he continued to ride when he was in Castel Gondolfo (the Pope's summer residence outside of Rome).
The Pope picked up this bike and told me it was marvelously light and that he wished he had one like it a long time ago!
I remember that the Pope said to me that "you are in the midst of all the cyclists and the sport and I want to bless cycling and all the riders." That really touched me deeply when the Pope said that.
CN: Do you think that Pope John Paul II actually rode this bike?
EC: No, I don't believe so. After a year or so, the Vatican contacted us to give this bike back and the Pope requested a sports type bike with regular flat handlebars so we built him one, a white one. That's the bike he rode in Castel Gondolfo.
Detail - Pantographical
1981 CX Pista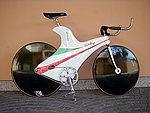 Ground-breaking
Photo: © Cyclingnews
EC: Before we began collaborating with Ferrari, we built this bike. I had the idea, a creative idea to make a bike with a disc wheel and this bike which has a special shape. At the time, there weren't the restrictions from the UCI. We showed this bike at the Milano Bike Show and it had a huge reception from the media and the public, but in the end, nothing came of it commercially. This was a bike for image, a bike that in effect could have been used for the 100km TTT. This was the first bike built as a monocoque carbon fiber model. We did a lot of work to develop it: all the design, the moulds, everything and it was a project that was pleasing to us.
Detail - Beefy headtube
Detail - The chain has to slip through a monocoque somewhere
1994 C42 Pista Prototype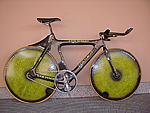 56km/hr? That'll do nicely.
Photo: © Cyclingnews
EC: When Rominger broke the world hour record, I wanted to create a bike that could be used to break this record. So we developed the design and the moulds to make this monocoque Bike that would be very aerodynamic and in the end, it became a capolavoro (masterpiece). We also made a C42 in a road version for time trials and which Olano in the '95 Worlds TT and raced the Giro d'Italia, he used it. Unfortunately, the UCI didn't want to permit this type of bike. Look, you can see that the disc wheels are not smooth. We put a rough surface on them so they had a better penetration of the air. The 61 tooth chainring in carbon fiber was also developed for Rominger since he wanted a bigger gear that he had before, so he could go over 56km/hr average. We also made the monocoque carbon fiber handlebars for Rominger; the outer part are for the start and then the central section is when the rider gets up to speed.
Detail - carbon cockpit
Detail - The UCI takes a dim view of this sort of thing
Italian National Team 100KM TTT bike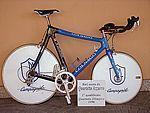 TTT beast
Photo: © Cyclingnews
EC: Oh, that's a bike we made for the Italian national team and it won two World Championships ('91 and '93) and an Olympic silver in '92. I built six bikes that required four separate moulds and it cost me a lot of money. These bikes were very hard to build since the riders were very tall and the fitting required a lot of work. We put a 24in wheel in front so the riders could be as close as possible. At the time there were not a lot of rules about these type of bikes. This was a monocoque carbon fiber frame that I developed with Ferrari.
CN: It resembles your C35 to some degree.
EC: No, this bike is not at all like that one; we developed this one just for the Italian 100km TTT national team. Maybe it does look a bit like the C35 in the seat area, but with the small front wheel and the lower fork, it's different.
1982 Colnago Mexico / Beppe Saronni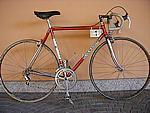 Beppe's bike
Photo: © TM/CN
EC: We built the Mexico after the Super. It had a lighter tubeset of 6/10. I added an internal ribbing to the tube to make it more rigid as well as light.
CN: Giuseppe Saronni was a special champion to you, wasn't he?
EC: Yes! He came from around here and we knew him from when he was a young rider. I helped him turn pro and I've know him for ever, it seems.
Detail - Most 50th anniversary derailleurs never left their cases
Detail - Classic craftsmanship
Ernesto Colnago is a very busy man; a man in perpetual motion to create the best bicycles in the world. During our interview, Colnago unintentionally showed Cyclingnews a top secret prototype of a carbon fiber tube to illustrate a point. Under his desk are hidden a few more prototype frames fresh from the workshop while other products in development (still top secret) are strewn about his office. At 70 years old, Ernesto Colnago is still as intense and creative as he was over a half century ago when he started filing lugs at the Gloria workshops in Milano. And if our visit is any indication, Colnago looks set to continue his creative journey to building the best bikes on Earth well into the 21st Century.