A sneak preview of the 50th anniversary bikes
Fifty and Counting - De Rosa Celebrates 50 Years
By Tim Maloney
Where will we be in 50 years?
© Cyclingnews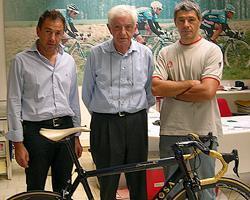 When visitors arrive at this years EICMA show, held in Milan , Italy from September 20 - 23, they will be able to see landmark bikes from two of the most significant bicycle manufacturers in history, Colnago and De Rosa.
Cyclingnews was granted a sneak peak at the bikes both companies have created to celebrate half a century of making some of the world's best bikes: the Colnago Anniversary and the De Rosa Cinquanta
After the Eurobike show, we paid a visit to Ugo De Rosa at his renowned Cicli De Rosa to discuss his upcoming 50th anniversary as a bicycle builder, as well as the special 'Cinquanta' bike De Rosa has created to celebrate a half-century of building great bicycles.
Known as a modest man of few words who usually speaks through the magic of his beautiful bicycles, Cyclingnews convinced Ugo De Rosa to tell us about his new Cinquanta. Ugo explained "this bike is really about 50 years of satisfaction in my work. It is a special moment for me... luckily, I was able to find satisfying work in my life. Otherwise I probably would have just gone to work in a factory."
De Rosa started building bikes a half-century ago. "I always liked mechanical things, especially bicycles," he said. "When I was young, I was quite lucky as I went to a school in Milano where we not only studied, but we also got work experience. So not only did we learn in the classroom, we also learned a trade. If you were interested in mechanical things, that was a great education!"
Blue is the new black
© Cyclingnews
De Rosa said "we decided that after 50 years (in the bike business), it was normal that we would celebrate this by creating something special. Just like Campagnolo did for their 50th anniversary... we're not as big as Campagnolo but we thought it was a good idea to celebrate too." We asked Ugo De Rosa when the first De Rosa rolled out of his workshop doors and he said, "I'm not sure of the exact date, but it was April or May of 1953. That was a long time ago!"
Like most small Italian artisan firms, Ugo's three sons and his wife all work with him in the business at Cicli De Rosa, located in an industrial zone just north of Milano. Cristiano De Rosa is the commercial director and Cristiano explained, "our project to create the Cinquanta wasn't just to put a decal on an existing bike; the Cinquanta was important for us to show what we can do as a top level bicycle builder. There is a lot of technology in the Cinquanta, thanks to the experience we have acquired while developing the King. So with the Cinquanta, this bike is completely created in carbon fibre, including the integrated head lug, which offers the opportunity to create a custom made carbon fibre bike in more sizes, with different frame angles to be personalized to rider. Cinquanta isn't like a monocoque carbon bike that is made in one size and then the rider has to adapt to. No, Cinquanta has a lot of new technology in the frame and we have brought this approach to the components. Besides the frame, we have also created De Rosa components, such as monocoque carbon handlebars, a carbon fibre crankset and seatpost. They are new, De Rosa products of the highest level of technology, made expressly for our Cinquanta bike."
A great lug
© Cyclingnews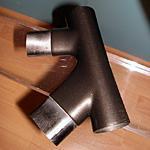 Cristiano explained further that like Rome, the Cinquanta bicycle was not built in a day. "This was not a simple project," said De Rosa. "We had some hard choices and expensive investments in tooling to make; our first priority was to make the correct technical choice and then an aesthetic choice. The Cinquanta took us over a year to develop and we are very proud of the final result."
Photos
Images by Tim Maloney/Cyclingnews
Other features: