Recently on Cyclingnews.com
Reviews
Big Vents R Us
Specialized S1 helmet
By John Stevenson
Peaky
Photo: © CN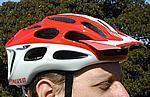 With its top-of-the-line 2002 helmet, Specialized makes the bold claim that the S1 is "sleeker and better ventilated than any helmet we've ever made." The Morgan Hill company has certainly gone for it on the ventilation front. The S1 has 24 vents, and they're among the largest we've seen in any helmet. It's as if the material between the holes has been pared away to the minimum necessary to string them together. Nevertheless, the S1 meets CPSC and Snell B90 impact-absorption standards.
Pop off
Photo: © CN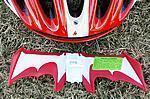 Other features of the S1 include a removable visor that can be adjusted for length, and a head cradle that can also be adjusted, this time for up-down position and tension.
Helmet shapes vary. with some being closer to circular and others being more elliptical. The S1 is toward the elliptical end of the range, which means it happens to fit me extremely well, but bike test editor Anthony Tan couldn't get on with it at all. Something we've noticed in the last few years is that helmet makers are relying less on huge amounts of padding to get the fit right, and more on shape. This makes it harder to persuade just any helmet to fit, but means when you find one that's right for you, it's like an old slipper.
Big vents
Photo: © CN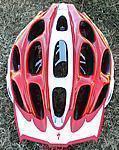 I'm also a big fan of the trend of styling helmets for both road and mountain bike use by fitting easily-removable peaks, and the S1's is particularly nifty. It unclips easily, but is held firmly enough that it doesn't rattle. It slides forwards and back so you can extend it to keep the low morning sun out of your eyes, though you won't win any bunch ride style points with it all the way forward.
Get a grip
Photo: © CN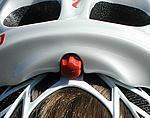 The Grabby Thing, which Specialized calls the Brain Trust 2, provides a firm but not over-tight grip on the back of your head, though I found it didn't matter much where it was positioned or how the tension adjustment was set. Maybe I just have an insensitive headÉ
The practical upshot of these details is a helmet that's very comfortable and very, very well-ventilated. Usually head-boiling sweaty climbs are not an issue - as long as you're moving, the S1 has enough airflow to keep you comfy.
More big vents
Photo: © CN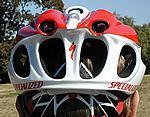 Downside is that if you rely on a helmet to keep your head warm on cold mornings, you're going to need something under the S1 to fill that role. Another minor niggle is that the vent in the brow is so large it forces the brow pad below it to be very thin, so it needs careful positioning to fully cover the Velcro hooks that mount it.
And while we're whinging, Specialised also claims the S1 is "lighter… than any helmet we've ever made." Er, it's not. At 300g it's a sensible weight, but the Sub-6 of yore was lighter, even if it wasn't quite the 6 ounces (160g) its name implied.
Stripey
Photo: © CN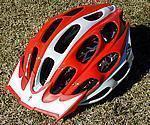 But I'm nit-picking. This is very comfortable, very well-ventilated helmet that's stable and all-round a downright pleasure to wear. The visor is long enough to be practical, the shape is spot-on (for me, at least) and the issues are trivial. Highly recommended.
Price guide: $150 (USA)
Sizes: sm/md (7 - 7 1/2, 56-60 cm), lg/xl (7 3/8 - 7 7/8, 59-63 cm)
Pro: Huge vents, very comfortable, excellent peak
Con: Thin brow pad
Weight: 300g
More information: Specialized's website
Cyclingnews Rating:

What do you think of the Specialized S1? Let us know
Recent tech
Tour tech: Zipp's slippery new wheel revealed
On test: Klein Palomino XV
June 25 news: New Giant carbon, Crank Bros, Colnago proto, Scott, Topolino
Book review: Lance Armstrong: Images of a champion
New bike for Van Moorsel
New bikes from BT
Cicli Pinarello displays its racing history: Fifty years of classic bikes
June 17 new arrivals: Specialized, Crank Bros, Thomson, Bicycling Science, Drop In
Pro bike: Iban Mayo's Euskaltel-Euskadi Orbea TT climbing prototype
On test: Campagnolo Eurus G3 wheels
Pro bike: Lance Armstrong's Trek Madone SSL proto
Pro bike: Emanuele Sella's Battaglin
June 8 news, part 1: Giro's Rev Six revs up at Dauphine, Rebellin conquers on Wilier carbon proto, Giant spy photos at the T-Mobile Service Course
June 8 news, part 2: Specialized unveils new kit, Cervelo & CSC fine-tune at MIT, New forks from Alpha Q, Paint job of the year?
Pro bike: Dede Demet-Barry's T-Mobile Giant TCR Carbon
Bikes of the Giro part 2: The mountains
New arrivals: DMT, Jaggad, Blue Steel, Cannibal, Ellsworth, LeMond Fitness, Atomic Mount
On test: Park Tool IB-1 & IB-2 multi-tools
De Marchi responds
On test: Giro Monza
On test: De Marchi Contour bib shorts,
On test: DeFeet Armskins
May 21 news: Petacchi's new Pinarello, Mayo's Orbea TT secret weapon, adidas, Mavic, Ambrosio, True Temper
On test: White Industries Eccentric ENO hub
World exclusive pro bike: Marion Clignet's Look 496 track bike
On test: Carnac Quartz road shoes
Repair & maintenance: Recording MTB position
Pro bike: Chris Horner's Webcor Lemond TT bike
May 13 news: New Shimano wheels, 29inch victory, CycleOps, Naviion
New arrivals: Crank Bros, Park Tool, Sports Instruments, Morningstar & Panasonic,
New arrivals: 2004 clothing from Campagnolo
On test: Orbea Orca - Real-world team issue
On Test: Specialized Bar Phat tape
Bikes of the Tour de Georgia
Apr 30 news: Campagnolo, Klein, Giant, Sports Instruments, Burley, La Ruta
Apr 27 news: IRD, Oval, Fi'zi:k, Camelbak