Recently on Cyclingnews.com
Reviews
Limar F111
By John Stevenson
Ventilated
Photo: © Cyclingnews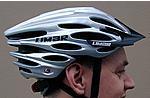 With no less than 36 vents[1] Limar's top-of-the-line F111 helmet is clearly designed to be cooler than a polar bear wearing sunglasses and lounging on an iceberg.
An this is indeed what we find. On warm days, the F111 feels as close as it gets to not wearing a helmet -- air flows through, sweat evaporates off your head, it feels good. On cooler days it's necessary to add some protection against the breeze in the form of a bandana or like that to keep the chill off. Full marks, then for cooling.
Gripper
Photo: © Cyclingnews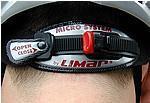 The F111 also has the full complement of modern helmet features: an adjustable Grabby Thing to stabilise the helmet by cradling the back of your head; a removable peak to keep the sun out of your eyes and easily adjustable strapping with a removeable cover to stop the chinstrap from irritating your skin.
As far as fit and shape goes, the F111shape is on the 'round' end of the range rather than the 'elliptical' end. If you prefer a more elliptical fit, as I do (no jokes about pointy heads, please) then you'll find the F111 is a bit gappy at the sides. However, the head cradle does a great job of holding the F111 steady even if there's a bit of spare space, so the gaps just end up adding to the available ventilation.
Exit only
Photo: © Cyclingnews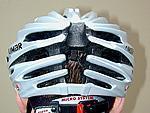 The head cradle adjustment is particularly simple: it can be tightened with one hand, though it takes two to loosen it. Getting the F111 snug is therefore a snap. However, the cradle is attached to the inside of the helmet by just a couple of Velcro patches. This works, but it's hardly sophisticated, and I found it fiddly to adjust the angle of the cradle to get it to sit correctly under the bump on the back of my head.
Peakin'
Photo: © Cyclingnews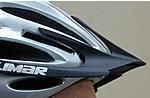 A peak has become an essential accessory since the off-road crowd started using them to look as much like moto-crossers as possible, and a fairly deep one is undeniably useful, keeping low sun out of your eyes at dawn and dusk and the rain off your glassses in poorer weather. However, the F111's peak is so minimal it's almost more a fashion accessory than a practical addition. I do a lot of early-morning riding and found that the peak was just too short to be a practical sunshade unless I was willing to give up being able to see the traffic. Once the sun gets a bit higher, it's fine, though.
Quibbles aside, this is a very good lid. It's extraordinarily well-ventilated, easy to adjust and very comfortable. And Limar sponsors Erik Zabel -- what more could you want?
Plenty vents
Photo: © Cyclingnews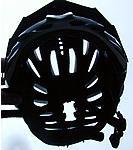 [1] We counted 36, Limar claims 37, which is odd since there are two down the centreline of the helmet and it's otherwise symmetrical...
Price guide: $150-170 (USA)
Sizes: S-M (54-57cm), L-XL (58-62cm)
Pro: Lots of ventilation, comfortable, easy to adjust
Con: Shallow peak, cradle angle adjustment
More information: Limar's website
Cyclingnews Rating:

What do you think of the Limar F111? Let us know
Recent tech
Tour tech: Zipp's slippery new wheel revealed
On test: Klein Palomino XV
June 25 news: New Giant carbon, Crank Bros, Colnago proto, Scott, Topolino
Book review: Lance Armstrong: Images of a champion
New bike for Van Moorsel
New bikes from BT
Cicli Pinarello displays its racing history: Fifty years of classic bikes
June 17 new arrivals: Specialized, Crank Bros, Thomson, Bicycling Science, Drop In
Pro bike: Iban Mayo's Euskaltel-Euskadi Orbea TT climbing prototype
On test: Campagnolo Eurus G3 wheels
Pro bike: Lance Armstrong's Trek Madone SSL proto
Pro bike: Emanuele Sella's Battaglin
June 8 news, part 1: Giro's Rev Six revs up at Dauphine, Rebellin conquers on Wilier carbon proto, Giant spy photos at the T-Mobile Service Course
June 8 news, part 2: Specialized unveils new kit, Cervelo & CSC fine-tune at MIT, New forks from Alpha Q, Paint job of the year?
Pro bike: Dede Demet-Barry's T-Mobile Giant TCR Carbon
Bikes of the Giro part 2: The mountains
New arrivals: DMT, Jaggad, Blue Steel, Cannibal, Ellsworth, LeMond Fitness, Atomic Mount
On test: Park Tool IB-1 & IB-2 multi-tools
De Marchi responds
On test: Giro Monza
On test: De Marchi Contour bib shorts,
On test: DeFeet Armskins
May 21 news: Petacchi's new Pinarello, Mayo's Orbea TT secret weapon, adidas, Mavic, Ambrosio, True Temper
On test: White Industries Eccentric ENO hub
World exclusive pro bike: Marion Clignet's Look 496 track bike
On test: Carnac Quartz road shoes
Repair & maintenance: Recording MTB position
Pro bike: Chris Horner's Webcor Lemond TT bike
May 13 news: New Shimano wheels, 29inch victory, CycleOps, Naviion
New arrivals: Crank Bros, Park Tool, Sports Instruments, Morningstar & Panasonic,
New arrivals: 2004 clothing from Campagnolo
On test: Orbea Orca - Real-world team issue
On Test: Specialized Bar Phat tape
Bikes of the Tour de Georgia
Apr 30 news: Campagnolo, Klein, Giant, Sports Instruments, Burley, La Ruta
Apr 27 news: IRD, Oval, Fi'zi:k, Camelbak