Recently on Cyclingnews.com
Reviews
Shimano Dura-Ace SPD-SL pedals
Lance factor = high
Photo: © Cyclingnews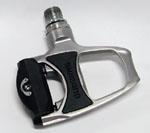 Dubbed the "Lance Pedal", Shimano's latest road pedal offering has had more hype than Armstrong's "Daddy Yo-Yo" Trek OCLV unveiled at this year's Tour de France. Anthony Tan goes on a ride to see what all the fuss is about.
After using a markedly different pedal system for the last nine years, I have to admit I wasn't the first to jump on the Shimano pedal bandwagon, even if these pedals were co-designed by Lance Armstrong.
Though there's no denying a quiet revolution has been occurring since their global release around four weeks ago. The SPD-SL (or PD-7750) is quite a change from its SPD-R predecessor, more in line with their very first Look-style pedal, the Dura-Ace PD-7401.
The Lance factor
Hey, how did they git on there?
Photo: © Cyclingnews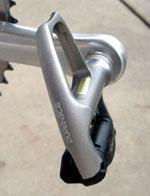 Now any product (or anything, for that matter) that has Lance's name attached to it tends to inspire a certain degree of curiousity. When you add Shimano's gutsy decision to tackle the Look company's bread and butter cycling business head-on, I must admit I started to become quite excited - something that normally doesn't happen over a set of pedals anyway...
And before I knew it, the Lance pedals were winding their way onto my crank arms, apparently aided by my forearm, hand and a 8mm hex wrench. Which happens to be the first noticeable difference upon application - don't try to use your old 15mm pedal wrench.
Set-up important
Floatey option is standard
Photo: © Cyclingnews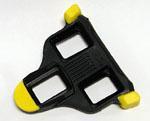 Point number two: make sure you line up your cleats so that the ball of your foot rests over or slightly behind the centre of the axle, and the direction of the cleat points your shoe in the same direction as you would when you walk.
Standard issue, yellow-tipped cleats have three degrees of float, whereas the red-tipped ones have zero float - much the same option you have with red and black Look-style cleats respectively.
The tips are also made of hard rubber to allow you to grab your short black and apple danish from the café counter without slipping, and are raised about 3mm to prevent wear to the actual cleat surface. For those who have experienced the frustration of pulling out of your pedals from worn cleats when sprinting for the line, this is a great example of forward thinking.
Lower tension should suit all ex. Sean Eadie
Photo: © Cyclingnews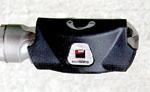 Adjusting the tension of the pedal clip is simple: as you increase the spring tension, a thin metal strip makes its way down along a red nylon band at the back of the pedal.
Finally, with a sole-to-axle distance of 14.4mm (measured from the sole of the foot to the top of the pedal axle), the SPD-SLs may be a lower profile design than their predecessors, however, they're still 5.9mm higher than my Time pedals. Once I raised my saddle height half a centimetre or so, all was fine and dandy, and I was soon on my way.
Hey, deez feel guuoood!
They sure are purdy!
Photo: © Cyclingnews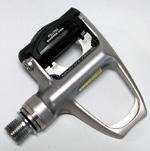 My first thought was, "Geez, I do like that big snap you hear as you clip into the pedals", shortly followed by, "I really need to buy some new cleats after I'm finished with this test!". The near vertical neutral pedal position also makes clipping in an effortless task.
A few more kilometres and the wide platform comes into its own, just like my own set of egg beaters, providing excellent stability when really stamping on the pedals.
I know there are plenty of riders out there using smaller platform, SPD-R and Speedplay pedal systems and the like, and it may be partly psychological, but I just feel so much more confident on a set of pedals with a large surface area, plus I know my feet will rarely tire or feel sore.
I do have one small gripe though.
One design aspect about three-bolt cleat systems is that almost all shoe manufacturers don't allow for enough setback beyond the centre of the pedal axle - meaning those used to Time and SPD-R arrangements will experience a more "toey" pedalling action. Centreing the ball of your foot in line with the centre of your pedal axle works well in theory, however, when exerting force on the downward pedal stroke, your foot will move past that imaginary centre line, limiting the efficiency of your pedal stroke. Users of Look-style pedal systems should be fine though.
I need my floaties
Clipping out is a cinch
Photo: © Cyclingnews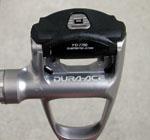 Three degrees of rotational float in either direction was more than adequate (although slightly less than my Time's with five degrees of float). The knees and ankles are always grateful for that extra give, and at least in my case, the direction of my shoes face slightly further outwards when out of the saddle, making that lil' bit of extra float molto importante.
Clipping out is no problem, although at this point, I backed off the spring tension a tad - the brand new springs were extremely taut, so most people should find that a tension towards the bottom end of the range more than secure during the pedal's childhood.
Verdict: two thumbs up
Four weeks and a several hundred kilometres later, the SPD-SLs are still going strong, twirling just like new.
A couple of people have reported experiencing some unwanted sliding of the cleats under load; apart from the intended three degrees of rotational movement, I have to admit this hasn't happened to me as yet.
However, one thing I've done conciously - to extent of being a touch anal - is to keep both the cleats and pedal free from tiny bits of debris and excess grease. From experience and common sense, plastic cleats are prone to wear much faster than their steel counterparts, and when there's wear, there's friction - which is invariably the crux of many riders' knee troubles on this type of pedal system. Keep 'em clean and relatively unscathed and you should be fine for at least 3-6 months with regular use - unless of course you decide to go shopping in them.
Now before I leave you, please take heed: while awfully familiar in style and design to the Look pedal system, the SPD-SL pedal and cleat system is not compatible with Look's and vice versa.
If you happen to come across any more niggles, keep us informed. Trial by numbers will be the real test for the Lance pedal and its subsequent popularity in years to come. But for now, the SPD-SL's a winner, providing a perfect compliment to the ubiquitous Dura-Ace group and deserves all the credit it has received so far.
Photos
Images by Cyclingnews
Weight: 330 grams per pair, including cleats (60 grams per pair)
Sole-to-axle distance: 14.4mm (measured from the sole of the foot to the top of the pedal axle)
Rotation of cleat: 3 degrees using standard SM-SH11 (yellow tip) cleats; fixed using optional SM-SH10 (red tip) cleats
Spindle construction: Cr-Mo spindle, fully serviceable
Price guide: US$210
Pro: Lightweight, very stable, good clearance, simple construction, raised cleat edges to reduce wear, Lance factor
Con: Not enough cleat setback for Time and SPD-R users, durability of cleats may be an issue, Lance price
More information: Shimano website
Cyclingnews Rating:

What do you think of the Dura-Ace SPD-SL pedals? Let us know
Recent tech
Tour tech: Zipp's slippery new wheel revealed
On test: Klein Palomino XV
June 25 news: New Giant carbon, Crank Bros, Colnago proto, Scott, Topolino
Book review: Lance Armstrong: Images of a champion
New bike for Van Moorsel
New bikes from BT
Cicli Pinarello displays its racing history: Fifty years of classic bikes
June 17 new arrivals: Specialized, Crank Bros, Thomson, Bicycling Science, Drop In
Pro bike: Iban Mayo's Euskaltel-Euskadi Orbea TT climbing prototype
On test: Campagnolo Eurus G3 wheels
Pro bike: Lance Armstrong's Trek Madone SSL proto
Pro bike: Emanuele Sella's Battaglin
June 8 news, part 1: Giro's Rev Six revs up at Dauphine, Rebellin conquers on Wilier carbon proto, Giant spy photos at the T-Mobile Service Course
June 8 news, part 2: Specialized unveils new kit, Cervelo & CSC fine-tune at MIT, New forks from Alpha Q, Paint job of the year?
Pro bike: Dede Demet-Barry's T-Mobile Giant TCR Carbon
Bikes of the Giro part 2: The mountains
New arrivals: DMT, Jaggad, Blue Steel, Cannibal, Ellsworth, LeMond Fitness, Atomic Mount
On test: Park Tool IB-1 & IB-2 multi-tools
De Marchi responds
On test: Giro Monza
On test: De Marchi Contour bib shorts,
On test: DeFeet Armskins
May 21 news: Petacchi's new Pinarello, Mayo's Orbea TT secret weapon, adidas, Mavic, Ambrosio, True Temper
On test: White Industries Eccentric ENO hub
World exclusive pro bike: Marion Clignet's Look 496 track bike
On test: Carnac Quartz road shoes
Repair & maintenance: Recording MTB position
Pro bike: Chris Horner's Webcor Lemond TT bike
May 13 news: New Shimano wheels, 29inch victory, CycleOps, Naviion
New arrivals: Crank Bros, Park Tool, Sports Instruments, Morningstar & Panasonic,
New arrivals: 2004 clothing from Campagnolo
On test: Orbea Orca - Real-world team issue
On Test: Specialized Bar Phat tape
Bikes of the Tour de Georgia
Apr 30 news: Campagnolo, Klein, Giant, Sports Instruments, Burley, La Ruta
Apr 27 news: IRD, Oval, Fi'zi:k, Camelbak