Recently on Cyclingnews.com
Tech update – June 20, 2002
Edited by John Stevenson
Got tech? Send press releases, news, and tech questions to the Cyclingnews tech-heads.
Specialized's new suspension design
Specialized's Epic suspension design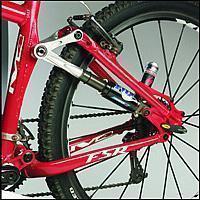 In partnership with nearby suspension specialist Fox Racing, Specialized has developed a new rear suspension system that the company claims eliminates pedal-induced suspension movement.
According to a report on the website of industry bible Bicycle Retailer, the design of the new Epic mountain bike line uses a four-bar linkage similar to Specialized's current FSR suspension designs, but with the rear shock positioned inside the rear triangle between the dropout and the top pivot.
Specialized founder and president Mike Sinyard said, "Four years ago we wanted a bike that could automatically sense the terrain, whether it was smooth or rough, and that has been the Holy Grail of mountain biking."
To achieve this aim, Fox Racing's Bob Fox has come up with a valving system dubbed The Brain that sits in a separate cylinder above the rear wheel. When an inertial valve in the cylinder detects axle movement it allows the shock to move.
Epic frames and forks are slated to be available soon, with complete bikes being introduced for model year 2003 in August. US prices will be in the $2,400 to over $4,000 range
Fox also has several other new products in development, including a downhill-specific rear shock with an optional titanium spring for the very deep of pocket, and a remote lockout lever for dual suspension bikes that will lock both ends of the bike in one go.
Recent tech
Tour tech: Zipp's slippery new wheel revealed
On test: Klein Palomino XV
June 25 news: New Giant carbon, Crank Bros, Colnago proto, Scott, Topolino
Book review: Lance Armstrong: Images of a champion
New bike for Van Moorsel
New bikes from BT
Cicli Pinarello displays its racing history: Fifty years of classic bikes
June 17 new arrivals: Specialized, Crank Bros, Thomson, Bicycling Science, Drop In
Pro bike: Iban Mayo's Euskaltel-Euskadi Orbea TT climbing prototype
On test: Campagnolo Eurus G3 wheels
Pro bike: Lance Armstrong's Trek Madone SSL proto
Pro bike: Emanuele Sella's Battaglin
June 8 news, part 1: Giro's Rev Six revs up at Dauphine, Rebellin conquers on Wilier carbon proto, Giant spy photos at the T-Mobile Service Course
June 8 news, part 2: Specialized unveils new kit, Cervelo & CSC fine-tune at MIT, New forks from Alpha Q, Paint job of the year?
Pro bike: Dede Demet-Barry's T-Mobile Giant TCR Carbon
Bikes of the Giro part 2: The mountains
New arrivals: DMT, Jaggad, Blue Steel, Cannibal, Ellsworth, LeMond Fitness, Atomic Mount
On test: Park Tool IB-1 & IB-2 multi-tools
De Marchi responds
On test: Giro Monza
On test: De Marchi Contour bib shorts,
On test: DeFeet Armskins
May 21 news: Petacchi's new Pinarello, Mayo's Orbea TT secret weapon, adidas, Mavic, Ambrosio, True Temper
On test: White Industries Eccentric ENO hub
World exclusive pro bike: Marion Clignet's Look 496 track bike
On test: Carnac Quartz road shoes
Repair & maintenance: Recording MTB position
Pro bike: Chris Horner's Webcor Lemond TT bike
May 13 news: New Shimano wheels, 29inch victory, CycleOps, Naviion
New arrivals: Crank Bros, Park Tool, Sports Instruments, Morningstar & Panasonic,
New arrivals: 2004 clothing from Campagnolo
On test: Orbea Orca - Real-world team issue
On Test: Specialized Bar Phat tape
Bikes of the Tour de Georgia
Apr 30 news: Campagnolo, Klein, Giant, Sports Instruments, Burley, La Ruta
Apr 27 news: IRD, Oval, Fi'zi:k, Camelbak