Recently on Cyclingnews.com
Tech update – June 20, 2002
Edited by John Stevenson
Got tech? Send press releases, news, and tech questions to the Cyclingnews tech-heads.
SLR gets lighter
As if 135g weren't light enough, Selle Italia's latest saddle, the SLR Carbon, tips the scales at under 100g – 95g according to the company. The SLR Carbon achieves this trivial gram count by using a carbon/Kevlar top, tubular titanium rails and no cover or padding.
As far as we're aware, though, the lightweight saddle champ is still the 'street' version of the German AX Lightness carbon saddle, which German website Bike Planet found to tip the scales at 66g
Also new from Selle Italia, the Flite Evolution 3 is the latest version of a true modern lightweight classic. When it was introduced back in 991, the original Flite started the lightweight saddle craze, and spawned a thousand titanium-railed imitators.
The Evolution 3 also uses a carbon/Kevlar hull and tubular titanium rails but boasts a little more on top than the SLR Carbon. Claimed weight is 120g, which by the standards of anyone but a total fanatic, is still pretty darn light.
More information: Selle Italia's website
Pearl expands shoe line
Pearl Izumi is introducing a new road shoe model to complement its current high-end offerings, plus a new colour scheme in the Vaper road and MTB shoes.
The new model, dubbed 'Vagabond' is a road version of the Vagabond MTB shoe, using a similar nylon I-Beam sole to the existing Vortex road shoe and a three-strap closure. The upper is made from natural leather and mesh, and the whole caboodle is finished in tasteful black with white lettering.
Pearl Izumi says the Vagabond road is intended for recreational road cycling and has a suggested retail of US$74.99.
More information: Pearl Izumi's website
FSA's Bonjour special edition
Tasty
Photo: © FSA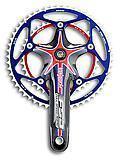 From the droolsome components department, here's FSA's Bonjour special edition carbon crank, of which only 150 will be available to the public.
According to FSA's Tim Campen, "The Carbon Pro Team Issue takes carbon fiber technology to the next level. Featuring a one-piece crankarm and spider, this new crankset offers increased stiffness and strength, even over the Carbon Pro crankset."
Shimano Octalink 9 speed and ISIS Drive 10 speed versions will be available in 170, 172.5, and 175mm lengths with 53/39 chainrings.
If you have US$450 burning a hole in your pocket, the Bonjour special edition is available in the second half of June.
More information: FSA's website
105 back in black
Black hole sun
Photo: © Shimano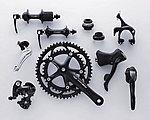 Shimano may be keeping us waiting till 2004 for a revamp to Dura-Ace, but there will still be a few tweaks to the 2003 road groups from the big S.
Shimano Europe has recently announced a black colour scheme option for the 105 group, though aside from this cosmetic change there are no majpr differences to the popular entry-level racing group.
Of interest to riders with smaller hands is the ST-R600, a new STI lever at the Ultegra level. According to Shimano Australia's Matt Bazzano, the ST-R600 is the same size and shape as current STI levers, but can take inserts that change the angle of the lever by five or ten degrees, moving the lever blade closer to the handlebar. We know a couple of riders who are eagerly awaiting these – some folks just find the reach to the lever of current STI units too long.
In other Shimano news, multiple downhill MTB world champion Nico Vouilloz has signed to use the company's European eyewear line.
More information: Shimano's website
Recent tech
Tour tech: Zipp's slippery new wheel revealed
On test: Klein Palomino XV
June 25 news: New Giant carbon, Crank Bros, Colnago proto, Scott, Topolino
Book review: Lance Armstrong: Images of a champion
New bike for Van Moorsel
New bikes from BT
Cicli Pinarello displays its racing history: Fifty years of classic bikes
June 17 new arrivals: Specialized, Crank Bros, Thomson, Bicycling Science, Drop In
Pro bike: Iban Mayo's Euskaltel-Euskadi Orbea TT climbing prototype
On test: Campagnolo Eurus G3 wheels
Pro bike: Lance Armstrong's Trek Madone SSL proto
Pro bike: Emanuele Sella's Battaglin
June 8 news, part 1: Giro's Rev Six revs up at Dauphine, Rebellin conquers on Wilier carbon proto, Giant spy photos at the T-Mobile Service Course
June 8 news, part 2: Specialized unveils new kit, Cervelo & CSC fine-tune at MIT, New forks from Alpha Q, Paint job of the year?
Pro bike: Dede Demet-Barry's T-Mobile Giant TCR Carbon
Bikes of the Giro part 2: The mountains
New arrivals: DMT, Jaggad, Blue Steel, Cannibal, Ellsworth, LeMond Fitness, Atomic Mount
On test: Park Tool IB-1 & IB-2 multi-tools
De Marchi responds
On test: Giro Monza
On test: De Marchi Contour bib shorts,
On test: DeFeet Armskins
May 21 news: Petacchi's new Pinarello, Mayo's Orbea TT secret weapon, adidas, Mavic, Ambrosio, True Temper
On test: White Industries Eccentric ENO hub
World exclusive pro bike: Marion Clignet's Look 496 track bike
On test: Carnac Quartz road shoes
Repair & maintenance: Recording MTB position
Pro bike: Chris Horner's Webcor Lemond TT bike
May 13 news: New Shimano wheels, 29inch victory, CycleOps, Naviion
New arrivals: Crank Bros, Park Tool, Sports Instruments, Morningstar & Panasonic,
New arrivals: 2004 clothing from Campagnolo
On test: Orbea Orca - Real-world team issue
On Test: Specialized Bar Phat tape
Bikes of the Tour de Georgia
Apr 30 news: Campagnolo, Klein, Giant, Sports Instruments, Burley, La Ruta
Apr 27 news: IRD, Oval, Fi'zi:k, Camelbak