Recently on Cyclingnews.com
Tech update – July 25, 2002
Edited by John Stevenson
Got tech? Send press releases, news, and tech questions to the Cyclingnews tech-heads.
Cannondale 2003
Team replica
Photo: © Cannondale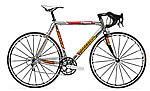 2002 is barely halfway through and already 2003 bikes are starting to appear in the shops. Different manufacturers have different approaches to the midyear introduction of new models; some slip low-end bikes into the shops first and introduce high-end later, and some do the opposite.
Cannondale is in the 'high-end first' camp and the company is already rolling out bikes built around its new CAAD7 frame. Unlike previous Cannondale frames, which have been built from 6061 aluminium, CAAD7 uses a new Alcoa aluminium alloy – dubbed 'Optimo' – that Cannondale has exclusively for at least a year.
There are two variants on the CAAD7 road frame, with a conventional threaded bottom bracket and with Cannondale's own Hollowgram crank and bottom bracket that's claimed to be lighter and stiffer than the equivalent Dura-Ace part.
According to Cannondale's Matthew Moon, we'll see Optimo used in about 2/3rds of the 2003 range from 'Dale, from the top-of-the-line Team Replica on down.
Track bike
Photo: © Cannondale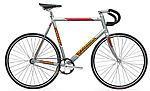 Making a return for 2003 is a Cannondale track bike. Cannondale made track bikes for a few years in the 90s and they were popular with trackies who prized stiffness over all else. The new version uses the CAAD5 tubeset.
The off-road arm sees tweaks and developments too, with more bikes in the Gemini 'freeride' range, including a lighter Gemini with a 135mm Lefty fork. Look out also for a redesigned Jekyll with 135mm rear travel.
Perhaps the biggest news in Cannondale's dirt range is a singlespeed bike. Okay, it's not like singlespeeds are a huge segment of the market, but it's interesting to see a 'mainstream' company like Cannondale getting into this niche. Matt Moon assured us this wasn't just a 'me too' exercise, pointing out that Cannondale wouldn't be bothering if the company wasn't sure it could sell a sensible number of bikes.
The neat tweak Cannondale will be bringing to the singlespeed set is the use of a tandem-style eccentric bottom bracket to adjust the chain tension, rather than the usual horizontal dropouts. That means Cannondale can use a quick-release rear wheel and vertical dropouts, which sounds altogether more elegant than many of the singlespeeds we've seen. This isn't an original idea, as a couple of readers have pointed out. On One, Ibis and Scapin have been using eccentic BBs, among others, and Cannondale's adoption of the idea can only help make it more common. There'll be a front suspension version and – for real purists – a fully rigid model.
Giant 2003
A few people have asked us when the Giant carbon frame that we featured a couple of weeks ago will be available. Well, the frame itself is available now and Giant will have complete bikes in the range from later in the year. There will be three models, with Ultegra, Dura-Ace and Campagnolo Record components, though we doubt there'll be a 'just like Beloki' carbon-cranked version – that's an upgrade you'll have to negotiate with your bike shop.
Off-road, Giant continues with is successful aluminium line, and for 2003 we'll see a new tubing-shaping technology that Giant calls 'fluid forming' and that allows the company to mould reinforcing gussets right into the tubes.
Also imminent from Giant – and we think it's a safe bet Giant won't be the only one – are a pair of high-end rigs using the 2003 XTR group. There'll be a hardtail and a lightweight NRS dual suspension bikes hung with the new XTR. Giant's top end bikes weren't exactly heavy before╔
Where are Campag's carbon cranks?
Hard to find
Photo: © Campagnolo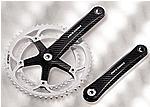 One of this year's most drooled-after components is Campagnolo's carbon fiber Record crankset, but these featherweight arms have been as rare as they are desirable. However, according to Campagnolo's Joseba Arizaga, there are good reasons why we're not seeing more Record carbon on the pros bikes. We asked him why Beloki was the only ONCE rider using the carbon cranks, and Joseba told us, "You are right when you say that only Beloki is using the carbon cranks and [it] is also true that currently 172.5mm version is only available, but that is not the only reason [that] more professional riders are not using the cranks.
"Our sponsorship agreement doesn't expect more than two cranksets per team, so that considering this point and that the 170 and 175mm length crankset are not available only few carbon crankset are used by professional teams."
It seems likely that there'll be more sizes of Record carbon cranks available in 2003, and other goodies rumoured from Vicenza include an all-carbon version of the Bora time trial wheels, Campagnolo lubricants, more triple components (Centaur cranks and Chorus rear derailleur) and 3x10 version of the Ergobrain computer, according to Campagnolo fansite www.campyonly.com.
Lance's pedals
SLP
Photo: © CN

It's no secret that lance Armstrong has been campaigning for most of 2002 on prototype pedals from Shimano that resemble a Look design rather more than Shimano's previous SPD and SPD-R platforms. But what is apparently still a secret is when a production version will be available. In fact, according to Cyclingnews sources, Big S hasn't yet decided if the pedal we are calling the SLP (Shimano Lance Pedal) will even make it to a form us non-yellow-wearing mortals can buy.
More information is expected in the next few weeks, after the main Shimano office in Japan comes back from holiday, but it might be that the SLP will not appear in buyable form till some time next year.
Selle Royal buys Brooks
British saddle maker Brooks, manufacturer of the traditional leather seats that generations of British cycle tourists have sworn by, has been acquired by Italian seat specialist Selle Royal.
"Brooks is a return to our origins–the real essence of why people invent new products," said Riccardo Bigolin, who founded Selle Royal in 1956. "Legend has it that 19-year-old John Boultbee Brooks decided to design and produce a leather saddle for his new velocipede in his father's horse saddle factory because he found wooden saddles very uncomfortable. I also began making leather saddles for not too dissimilar a reason."
Selle Royal plans to revitalise the Brooks brand by combining traditional craftsmanship with new technologies, said Barbara Bigolin, Selle Royal's chief executive officer. "Our marketing capabilities will guarantee new audiences for this historic brand and ensure its place in the market for many years to come," she said.
Koobi helps IMBA access efforts
Saddle maker Koobi has committed $24,000 to the National Mountain Bike Leadership Fund run by MTB advocacy organisation IMBA. The grant comes to IMBA from The Koobi Freedom Foundation, which was established this past year to fund various advocacy projects.
"Koobi is taking a significant leadership role in supporting mountain bike advocacy," said IMBA executive director Tim Blumenthal. "This two-year grant stands as one of the largest cash commitments ever made by a bike industry company to support IMBA's important work."
Recall: Cane Creek 'Thudbuster' suspension seatposts
Cane Creek Cycling Components has recalled about 7,700 bicycle suspension seat posts. The seat post's cradle, which attaches to the bicycle seat, can break, posing the risk of falls and serious injury to riders.
Cane Creek has received 18 reports of cradles breaking though no injuries have been reported.
The recalled Thudbuster Suspension Seat Posts are black and silver and have a range of serial numbers between 10894 and 18710. The serial number can be found inside the seat post's tube toward the bottom of the post. The words, "Cane Creek" and "Thudbuster" are also printed on the seat post. The seat posts are made in the U.S.
Independent bicycle dealers nationwide sold these seat posts between November 2000 and June 2002 for about $140.
Consumers should stop using these seat posts immediately and return them to the company for a free repair. Consumers should contact Cane Creek Cycling Components at (800) 234-2725 between 8:30 a.m. and 5:30 p.m. PT Monday through Friday.
Recent tech
Tour tech: Zipp's slippery new wheel revealed
On test: Klein Palomino XV
June 25 news: New Giant carbon, Crank Bros, Colnago proto, Scott, Topolino
Book review: Lance Armstrong: Images of a champion
New bike for Van Moorsel
New bikes from BT
Cicli Pinarello displays its racing history: Fifty years of classic bikes
June 17 new arrivals: Specialized, Crank Bros, Thomson, Bicycling Science, Drop In
Pro bike: Iban Mayo's Euskaltel-Euskadi Orbea TT climbing prototype
On test: Campagnolo Eurus G3 wheels
Pro bike: Lance Armstrong's Trek Madone SSL proto
Pro bike: Emanuele Sella's Battaglin
June 8 news, part 1: Giro's Rev Six revs up at Dauphine, Rebellin conquers on Wilier carbon proto, Giant spy photos at the T-Mobile Service Course
June 8 news, part 2: Specialized unveils new kit, Cervelo & CSC fine-tune at MIT, New forks from Alpha Q, Paint job of the year?
Pro bike: Dede Demet-Barry's T-Mobile Giant TCR Carbon
Bikes of the Giro part 2: The mountains
New arrivals: DMT, Jaggad, Blue Steel, Cannibal, Ellsworth, LeMond Fitness, Atomic Mount
On test: Park Tool IB-1 & IB-2 multi-tools
De Marchi responds
On test: Giro Monza
On test: De Marchi Contour bib shorts,
On test: DeFeet Armskins
May 21 news: Petacchi's new Pinarello, Mayo's Orbea TT secret weapon, adidas, Mavic, Ambrosio, True Temper
On test: White Industries Eccentric ENO hub
World exclusive pro bike: Marion Clignet's Look 496 track bike
On test: Carnac Quartz road shoes
Repair & maintenance: Recording MTB position
Pro bike: Chris Horner's Webcor Lemond TT bike
May 13 news: New Shimano wheels, 29inch victory, CycleOps, Naviion
New arrivals: Crank Bros, Park Tool, Sports Instruments, Morningstar & Panasonic,
New arrivals: 2004 clothing from Campagnolo
On test: Orbea Orca - Real-world team issue
On Test: Specialized Bar Phat tape
Bikes of the Tour de Georgia
Apr 30 news: Campagnolo, Klein, Giant, Sports Instruments, Burley, La Ruta
Apr 27 news: IRD, Oval, Fi'zi:k, Camelbak