Recently on Cyclingnews.com
Tech update – August 29, 2002
Edited by John Stevenson
Got tech? Send press releases, news, and tech questions to the Cyclingnews tech-heads.
CSC-Tiscali switches to Cervélo
Cervélo's P3 TT bike
Photo: © Cervélo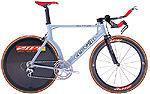 Avid Tour de France bike watchers won't be surprised to hear that Danish Division I team CSC-Tiscali will be riding Canadian-built Cervélo bikes in 2003.
A 2002 CSC Tour TT bike
Photo: © Tim Maloney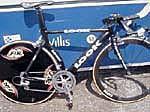 Riders on the team, which includes Tyler Hamilton and Tour King of the Mountains Laurent Jalabert were spotted this year aboard bikes that obviously hadn't been made by the team's 2002 bike sponsor, but bore the aerodynamic hallmarks of this relatively small Toronto manufacturer.
Cervélo may not be a Trek or even a Colnago in size, but the company has an enviable reputation, based on its time trial bikes and in recent years its expansion into more conventional road and track machinery. Indeed, Cervélo's announcement quotes CSC-Tiscali team manager Bjarne Riis as saying "It was [Cervélo's] focus on performance that attracted our attention."
The mutual admiration continues with Cervélo cofounder Gerard Vroomen, who said, "After meeting Bjarne we were really impressed with how obsessed he was about his team's equipment. To be honest, it reminded us of how we obsess over our bikes. We got to discuss how great it would be if we would collaborate on bike design, and pretty soon we decided that we had the chance to do something unique in the sport of cycling if we joined forces."
The team will use the Cervélo P3 and P2K for time trials, the Soloist and Prodigy in road races, and the P2T on the track. On top of that, a new road bike has been developed that Cervélo believes is sure to turn heads.
Hamilton mystery bike revealed
Mysterious
Photo: © Tim maloney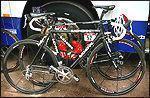 Speaking of CSC-Tiscali riders aboard bikes manufactured by people other than the team's bike sponsor, take a look at this, one of Tyler Hamilton's fleet. According to Hans from Danish newspaper Berlingske Tidende, the bike was actually made by US firm Parlee. Hamilton rode one of these bikes through most of the Giro, but it vanished after a few days of the Tour de France.
Of course it's not unusual for top riders to have favourite bikes that they ride whatever it says on the down tube. But it's getting harder to disguise a bike's identity as manufacturers explore the different shapes and configurations possible in welded aluminium and moulded carbon fibre. A few people must wish for a return to the days of lugged steel anonimity...
Britain's Commonwealth Games bike
Secret weapon
Photo: © British Cycling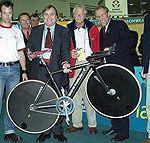 Increased funding and better organised training has probably had a bit to do with the recent renaissance of British cycling, as money has flowed into the sport from the national lottery. But another factor in the British successes at the Commonwealth Games earlier this month was almost certainly this bike, which was ridden to gold in the kilo by Chris Hoy and silver in the Individual Pursuit (Brad Wiggins) and Team Pursuit.
Development of the carbon fibre bike, seen here in the hands of UK Deputy Prime Minister John Prescott, has been overseen by GB Team's Performance Director Peter Keen, with the design work carried out by Dimitris Katsanis of the Derbyshire-based firm ACG. Design work began in December of last year and the first frame was delivered in June.
New Era for Postal
San Marco goes Postal
Photo: © Selle San Marco
US Postal has a long history of association with Selle San Marco, with team members using the company's Concor Light, Strada, Era, and Era Composite seats. San Marco has just announced a USPS special edition of the Era Composite for those who already have the team strip and the Trek 5900.
The Era Composite features a carbon fiber/Kevlar shell and thin-wall tubular titanium rails, making for one of the lightest saddles available at a claimed weight of 128g.
US retail price of the Selle San Marco Era Composite Team USPS is $275.
Quick, hide the brake
Lurking brake
Photo: © Chris Henry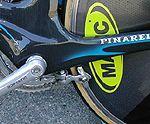 There it is!
Photo: © Chris Henry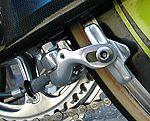 From the Nifty Tweak department, Cyclingnews photographer Chris 'An American in Paris' Henry spotted this very tucked-away brake on one of Fassa Bortolo's Pinarello TT bikes during last month's Tour de France. The rationale appears to be aerodynamics, though we wonder if air wouldn't flow over the brake just as well in its usual seatstay location. That said, the air down there gets pretty dirty as the rider's feet kick it round - any aerodynamicists out there with definitive answers?
Interesting to note also - as reader Lincoln Brown has pointed out - that the brake is a Campagnolo model, rather than the Dura-Ace of the rest of the bike.
XTR update
In our in-depth look at the new XTR last week, we wondered if the new disk brakes would work with current XT hydraulic levers, making for a simple upgrade for a current XT disk owners who might not want to jump straight to the full new system and shifters. Shimano Australia tech wizard Matt Gracie tells us this is in fact the case, saying "yes you are able to use the current BL-M755 XT levers and the new BL-M756 XT levers with the BR-M965 XTR Disc Brake caliper. The only thing you have to do is use the hose with the correct mounting hardware for the brake lever."
We also heard the same thing from someone who knows someone who's actually had a chance to try it. Eric Borling wrote to let us know, "according to Joe Murray of Shimano (a friend of mine) you can mate the hydraulic XT levers to the new XTR calipers... which makes us singlespeeders happy." Maybe there's an XTR-S group in the offing for these folks...
Recalls
Terry Precision Cycling is recalling about 300 Terry Tellus ST 650 x 28c road bike tires. The company will replace the defective tires. Due to a manufacturing defect, the tread on some tires may separate and break down, causing premature wear and flats. There is no way to visually inspect for a defective tire. Terry sold the tires on of some of its 2002 Symmetry and Isis road bikes and sold some as after-market product. The company is advising that current Tellus ST tires should be replaced. For information contact Terry at (800) 289-8379.
Cannondale is recalling 3T Zepp XL stems fitted to the following models: 2002 R3000 Si Double, 2003 R3000 Si Double; 2002 R3000 Si, Triple; 2003 R3000 Si, Triple; 2002 R4000 Si; 2003 R6000 Si Saeco Team Replica; 2002 R5000 Si; 2002 Black Lightning; 2002 Chain Gang.
According to Cannondale, the front portion of the stem, often called the face plate, has two counterbored or recessed holes for two bolts. These bolts clamp the face plate against the handlebar, clamping the handlebar in place. The two counterbored holes in the face plate were made too shallow. This results in insufficient thread engagement and a risk that the bolts may strip or pull out of the body of the stem.
Cannondale warns that "failure to observe this recall could result in stem failure in the field. Such a failure would lead to loss of steering control and an accident with attendant risk of serious injury or death. Please co-operate with this recall." Call 1-800-BIKEUSA with any questions or to locate your nearest retailer.
Answer Products Inc. has recalled about 850 mountain bike forks. The spring and adjuster can separate from the suspension fork and strike the rider, causing injuries. Answer Products has received 18 reports of these adjusters separating from the fork and being projected at riders, causing four consumers to suffer cuts, bruises and one chipped tooth. The recalled 2002 model forks were installed on Specialized Rockhopper A-1 Comp and Mongoose Hot Link Sommet series bicycles. "MANITOU" is printed on the side of the fork and the model name - "Six Elite" and "Six Super" - is printed on the arch of the fork and on the side of the fork leg.
Bicycle stores nationwide and mail-order catalogs sold these bicycles from January 2002 through August 2002 for between $800 and $900. Consumers should immediately stop riding these bicycles and call Answer Products Inc. at (800) 423-0273 between 8 a.m. and 5 p.m. PT Monday through Friday or log on to the company's website at www.answerproducts.com/safetynotice.htm to determine if your bicycle is among the recalled models. Consumers should take their bicycle to the dealer where it was purchased or to any authorized Answer Products dealer for a free repair.
Recent tech
Tour tech: Zipp's slippery new wheel revealed
On test: Klein Palomino XV
June 25 news: New Giant carbon, Crank Bros, Colnago proto, Scott, Topolino
Book review: Lance Armstrong: Images of a champion
New bike for Van Moorsel
New bikes from BT
Cicli Pinarello displays its racing history: Fifty years of classic bikes
June 17 new arrivals: Specialized, Crank Bros, Thomson, Bicycling Science, Drop In
Pro bike: Iban Mayo's Euskaltel-Euskadi Orbea TT climbing prototype
On test: Campagnolo Eurus G3 wheels
Pro bike: Lance Armstrong's Trek Madone SSL proto
Pro bike: Emanuele Sella's Battaglin
June 8 news, part 1: Giro's Rev Six revs up at Dauphine, Rebellin conquers on Wilier carbon proto, Giant spy photos at the T-Mobile Service Course
June 8 news, part 2: Specialized unveils new kit, Cervelo & CSC fine-tune at MIT, New forks from Alpha Q, Paint job of the year?
Pro bike: Dede Demet-Barry's T-Mobile Giant TCR Carbon
Bikes of the Giro part 2: The mountains
New arrivals: DMT, Jaggad, Blue Steel, Cannibal, Ellsworth, LeMond Fitness, Atomic Mount
On test: Park Tool IB-1 & IB-2 multi-tools
De Marchi responds
On test: Giro Monza
On test: De Marchi Contour bib shorts,
On test: DeFeet Armskins
May 21 news: Petacchi's new Pinarello, Mayo's Orbea TT secret weapon, adidas, Mavic, Ambrosio, True Temper
On test: White Industries Eccentric ENO hub
World exclusive pro bike: Marion Clignet's Look 496 track bike
On test: Carnac Quartz road shoes
Repair & maintenance: Recording MTB position
Pro bike: Chris Horner's Webcor Lemond TT bike
May 13 news: New Shimano wheels, 29inch victory, CycleOps, Naviion
New arrivals: Crank Bros, Park Tool, Sports Instruments, Morningstar & Panasonic,
New arrivals: 2004 clothing from Campagnolo
On test: Orbea Orca - Real-world team issue
On Test: Specialized Bar Phat tape
Bikes of the Tour de Georgia
Apr 30 news: Campagnolo, Klein, Giant, Sports Instruments, Burley, La Ruta
Apr 27 news: IRD, Oval, Fi'zi:k, Camelbak