Interbike 2004
Las Vegas, USA, October 4-8, 2004
Interbike snippets
Some of the things you run across in a show the size of Interbike just don't fit into simple categories. Here's a few of the interesting but unclassifiable things we ran across in Las Vegas, as spotted by Tim Maloney and Jon Devich.
Cyclingnews Vs. Jan? No Way; Bring On Lance!
Chris Carmichael (R)
Photo ©: Tim Maloney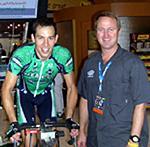 Cyclingnews caught up Lance Armstrong's coach Chris Carmichael at Interbike Las Vegas, where he has teamed up with Lance's sports beverage sponsor PowerBar to set up a unique training test. Carmichael, who heads up Carmichael Training Systems (CTS) told Cyclingnews, "we've brought a high performance SRM ergometer training system and have invited the media to have your results analyzed by our expert training coaches from CTS. There are only three of these high performance SRM ergometers exist in the U.S, and during a ten minute ride on the system, set up to simulate key Tour de France stages, we measure your power ranges, lactate threshold, cadence, heart rate and distance. Since SRM has the data from Jan Ullrich in this year's Tour, we can then tell you how you stack up against Jan."
But Cyclingnews was forced to decline Carmichael's offer, as we were only willing to compare ourselves against six-time Tour De France champ Armstrong. While contemplating, we did have a chance to try PowerBar's tasty new sports drinks, Endurance and Recovery, both of which certainly helped our performance on the floor of the Interbike trade show.
Cannondale cranks up the power
Feel the power
Photo ©: Tim Maloney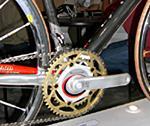 New for 2005 on Cannondale's Interbike stand was a special version of the American bike makers top of the line Six13 road bike. Cannondale's Jeff Titone told Cyclingnews that "we've developed a Six13 with a built-in SRM Powermeter. This will become team issue for the Saeco-Lampre team in 2005 and will be available as a complete bike in late Spring '05. We also plan to offer this as an upgrade package if your bike has a Hollowgram crank with the oversize bottom bracket."
Fender Bender
Mudguard man David Guettler
Photo ©: Tim Maloney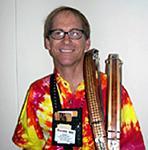 Portland bicycle retailer David Guettler not only loves bicycles, but he has taken his expertise in fine woodworking (he hand-built the interior and display fixtures of his shop, River City Cycles himself) and combined it to create a unique new approach to bicycle fenders: Full Wood Fenders. Guettler was walking the Interbike show as a human stand when we caught up with him to check out his unique wooden fenders.
Ecologically sound and regionally appropriate for the rainy climate of the Pacific Northwest, Guettler's Full Wood Fenders are unique, durable and can fit on any bike. Available in 1.5" & 2" widths and for both 700c and 20" diameter wheels, they're available in a wide variety of wood finishes including Lacewood, Purple Heart, Zebrano, Wenge and others. Another cool feature of the Full Wood Fenders is that they are supplied with complete stainless steel mounting hardware, essential for long-term fender use in wet climates.
Photos
The rear end of the CycleOps Pro 300PT.
Photo ©: Jon Devich

Adjustability reigns on the Pro 300PT.
Photo ©: Jon Devich

The main control center of the Pro 300PT.
Photo ©: Jon Devich

Sometimes you just gotta have a little bling-bling.
Photo ©: Jon Devich

Redline introduced this sweet new chopper.
Photo ©: Jon Devich

The looong front end
Photo ©: Jon Devich

Redline chose a unique belt drive
Photo ©: Jon Devich

Check out the size of the rear tire
Photo ©: Jon Devich

Another view of the chopper read end
Photo ©: Jon Devich

A new company on the hydration pack scene is Wingnut.
Photo ©: Jon Devich

Wingnut uses a very lightweight sailcloth material
Photo ©: Jon Devich

Bob Roll interviews Gilberto Simoni
Photo ©: Jon Devich