EICMA 2004
Milan, Italy, September 17-20, 2004
La Bella Bici
We Three Kings
Photo ©: Tim Maloney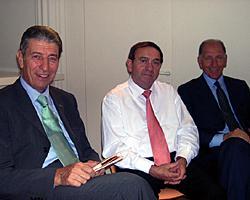 It's the 62nd edition of the EICMA Milano bicycle exposition and this is the final year that the trade show will take place in the old and outmoded halls of Fiera Milano. Nonetheless, EICMA 2004 boasts record attendance this year, with 665 brands on display, up 15 percent over last year.
With the World Championships in Verona just a week away and the official introduction of Italy's top bicycle manufacturers 2005 ranges, cycling has reached fever pitch in Italia. On the opening night of EICMA Milano, local authorities closed the main shopping street of Corso Buenos Aires from 8pm to midnight to traffic, liberating the huge thoroughfare for free transit by bikers and strollers. Bars and pubs along the Corso served special "Coppi" and "Bartali" cocktails.
"I Big" of Italian cycling are rampant at EICMA this year: names like Moser, Bugno, Baldini, Gimondi, Fondriest and Saronni among others stroll the aisles along with everyday Italian cycling enthusiasts like Beppe, Gino and Alessandra.