International Cycle Show 2004
Islington, England, September 23-26, 2004
London Calling - Bigger and better bike show in London
Looking down on the International Cycle show
Photo ©: Gerry McManus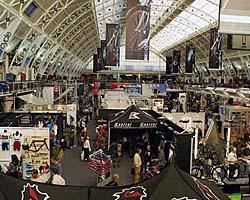 The International Cycle show opened in London to the trade on Thursday 24th September with an array of exhibitors with new products and services and the third running of the annual event looks to be the best ever. Many of the big manufacturers are appearing as well as the 'Best of British' designers, manufacturers and distributors which will appeal to the general public on the three open days of 25th, 26th and 27th September.
Cyclingnews.com correspondent Gerry McManus visited the show to give visitors a sneak preview of what's on offer from the British boys and give them a chance to tell us what they are all about.
The Bike Shop - Malcolm Fryer
Quest Kamano;
Photo ©: Gerry McManus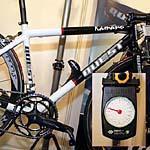 "We specialise in bikes with Scandium tubing custom made for us. And the new Kamano bike is just a sample of what we can do and weighing in at 13lbs including pedals it's out showstopper but it is still a very reliable road bike. The one we have here is a small size frame but moving up to a medium would only add about 4 or 5 ounces. We also have a large selection of custom made components made for us in Italy or the Far East and the full range is on show."
Team Sport & Publicity - Mike Clark
"Our range of books include or own publications including Mr Tom, Indurain and JB Wadley. We have a mixture of books all available on ail order including photographic books by Graham Watson and Phil O'Connor. Our list includes a vast selection on training and bicycle maintenance and glossy coffee table books and we even have books in foreign languages."
Lightrider - Julian Davies
"The product is a unique light with lights the road ahead and the rider as well. The product has been designed six years ago but it has taken a while to get it to market and we are using the show to launch it. The battery will last on full power for over 40 hours and the front light has two beams to light the road and to light the way ahead. The other beam lights the rider and makes him/her very visible."
ATB Sales - Jon Whyte.
"I designed the new bicycle as well as being the chief designer for Marin Bikes. We launched the Lyte brand about five years ago for the top end of the market. The Mezzo folding bike was produced because commuting by bike is major growth area so we put all our mountain bike technology with heat treated frames to make a high-tec-fold-small-ride-big bike. It weighs a eleven kilos with a nine-speed transmission."
Barry Smith
Photo ©: Gerry McManus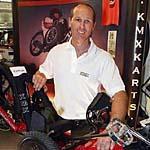 KMX Karts - Barry Smith.
(It helps to read this in an Australian accent)
"I used to make these things in me garage at home just for me kids. Then we exhibited at the bike show and got contacted by a firm in Taiwan and the next thing we knew we were on a plane going there and bringing back a container of over 300. Now we have got distributor in Ireland who we will be shipping over 2,500 units to. Last year we got best new product at the show and they asked us when we going to have adult ones cos they wanna have some fun as well so we have got some for this show. I've been in me garage every night for the past few weeks cutting up bits of metal."
Science in Sport
"We are leaders in sports nutrition and have been going for the last 10 years. We are probably most famous for supplying the energy drinks for Bradley Wiggins. We are mainly energy drinks but we have energy bars too and the last concept of gels."
Condor Cycles - Grant Young
"We have been going for 57 years and it's still a family business. We ship all over the world and over the last couple of years we have used the show to launch all our new products and we have all our 2005 range here of nearly 30 new models. For a small manufacturer I think we are doing well. We range from racing, touring, track and mountain bike we even have one bike that we have specially produced for the police."
The Sigma Sport stand
Photo ©: Gerry McManus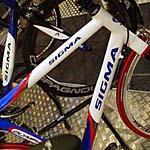 Sigma Sport - Dan the mechanic
"We are at the high end of the road bike market and we do our own range of bikes and import the Seven brand of frames. The company has been going for over 13 years and we now have a second shop and a mail-order business and we have our own racing team.
Italian Solutions - Terry Dolan.
"We have range of mainly carbon frames and forks at the show in various forms including carbon and aluminium on road bikes and time trial machines. We are at the show to show the new frames off early. We make complete bikes too and they can be around 14lbs depending on the components."
Photos
Images by Gerry McManus