Bicycling Australia Show 2004
Melbourne, Australia, October 20-24, 2004
Australian industry on display in Melbourne
The Bicycling Australia show
Photo ©: Paul Mirtschin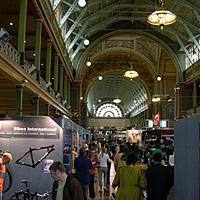 The Australian bike industry was on display over the weekend at the Bicycling Australia show in Melbourne's Royal Exhibition Building. Over 8,000 people ventured into this classic Victorian building - one of Melbourne's landmarks - that was built for the Centennial International Exhibition in 1888. Well over a century later, it provided the venue for a mini-Interbike with over 100 of Australia's importers and manufacturers displaying their 2005 equipment.
Unlike Interbike, though, the Bicycling Australia show is also open to the public (after one trade-only day) and to keep the punters entertained, organisers put on range of displays including roller racing, where trackies race each other on very large stationary rollers mechanically linked to lap counters. The sound of 4000 watts of human energy reverberating through the timber construction sounded like the building itself was about to take off. For the dirt crowd, there were equally impressive MTB trials displays, as well as two BMX ramps for the extreme crowd.
It's one of those rare occasions when all branches of cycling come together under one buttressed and elegantly vaulting roof, with the displays by some of Australia's best exponents of their chosen disciplines injecting some energy into what can be dull affairs.
This year's show was substantially bigger than the 2004 edition in Sydney, not least because it was a bit later in the year and therefore far more Australian importers turned up with 2005 equipment. Australian riders got their first chance to see new stuff from the likes of Trek, Specialized, Cervelo, BMC, Orbea, Giant, GT, Scott, Cannondale, Colnago and many others.
There was also strong representation from the Australasian industry with companies like carbon fiber bike maker Leggera, steel and (now) titanium specialist Baum and clothing companies such as Netti, Cannibal and Body Torque all taking stands, plus Avanti bikes and NZo clothing from New Zealand. A test track outside the venue provided a place for riders to take a spin on the new bikes.
Olivia Gollan
Photo ©: Gerard Knapp

Unlike Interbike, however, there was no reliance on 'star attractions' to get visitors to booths. Despite their success this year, there was only a relative smattering of Australian bike riding celebs who also turned up to fly the flag for their sponsors. Olympian Olivia Gollan was there signing and riding the stationary trainer in her Athens team gear for bike sponsor Trek, while MTB rider Sid Taberley was scribbling his moniker for Avanti.
Gollan was a key part of the Australian women's victory in the road race at Athens, taken out by Sara Carrigan. Trek's Australian distributor, Trek Bikes Australia, has been the equipment sponsor to the Australian Institute of Sport (AIS) women's road cycling program for three years, and in that time the cyclists have notched up many victories, including the gold medal in the road race in Athens, plus the 2004 World Cup, won by Oenone Wood.
Other riders spotted in the hall included downhill racer Nathan Rennie, MTBers Trent Lowe and Paul Rowney, while Athens gold medalist Stephen Wooldridge was also spotted on the floor.
A sign of the growth in Australian cycling - especially on the road - was the healthy presence of Australian event organisation and campaigning bodies, such as the Jacob's Creek Tour Down Under. A major new tourism initiative - simply dubbed 'Cycle Tourism' - was announced to promote Australia as a cycle-touring destination. On the racing side, Geoff Meyer of Queensland's USM Sportsm, told Cyclingnews that the Australian road club nationals - organised by his company - had seen 1300 entries this year, up from 900 the year before.
Greg Rule of Continental Oceania
Photo ©: Gerard Knapp

While there were many of the high-end machines on display, Cyclingnews was always on the look-out for something practical, and if you've ever ripped straight through a brand new tyre on a piece of malevolent road debris (which is, of course, the only time it happens), you'll be interested in Continental Oceania's replacement deal for its new high-end road and MTB tyres.
The venerable German manufacturer has improved the puncture resistance of its high-end tyres to the point where Greg Rule, 'el presidente' of Continental Oceania, is introducing a discount replacement scheme called the 'Performance Tyre Guarantee'. If a rider cops a puncture caused by an object penetrating the tyre's casing in the first three months for the road range and 12 months for the heavier MTB and hybrid tyres, the company will replace the damaged tyre. However, at this stage, the offer will only be available in Australia.
Look out for more reports and photos from this Australian show, with a special emphasis on the country's own bike-makers, as well as further reports from Interbike still to come.