Bicycling Australia Show 2004
Melbourne, Australia, October 20-24, 2004
Australasian manufacturers look to carbon and Ti
By John Stevenson
The bike industry of most countries splits into two parts. There are the import and wholesale companies, whose biz is bringing in cartons and containers of stuff from abroad and getting them out to riders through bike shops, and then there are the local companies that actually make or design stuff.
Because of its relatively small population and enormous size (think the population of Texas and the land area of the US lower 48), Australia doesn't have the same size homegrown industry compared to the USA or Germany. But the companies that have chosen to originate or design products in Australia are doing some interesting work.
Leggera Piuma top tube
Photo ©: Paul Mirtschin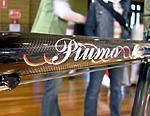 Leggera Bikes, from the Gold Coast area of Queensland, is unashamedly in the 'design it here, make it in Taiwan' mode that has been successful for many bike companies. Leggera introduced the Piuma at the Bicycling Australia show, a sub-1000g frame aimed to compete with, well, all the other sub-1000g frames out there. "It's designed to be super-stiff and durable," says Leggera's Paul Farrell, emphasizing that Leggera believes it's important for bikes to be built to last as well as to be light in weight.
Leggera is also the Australian importer of Modolo bars and stems, and was showing Modolo's new Kaly stem which uses a very clean boltless attachment to mount on the steerer.
Melbourne framebuilder Baum showed its range of beautifully-constructed steel frames. The understated appearance of Baum's bikes belies the attention to detail that becomes obvious when you get up close and personal with them (that's why we have so many pics of them, and not because we're sad tech-weenies, honest).
Baum Espresso Ti
Photo ©: Paul Mirtschin
The big news from Baum is that the company is moving into titanium frame manufacture, aiming to be competitive with very high-end US-built frames such as Seven and Moots. On display at Melbourne was the plain-gauge Espresso Ti, made from 3Al/2.5V tubing, and Baum's Jo Banks told Cyclingnews that a butted 6Al/4V version - dubbed Ristretto Ti - was about three months away. Despite the seeming dominance of carbon fiber, "there's a strong interest in quality steel and titanium frames," said Banks. With price tags of about Au$4,500 for the Espresso Ti and around Au$6,000 for Ristretto Ti these are nevertheless frames for the discerning and deep-of-pocket.
Avanti Cycles is a dominant bike brand in New Zealand and its popularity also spreads across to Australia. Avanti jumped aboard the carbon fiber freight train for 2005 with two carbon fiber bikes, the Dura-Ace equipped team Carbonia and the Carbonio Elite with the new ten-speed Ultegra.
Olympic mountain biker Sid Taberley
Photo ©: Paul Mirtschin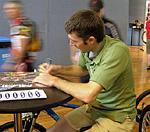 In the dirt, Avanti is the bike sponsor of popular Australian Olympian Sid Taberley, and Taberley was kept busy during the public days signing his name for a steady stream of fans. Avanti is also the bike sponsor of New Zealand's Sarah Ulmer, who won the gold medal in the women's 3km individual pursuit at the Athens Olympic Games.
Sydney framebuilder Paul Hillbrick is an option for those Australians - or Sydney-siders - looking for custom frames. With his involvement with racing in New South Wales, especially on the track, Hillbrick had a wide variety of frames on show in Melbourne, from straightforward traditional lugged steel numbers to aluminium-and-carbon constructions.
John Kennedy is another Melbourne custom builder with a reputation as an expert in custom-fitting bikes to riders. As well as showing off his frames, John gave a seminar on bike fit, along with Cyclingnews form and fitness panelist Steve Hogg.
Look out for more on from the Bicycling Australia show over the next few days.
Photography
Big crowds
Photo ©: Paul Mirtschin

The interior of the Royal Exhibition Building
Photo ©: Paul Mirtschin

Australian company Leggera
Photo ©: Paul Mirtschin

Leggera Piuma top tube
Photo ©: Paul Mirtschin

Leggera's Carbon Race TT bike
Photo ©: Paul Mirtschin

A look down Leggera's tube
Photo ©: Paul Mirtschin

Modolo KX carbon seat post
Photo ©: Paul Mirtschin

Modolo has embraced fat bars too
Photo ©: Paul Mirtschin

New Zealand MTB clothing company NZo
Photo ©: Paul Mirtschin

Raceline Expert XC hardtail
Photo ©: Paul Mirtschin

Raceline dropouts
Photo ©: Paul Mirtschin

Apollo's hardcore hardtail
Photo ©: Paul Mirtschin

Olympic mountain biker Sid Taberley
Photo ©: Paul Mirtschin

Taberley's bike sponsor Avanti
Photo ©: Paul Mirtschin

Top Aussie downhiller Jarrod Rando
Photo ©: Paul Mirtschin

Tandems are still rare in Australia
Photo ©: Paul Mirtschin

This vintage tandem would probably be a deterrent though...
Photo ©: Paul Mirtschin

The BMXers wowed everyone
Photo ©: Paul Mirtschin

The unicycle display team
Photo ©: Paul Mirtschin

... and lands it
Photo ©: Paul Mirtschin

The trials display
Photo ©: Paul Mirtschin

Raleigh celebrated its heritage
Photo ©: Paul Mirtschin

No, no, not the comfy chair
Photo ©: Paul Mirtschin

Baum's steel and carbon frame
Photo ©: Paul Mirtschin

Baum had this tidy machine
Photo ©: Paul Mirtschin

Close up of the BB
Photo ©: Paul Mirtschin

Plenty of adjustment
Photo ©: Paul Mirtschin

Elegant welded-up seatstays on the Baum singlespeed
Photo ©: Paul Mirtschin

Baum Espresso Ti
Photo ©: Paul Mirtschin

If you want to get a head
Photo ©: Paul Mirtschin

Baum uses these drilled-out dropouts
Photo ©: Paul Mirtschin

Very tidy construction
Photo ©: Paul Mirtschin

Baum builds this radical singlespeed
Photo ©: Paul Mirtschin

Baum is combining steel and carbon
Photo ©: Paul Mirtschin

Body Torque
Photo ©: Paul Mirtschin

It's okay
Photo ©: Paul Mirtschin

Sydney's Paul Hillbrick
Photo ©: Paul Mirtschin

Aluminium frame with carbon stays by Hillbrick
Photo ©: Paul Mirtschin

Trike conversion unit by Hillbrick
Photo ©: Paul Mirtschin

Stephen Wooldridge
Photo ©: Paul Mirtschin

Lesley "Stuey's sister" O'Grady
Photo ©: Paul Mirtschin

Sally Heading and Lesley O'Grady
Photo ©: Paul Mirtschin

Melbourne fit specialist John Kennedy
Photo ©: Paul Mirtschin

... and complete bikes
Photo ©: Paul Mirtschin