Recently on Cyclingnews.com
Book review - January 3, 2005
Velo 2004 by Paul De Keyser and Harry Van den Bremt
Facts at your fingertips
Reviewed by Jeff Jones
Photo ©: CN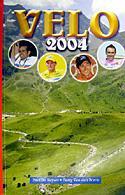 Like most sports, cycling is well endowed with its share of facts and figures. From a rider's time in a road race, to how many races they've won, to how fast they can do a kilometre on the track - it's all a numbers game. Of course it's not actually necessary to have a mathematical bent to appreciate most forms of cycling, but there are plenty of people who are fascinated by the statistics of the sport. The Velo series of books, compiled by Belgian journalists Paul de Keyser and Harry Van den Bremt, are just the thing for these aficionados.
The Velo books come out at the beginning of each new season, and are crammed full of statistics from the previous season, and in many cases even further historical detail. Cyclingnews reviewed a copy of Velo 2004, a solid 640-page almanac that is based on the 2003 season. Although we're used to dealing with large volumes of results on our site on a daily basis, it is still quite impressive to see everything bundled together in a book such as this one.
Velo starts with a written month-by-month summary of the previous season, which is some six pages noting all the significant race results, deaths, doping stories and anything else newsworthy. The summary is written in French, Dutch, Spanish, Italian and English, which should keep most cycling aficionados happy. Similarly, the rest of the book is in French and Dutch, with some parts in English. Language is not really a big issue, as the stats and sections are pretty self explanatory, but even so it's clear (and understandable) that this is aimed at Belgian readers.
What it's got
There are more than 20 sections packed into Velo 2004, with over half dedicated to professional male road riders, and the rest split between women's road racing, U23/amateur/junior road racing, track racing, cyclo-cross, mountain biking, artistic cycling, and even an "in memoriam" section. Hundreds of photos are spread throughout the book to alleviate the dryness of it all.
In terms of results, you can find everything that's on the UCI calendar in varying degrees of detail. Full results (and in many cases start lists) of the major championships, grand tours and classics are given, as well as partial results from all other stage races, road races, time trials, criteriums and yearly classifications such as the World Cup. Men's road racing is covered in the most depth, but the women, U23, junior and amateur riders all receive fairly comprehensive coverage, with results from more than 40 countries. Naturally, Belgium receives the most coverage, and all the amateur kermises, tours and championships can be found in Velo.
Of interest was a palmares section which covers a large chunk of the professional peloton. The rider's preceding year is broken down in detail (wins and placings in major races), but there's also information on the rest of his career. For example, I now know that Jose Luis Arrieta, riding for Banesto in 1995, finished 64th in the Giro d'Italia. I can feel that will come in handy one of these days.
The book concludes with a somewhat sober "in memoriam" section dedicated to riders who died in the past year. Although some riders have clearly enjoyed long lives, there are unfortunately quite a few young rider deaths as well.
Velo Plus and Gotha
But wait, there's more... Also available with Velo 2004 is a more historical book called Velo Plus, which is a comprehensive collection of past winners of most of the major races, including many races that are no longer held. For 2005, the publishers have promised to bring out a new edition of Gotha - a huge dictionary of cycling with details and palmares from more or less every important rider since cycling competition started, over hundred years ago. Gotha was last published in 1984, and even then it was almost 800 pages. In 2005, it will be available in English for the first time.
Overall, the Velo books are perfect for the cycling stats geek, who just has to know what gear Ole Ritter used in his Hour Record attempt in 1968 or who won the kermis in Drongen on June 19, 2003. They're just the thing for holding your own at all those cycling beer & pizza nights, barbecues and cocktail parties.
Recommended retail price: €28 (Velo 2004), €25 (Velo Plus 2004), €50 (Velo + Velo Plus). The price of Velo 2005 and Gotha have not yet been fixed.
Available: European bookshops (non-Europeans can contact the editor at raf@travel-marketing.be)
Cyclingnews Rating:

What do you think of 'Velo'? Let us know
Recent tech
Tour tech: Zipp's slippery new wheel revealed
On test: Klein Palomino XV
June 25 news: New Giant carbon, Crank Bros, Colnago proto, Scott, Topolino
Book review: Lance Armstrong: Images of a champion
New bike for Van Moorsel
New bikes from BT
Cicli Pinarello displays its racing history: Fifty years of classic bikes
June 17 new arrivals: Specialized, Crank Bros, Thomson, Bicycling Science, Drop In
Pro bike: Iban Mayo's Euskaltel-Euskadi Orbea TT climbing prototype
On test: Campagnolo Eurus G3 wheels
Pro bike: Lance Armstrong's Trek Madone SSL proto
Pro bike: Emanuele Sella's Battaglin
June 8 news, part 1: Giro's Rev Six revs up at Dauphine, Rebellin conquers on Wilier carbon proto, Giant spy photos at the T-Mobile Service Course
June 8 news, part 2: Specialized unveils new kit, Cervelo & CSC fine-tune at MIT, New forks from Alpha Q, Paint job of the year?
Pro bike: Dede Demet-Barry's T-Mobile Giant TCR Carbon
Bikes of the Giro part 2: The mountains
New arrivals: DMT, Jaggad, Blue Steel, Cannibal, Ellsworth, LeMond Fitness, Atomic Mount
On test: Park Tool IB-1 & IB-2 multi-tools
De Marchi responds
On test: Giro Monza
On test: De Marchi Contour bib shorts,
On test: DeFeet Armskins
May 21 news: Petacchi's new Pinarello, Mayo's Orbea TT secret weapon, adidas, Mavic, Ambrosio, True Temper
On test: White Industries Eccentric ENO hub
World exclusive pro bike: Marion Clignet's Look 496 track bike
On test: Carnac Quartz road shoes
Repair & maintenance: Recording MTB position
Pro bike: Chris Horner's Webcor Lemond TT bike
May 13 news: New Shimano wheels, 29inch victory, CycleOps, Naviion
New arrivals: Crank Bros, Park Tool, Sports Instruments, Morningstar & Panasonic,
New arrivals: 2004 clothing from Campagnolo
On test: Orbea Orca - Real-world team issue
On Test: Specialized Bar Phat tape
Bikes of the Tour de Georgia
Apr 30 news: Campagnolo, Klein, Giant, Sports Instruments, Burley, La Ruta
Apr 27 news: IRD, Oval, Fi'zi:k, Camelbak