Tech review – February 27, 2004
Guru Carbonio/Ti
Custom carbon comfort
Rare custom carbon
Photo ©: Kristy Scrymgeour/CN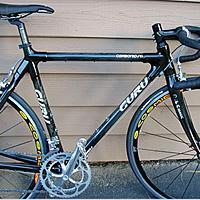 Guru's Carbonio/Ti is a carbon fiber frame with a little extra - its hard points are made from titanium instead of the usual aluminium. Kristy Scrymgeour took one for a spin to find out how the combination of the two high-tech materials rides.
The Carbonio/Ti is the latest frame from young but innovative Quebec framebuilder Guru Bicycle Corp. The company began making bikes six years ago with high quality chromoly frames, a material that's still represented in the Guru range with the Strada and New Steel frames. With the rising popularity of nonferrous materials, Guru noticed that few companies offered custom frames in aluminium and titanium and expanded the lineup to include those metals.
A carbon frame was the logical next step, completing a full complement of materials. "We played around with carbon for a couple of years," says Guru's Robert Pinazza. "We didn't just want to build a bike. We wanted to build a bike that emulated the feel of titanium in carbon so that it wasn't a woody ride, but more of a lively one. We were lucky to have a lot of background in not only titanium, but also steel and aluminium, so were able to emulate our carbon from all of these three materials. We are very happy with the finished bike."
Filament-wound fibers
Photo ©: Kristy Scrymgeour/CN

The seat cluster
Photo ©: Kristy Scrymgeour/CN

The head lug
Photo ©: Kristy Scrymgeour/CN

The bottom bracket cluster
Photo ©: Kristy Scrymgeour/CN

Titanium dropouts
Photo ©: Kristy Scrymgeour/CN

Deda's Black magic fork
Photo ©: Kristy Scrymgeour/CN

Guru still focuses on high-end performance, specializing in top-flight time trial bikes and road bikes; there's also now a titanium MTB frame. As well as a comprehensive choice of materials, Guru will custom-build the frame to your requirements, and you get to choose your components, parts and paint job.
Guru offers two carbon bikes, the Carbonio and the Carbonio/Ti which weighs in at only 1150 grams for a 56cm frame, and it's the Carbonio/Ti we're looking at today.
Out of the box
The Carbonio/Ti was an exciting box-unpacking experience. Pulling any high-end bike out of the wrappers is a thrill - however many you've ridden you never get bored of it! But the carbonio/Ti is one of those bikes that just looks right. First impressions are already good before you even hop on. I've always liked the look of raw carbon and this one even changes colour a little in the light with the striations of the carbon - a very nice effect.
Beauty is more than skin deep here though. The frame features high fiber content, high compaction, filament wound tubing with proprietory molded lugs bonded to titanium fittings. The aim for Guru was to provide outstanding strength and durability as well as come up with a frame that has perfect stiffness. Guru believes that they have mastered this and made a frame that is not too flexy and not too stiff.
Our test bike was fitted out with Shimano Ultegra components, Deda stem and bars, Selle Italia saddle and Mavic wheels, but many of these parts are 2003 stock. See below for the standard parts that come with the frame in 2004.
Going down
One of the first things I like to feel on a new bike is how it descends. As I live at the top of a steep 2km hill in Colorado Springs, I have a perfect first ride test track, and my first impression of the Guru Carbonio/Ti bike was nothing but excellent. It swooped down the hill with the precision of a bird diving for a fish, and because it was custom made to fit me and I immediately felt comfortable just moments after stepping on to the bike.
The subsequent two months of riding the Carbonio/Ti revealed a bike that was very easy to live with. As well as being stiff and light as you would expect from a carbon frame, it's a comfortable ride and sufficiently absorbs the inconsistencies in the road. It also responds enthusiastically to sprinting efforts and leans smoothly and comfortably into corners. I liked it even more each time I had to go back up the steep climb again to my apartment. The bike was light enough to make me feel like climbs are easy, something I am rarely able to say! And the bike I rode didn't even have the light carbon cranks, saddle and wheels that the Carbonio/Ti now comes with, which make it even lighter.
I enlisted former world champion Cathy Marsal to give her opinion of the bike, too. Having raced for almost 20 years, Marsal has ridden a lot of bikes. Marsal was a member of the Rona team last year who raced on the Colnago C40 carbon bikes and she immediately felt right at home on the Carbonio/Ti, saying that it felt "very similar, if not more responsive, than the C40." Praise indeed, against a bike considered by many to be the ultimate.
Two thumbs up
I have to say that I really liked the Carbonio/Ti. It is a light, responsive, high performance bike that looks good and - rarely for carbon fiber - it's built to fit. I spent a lot of time on the road trying to find something I didn't like about the Guru, but I couldn't.
The only real problem with the Carbopnio/Ti will come if you want an unusual combination of size and angles - say, a laid back seat angle on a small frame - a 54cm frame with a 72.5 degree seat angle, say. Some combinations are difficult because the frame uses carbon tubes bonded into carbon lugs, and if you need something that unusual, carbon may simply not be the right material for you.
Guru is already playing around with ideas for its 2005 line-up. "One thing I think we will do," said Pinazza, "is create more of a difference between the Carbonio and the Carbonio/Ti. We have been recognized as a company who has a good vision of evolution," added Pinazza. "We are going to continue to push the envelope in that regard."
Pro: Custom made, light, responsive, looks good, your choice of componentry
Con: None
More information: Guru's website
Cyclingnews Rating: