Tech News – March 24, 2004
Edited by John Stevenson
Got tech? Send press releases, news, and tech questions to the Cyclingnews tech-heads.
Iban Mayo's Orbea Orca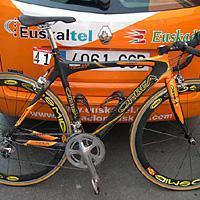 The rear triangle

The head tube

Iban Mayo's Team Euskaltel-Euskadi Orbea Orca
By Tim Maloney
We tracked down the elusive and hightly sought after Orbea Orca of Team Euskaltel-Euskadi's star Iban Mayo after the final stage of the Vuelta Murcia a couple of weeks
ago. The Spanish firm claims a weight of 1000g for the Orca's frame and fork and the bike's distinctive curves aren't just for looks; Orca offers exceptional strength and shock damping characteristics from its aerospace epoxy and T7000 carbon fiber composite construction, according to the makers. Euskaltel-Euskadi's mechanics told us the riders are very happy with their Orca bikes and that although Mayo was riding a stock 51cm frame here, he would have a custom sized bike later this season.
Full specification
Frame: Orbea Orca carbon fiber monocoque
Fork: Orbea Orca Integrated
Colour: Euskaltel-Euskadi Team
Cranks: Shimano Dura Ace FC-7800 172.5mm.
Bottom bracket: Shimano Dura Ace Integrated
Chain: Shimano Dura Ace CN-7800
Front derailleur: Shimano Dura Ace FD-7800
Rear derailleur: Shimano Dura Ace RD-7800
Brakes: Shimano Dura Ace BR-7800
Levers: Shimano Dura Ace ST-7800
Rear sprockets: Shimano Dura Ace CS-7800 11-23
Wheels: Mavic Cosmic Tubular
Tyres: Hutchinson Tubular
Stem: ITM Millenium 130mm
Bars: ITM Millenium 42mm
Headset: Integrated
Pedals: Shimano Dura Ace PD-7800
Seat post: Shimano Dura Ace
Saddle: Selle Italia Flite TT
More info: www.orbea-usa.com
More 2004 Shimano
Ten-speed Ultegra and new Deore LX confirmed
As expected, Shimano will introduce a ten-speed version of the second-from-the-top Ultegra group in 2005, according to industry sources that have seen samples of the new components. The 2005 Ultegra includes features trickled down from 2004 Dura-Ace, including the Hollowtech II crank design that unites the right hand crank and bottom bracket axle in one unit. However, unlike Dura-Ace, Ultegra ten-speed will be available with a triple chainset.
On the mountain bike side, a new version of the Deore LX group is in the offing, and again we're looking at trickle-down from the higher groups in the line, with Hollowtech II cranks and Dual Control shifters.
The two new groups are expected to be available in September and October of this year for Deore LX and Ultegra respectively. Anticipating high demand for the new groups, and in reaction to shortages of 2004 components, Shimano says it will allocate 2005 LX and Ultegra according to manufacturers' past buying habits, rather than, as previously, on a first-come, first-served basis.
Inside Ride cycling treadmill to be tested at UC Boulder
The Inside Ride Super Trainer
Photo ©: Inside Ride
One of the show-stoppers of last year's Las Vegas Interbike Expo was the Inside Ride Super Trainer made by Portland, Oregon inventor Larry Papadopoulos. The first, and as far as we're aware still the only bike treadmill in existence, the Super Trainer is capable of tilting to a 16 percent incline and providing training speeds up to 25mph. And now the Super Trainer is about to be assessed by the University of Colorado at Boulder as a tool for investigating the way riders respond in 'real-life' situations.
At the moment the Super Trainer that was on shown at Interbike is still the only one in existence, but Inside Ride is currently working on unit number two for the UC Boulder sports science lab. And while Papadopoulos aims in the long-term to develop more affordable versions of the Super Trainer, you're not going to be picking one up from your local bike shop any time soon: the current version weighs 900lb, costs $35,000 (including both on-board computer systems). This, as Inside ride's PR guy Jon Maus was keen to point out to Cyclingnews, is "a lab-grade unit that took nearly 3 years to develop. All the parts were made one at a time. Compared to other lab-grade machines of this size, and not compared to 'bike parts' this price is right in line."
Roll up.
Photo ©: Inside Ride

Inside Ride hopes the deal with UC Boulder will be the first of several. "Boulder is home to many professional cyclists who will be able to use it and help spread the word," said Maus. "The plan is to have 5 or 10 available to elite training centers, Division 1 teams and independently wealthy individuals by Interbike this October."
Larry Papadopoulos was motivated to develop the Super trainer by the desire to carry on riding through the winter months, which in Inside Ride's home base of Oregon get pretty cold and wet. "Like most cyclists, I ride just about every day during the warm weather but when Daylight Savings Time [end], I can't get outside. It's cold, dark and very wet. It hardly seemed worth the trouble."
The notion of a treadmill rather than the more conventional route of a home trainer was one of those 'because it's there' ideas. "It all started on a ride one day when a few friends of mine started toying with the idea. I happen to own a machine shop, so I thought, why not... and over four years later, this is the result," says Papadopoulos.
The treadmill's complex computer control systems do provide some solid advantages over a standard trainer, though. "We have the ability to read in detailed course elevation data in spreadsheet form and we have a simple editor to create or change programs at the machine," says Papadopoulos in a Q&A on Inside ride's website. "Ride stats can be viewed and saved and then recalled at a later date for use as an opponent or pacer. Racing against one of my earlier rides is my favorite part about the treadmill - although it can be pure hell trying to keep up - just like the real thing."
Comfy chair not included.
Photo ©: Inside Ride

That ability to replicate in the lab what happens to a rider on the road is what attracted the interest of UC Boulder's Allen Lim, a PhD candidate and elite level coach who will be evaluating the Super trainer as a possible research tool. "Although we have a good understanding of the power profiles and resistive forces associated with competitive cycling, the physiological responses associated with competition have never been measured directly," says Lim. "This is because the power fluctuations and course profiles associated with outdoor cycling are extremely difficult to replicate in the laboratory with available stationary trainers or ergo meters. The development of the this treadmill is a potential solution to simulating cycling in the laboratory... and a logical next step towards understanding the true physiological response to road cycling."
The other side of the treadmill's software is the safety systems. The rider is surrounded by light beams that sense anything crossing them and shut off the rolling road, and a seat tether detects whether you are sitting or standing and changes the treadmill's resistance accordingly.
It's current asking price means you're going to have to be Lance Armstrong (or maybe Robin Williams) to consider buying a Super trainer (and getting a 900lb device into your home is going to be interesting too) but prototypes are always spendy - how long till a home version costs $1,000?
More info: www.insideride.com
New bikes from Pinarello & Opera
Team SATS & their new bike
Photo ©: Team SATS

The Fassa Bortolo and Illes Balears-Banesto teams rolled out at Milan Sanremo on shiny new bikes from Pinarello and Pinarello's other brand, Opera, and the Treviso manufacturer was also represented in the Primavera Rosa with three teams aboard Pinarello or Opera bikes.
Fassa Bortolo's Alessandro Petacchi and Filippo Pozzato were supplied with a new, more rigid version of Pinarallo's high-zoot magnesium Dogma frame, built from Dedacciai AK61 magnesium alloy tubing.
Illes Balears-Banesto had new bikes in the shape of Opera Giorgione rigs in the other material du jour, carbon fibre. Again, these were the latest versions, with modified design and tube shapes.
A new sponsorship for Pinarello is the link-up with world champion Susanne Lungskog's SATS team. The Danish-based team will mostly ride Pinarello Prince SL bikes. Ljungskog was scheduled to take delivery of a Dogma before the Primavera Rosa, but it was stolen from Pinarello's factory before it could be shipped to her.
The company is also providing bikes this year to 2003 women's world cup winner Nicole Cooke's Safi-Pasta Zara-Manhattan team, which includes Diana Ziliute, Regina Schleicher, and mountain biker Gunn-Rita Dahle. Safi-Pasta riders will be equipped with Opera Leonardo carbon fibre bicycles with Campagnolo components.
More info: www.pinarello.com
Scorching!
Gaansari Scorcher
Photo ©: Gaansari

If you take your commuting seriously enough to have a specific bike for the daily dash to work, and that dash isn't too hilly, Dayton Ohio's Cycles Gaansari would like you to consider the Scorcher, a 'super-fixie' specifically intended for the task of getting quickly from A to B.
Made from Reynolds 725 heat-treated chromoly steel, the Scorcher features clearance for fat 700C tyres and mudguards and is available in a variety of specs with practical components like Selle San Marco Rolls or Brooks B17 saddles, long-reach brakes and Gaansari's own double sided fixed/single freewheel rear hub.
You will have to be quick though, as only a hundred will be available in a limited edition to commemorate the Wright Brothers first powered manned flight back in December 1903.
Price: From $750 (frame, fork & headset)
More info: www.gaansari.com