Tech News – July 20, 2004
Edited by John Stevenson
Got tech? Send press releases, news, and tech questions to the Cyclingnews tech-heads.
Campagnolo wheels out first 2005 introduction
Campagnolo Eurus Carbon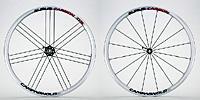 It's the time of year when information about 2005 gear starts to really flow, and Campagnolo has just revealed what's sure to be one of many 2005 introductions, the Eurus Carbon wheels.
The Eurus hub

The Eurus Carbon fits into the top of Campagnolo's 'medium-profile' wheel collection with a 30mm tall rim laced to a carbon fiber-shelled hub very similar to the hubs found in Campagnolo's deep-profile carbon rimmed Bora G3 wheels. The rim is finished in silver satin anodizing and there are 16 aero spokes up front, and 21 rear in the rear wheel.
Available in September, the Eurus Carbon will be clincher-only and Campagnolo claims a weight of 1,520 g per pair.
More information: www.campagnolo.com
RockShox Reba 29in - for Olympians only
RockShox is winding up for a big year of new forks in 2005 after a quiet spell while the company that introduced the mountain bike suspension fork realigned itself as part of SRAM over the last year or two.
RockShox has two forks in the wings for 2005, dubbed Pike and Reba. Both are aimed at 'all-mountain' applications, which is what RockShox calls the sillier end of Going Riding™, aka 'freeride'; the main difference is the heftier coil-spring Pike is intended for jumping off things, while the air-sprung Reba is for riding down them.
There's a light version of the Reba for racing, with a hollow crown, and all this background is by way of lead-up to RockShox and Gary Fisher's recent announcement that the two have teamed up to offer a 29-inch version of the Reba.
Initially the 29in Reba will be available in 80mm and 100mm travel versions only to riders heading to Athens for the 2004 Olympic games (which must make this one of the most exclusive product introductions ever!).
However, the rest of us mere mortals - those that run 29inch mountain bikes anyway - will presumably be able to get a Reba 29in from Fisher when the fork is introduced later this year, as the company has a one-year exclusive on the 29in version of the new fork.
Meanwhile, 29in Olympians are encouraged to contact either company for more information.
More information: www.rockshox.com & www.fisherbikes.com
Catlike puts a sock in it
Catlike 37º

Spanish helmet and accessory make Catlike has introduced a new line of footwear: the 37º socks. Named after the body temperature (in Celsius) of a healthy adult, Catlike claims the new socks will help your feet stay at that number.
The sock fabric is made up 90 percent of a DuPont fiber called Supplex, which boasts very fine, hollow filaments so it feels soft and helps keep your feet dry and cool.
More information: www.catlike.es
Fox goes freeride
When it moved into forks a couple of years ago, suspension maker Fox Racing Shox deliberately focused on single-crown, cross-country style forks, wanting to nail one area of forks before expanding.
That all changed a few months ago when Fox announced its first dual-crown downhill fork, currently known simply as the Fox Factory DH Fork (Fox plans to announce the real name later in the year). Hot on the heels of that introduction comes a fork that does have a name, or at least a number - the 36 'freeride' fork.
The 36 gets its designation from its 36mm upper tubes, which should make for an extremely torsionally-stiff fork. With 110mm - 150mm of travel, the 36 will be externally adjustable using Fox' TALAS system, and will also provide adjustment for compression and rebound damping.
Like the Factory DH fork, the 36 uses a thru-axle drop-out; Fox says it will weigh under 5 pounds in single-crown, 1 1/8in steer configuration.
More information: www.foxracingshox.com
Oval goes ergo and aero
Oval Concepts Aergo R910

Oval's new Aergo R910 handlebar incorporates more of the shaping we're increasingly seeing as handlebar manufacturers explore the possibilities of carbon fiber. The Aergo R910 has a flat top section for improved aerodynamics and a shaped grip section for hand comfort.
Like Oval's other carbon bars, the Aergo R910 also has an internal safety Kevlar mesh which, the company says "acts as a fail-safe should you accidentally scratch or crush the carbon."
In a 42cm width and 26mm clamp, the Aergo R910 will be available from the end of July, with 31.8mm clamp and 40cm and 44cm width versions to follow.
More information: www.ovalconcepts.com
Smith drops prices, adds lens
Eyewear manufacturer Smith Optics has announced a drop in the retail price of the polarized version of its popular Sliders glasses. Sliders incorporate easily-changed lenses so that riders can switch the lens colour in response to changing light conditions. As well as the price reduction, from $159 to $129, Polarized Sliders now come with four lens colours: polarized, RC36 (rose copper), yellow and clear.
More information: www.smithoptics.com