Recently on Cyclingnews.com
Tech News – January 29, 2004
Edited by John Stevenson
Got tech? Send press releases, news, and tech questions to the Cyclingnews tech-heads.
Zero Gravity announces sub 100 gram road brake calipers
Zero Gravity's 2004 brake

The ultra-lightweight brakes formerly known as Cat Claws are now available direct from the manufacturer as Zero Gravity Brakes. In their latest incarnation, the CNC-machined, 7075 aluminium stoppers are claimed to weigh just 96g for a rear caliper and 98g for a front. A pair of Dura-Ace brake calipers, for comparison, weighs 314g.
Zero Gravity brakes achieve their trivial gram count by use of a CNC-machined caliper and incorporate a cam system that's claimed to provide better stopping power than conventional designs. Other new features of the 2004 version include: titanium hardware; fully machined pad holders; a redesigned spring for balanced arm movement ; and a titanium cable clamping bolt with more clamping surface area to prevent damage to the cable. Suggested retail is $323 per pair.
Two UCI-registered pro teams will be using Zero Gravity brakes this season; full details will be announced soon, according to the folks at Zero Gravity. Zero Gravity's website
A look at T-Mobile's Giants
Here's a quick look at the Giant machines the T-Mobile women's team will be riding this year. Taken at the recent T-Mobile training camp, Giant is supplying its carbon fibre monocoque frame to the T-Mobile women, just as with the eponymous German-based men's team, and like the men, the women are using Shimano Dura-Ace components.
| | | |
| --- | --- | --- |
| A T-Mobile Giant | 100km/h standing still | Concealed cables |
| The riders | Team mechanic Ken Whelpdale | The stack of bikes |
Through the carbs window
First Endurance Ultragen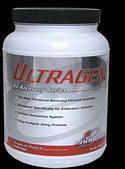 Nutrition company First Endurance has announced Ultragen, a new recovery drink aimed at replacing the nutrients cyclists and other athletes use in training and racing.
First Endurance VP of research and development Robert Kunz claims that Ultragen is the only recovery product to fully address the thirty-minute "glycogen window of opportunity" that occurs immediately following exercise. "Exhausted muscles essentially open the door to nutrients right after exercise" says Kunz. "If nutrients are not absorbed quickly enough, however, this opportunity for maximum restoration is limited. Ultragen was developed with technologically advanced ingredients that are capable of being shuttled into exhausted muscles during the thirty-minute window."
Ultragen's ingredients include easily-absorbed low molecular weight proteins, carbohydrates and "clinically effective amounts of glutamine, BCAAs, antioxidants, vitamins, minerals and electrolytes," according to Kunz.
See Like Lance
Oakley's new Lance Armstrong M-Frame

The new M-Frame Armstrong signature model has been produced to commemorate Oakley's long relationship with five-time Tour de France winner, Lance Armstrong. Pictured here with the Hybrid Small Navy M-Frame in Oakley's exclusive O-Matter frame material & G30 Iridium lens (vented version) in the O-Co's unique Plutonite lens material, these cool 28 gram Lance shades will set you back over $200.
DMT shoes on new US feet
Gary Vasconi, president of Upland Sports Group told Cyclingnews that the company has just signed an exclusive partnership with Italian shoe manufacturer DMT (Diamant) to import and distribute its full line of cycling shoes in the US market. "We're very excited because this partnership with DMT will allow USG to provide our clients with the most technically advanced cycling shoes the market has to offer," he said.
Fassa Bortolo's Alessandro Petacchi rode his DMT shoes to 24 wins in 2003, and other DMT wearers include CSC's Tour de France stage winner Carlos Sastre, Cofidis classics man Nico Mattan, and Lotto's Axel Merckx.
Recent tech
Tour tech: Zipp's slippery new wheel revealed
On test: Klein Palomino XV
June 25 news: New Giant carbon, Crank Bros, Colnago proto, Scott, Topolino
Book review: Lance Armstrong: Images of a champion
New bike for Van Moorsel
New bikes from BT
Cicli Pinarello displays its racing history: Fifty years of classic bikes
June 17 new arrivals: Specialized, Crank Bros, Thomson, Bicycling Science, Drop In
Pro bike: Iban Mayo's Euskaltel-Euskadi Orbea TT climbing prototype
On test: Campagnolo Eurus G3 wheels
Pro bike: Lance Armstrong's Trek Madone SSL proto
Pro bike: Emanuele Sella's Battaglin
June 8 news, part 1: Giro's Rev Six revs up at Dauphine, Rebellin conquers on Wilier carbon proto, Giant spy photos at the T-Mobile Service Course
June 8 news, part 2: Specialized unveils new kit, Cervelo & CSC fine-tune at MIT, New forks from Alpha Q, Paint job of the year?
Pro bike: Dede Demet-Barry's T-Mobile Giant TCR Carbon
Bikes of the Giro part 2: The mountains
New arrivals: DMT, Jaggad, Blue Steel, Cannibal, Ellsworth, LeMond Fitness, Atomic Mount
On test: Park Tool IB-1 & IB-2 multi-tools
De Marchi responds
On test: Giro Monza
On test: De Marchi Contour bib shorts,
On test: DeFeet Armskins
May 21 news: Petacchi's new Pinarello, Mayo's Orbea TT secret weapon, adidas, Mavic, Ambrosio, True Temper
On test: White Industries Eccentric ENO hub
World exclusive pro bike: Marion Clignet's Look 496 track bike
On test: Carnac Quartz road shoes
Repair & maintenance: Recording MTB position
Pro bike: Chris Horner's Webcor Lemond TT bike
May 13 news: New Shimano wheels, 29inch victory, CycleOps, Naviion
New arrivals: Crank Bros, Park Tool, Sports Instruments, Morningstar & Panasonic,
New arrivals: 2004 clothing from Campagnolo
On test: Orbea Orca - Real-world team issue
On Test: Specialized Bar Phat tape
Bikes of the Tour de Georgia
Apr 30 news: Campagnolo, Klein, Giant, Sports Instruments, Burley, La Ruta
Apr 27 news: IRD, Oval, Fi'zi:k, Camelbak