New Arrivals – July 15, 2004
Edited by John Stevenson
Got Tech? Send press releases, news, and tech questions to the Cyclingnews tech-heads.
Welcome to New Arrivals, a section showcasing the latest equipment that's landed on the Cyclingnews tech desk. Look out for reviews over the next few months when we've clocked up some saddle time with this stuff.
Trek Madone 5.9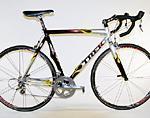 Trek Madone 5.9
Developed with input from US Postal and Lance Armstrong (who is currently riding the latest versions, the Madone SL and SSL in the Tour de France) Trek's Madone 5.9 is the Wisconsin bike maker's top-of-the-line road machine.
Our Madone 5.9 is hung with a complete Dura-Ace ten-speed group, with one striking exception: Bontrager's feathery Triple X Lite carbon fiber tubular wheels, shod with Clement Criterium tyres.
Our bike also showcases Trek's Project One custom paint, in a tasteful red/yellow/silver combination - some extremely lairy options are available in the scheme which adds $500 to the price of the bike.
Price: US$4,999.99 (Stock paint, Bontrager Race X Lite wheels); about US$6,200 as shown
More information: www.trekbikes.com

Shimano SH-R215 shoes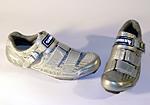 Shimano SH-R215 shoes
The top of Shimano's 2004 shoe line-up, the R215s feature a redesigned carbon fiber sole that's substantially sleeker than previous Shimano soles, with a three-strap closure (two Velcro straps and a ratchet buckle) and lots of mesh and plastic reinforcement.
As Shimano no longer makes road pedals with anything other than a three-bolt cleat, the R215s follow suit, with drillings that will only accept a Shimano or Look-style cleat - an adapter is available for SPD-R pedals which are still very popular with track riders.
Price: US$240
More info: www.shimano.com

Shimano Dura-Ace WH-7800 wheels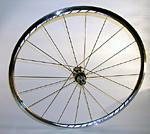 Shimano Dura-Ace WH-7800 wheels
To go with Shimano's introduction of a ten-speed group for 2004, the Japanese component giant also rolled out these low-spoke-count wheels with 24mm deep rims and 16 spokes up front, 20 rear.
The WH-7800 wheels shed considerable weight over Shimano's previous top-end wheels by incorporating the new ten-speed Dura-Ace hub internals with aluminium axles and freehub body. The straight pull spokes have their nipples at the hub and the freehub body is only compatible with Shimano ten-speed cassettes.
Weights: Front wheel - 728g; Rear wheel - 868g
Price: US$799
More info: www.shimano.com

Park Tool STL-1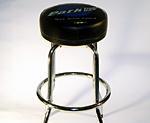 Park Tool STL-2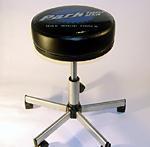 Park Tool shop stools
You've got to be comfortable when you work on your bike, and Park Tool offers two ways to take the weight off your feet while you fettle and tinker.
The STL-1 is intended for work at a bench or wheel jig and features a swiveling seat and chrome-plated steel legs with a footrest hoop.
The STL-2 is height-adjustable with a gas-lift mechanism (amusingly described by Park Tool as five inches of suspension travel) in the upright, allowing you to take a pew while you work on the lower bits of a bike.
More info: www.parktool.com
Prices: STL-2 - $75; STL-1 - $75

700C clothing
Fancy some clothing that telegraphs your passion, nay obsession, for cycling but doesn't look out of place down the café, pub or club? From Australia comes Seven Hundred C, a range of t-shirts and jackets with tasteful bike-themed designs that say "I ride bike" for situations where you'd look a bit silly in Lycra.
The range also includes bike kit, for when it's time to stop posing and get out for a ride. Here's a selection of the t-shirt designs - all printed on top-quality heavy cotton tees in long and short-sleeved options.
More info: www.700c.com.au
| | | |
| --- | --- | --- |
| 700C logo t-shirt | 700C MGZT t-shirt | 700C 'Head on' t-shirt |
| 700C 'Faster, kid' t-shirt | 700C 'Impact' t-shirt | 700c crew jacket |

Wheelcraft DT Pure Road Elite Aerolite wheels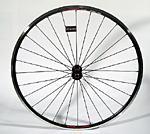 Wheelcraft DT Pure Road Elite Aerolite wheels
While we're big fans of prebuilt super-wheels such as the Shimanos and Bontragers mentioned above, it's good to see that traditional wheelbuilding can still hold its own in the quality and performance stakes, at least as far as weight goes.
Wheelcraft is an Australian wheel-building outfit that uses a combination of high-precision machine building for the initial assembly of its wheels and hand-finishing for the crucial final true and tension. The all-DT Elite Aerolite wheels use DT's RR 1.1 rims, 240s hubs and Aerolite bladed spokes for a pair of old-meets-new wheels that tip the scales at a very respectable 1480g/pair (665g front; 815g rear).
Price: Au$1,376
More info: www.wheelcraft.com.au