Recently on Cyclingnews.com
DVD review - November 24, 2003
Spinervals 8.0 - Recovery & Technique
Coach Troy's back...
By Anthony Tan
A 7.5 rating for a recovery session? Be afraid.
Photo ©: Cyclingnews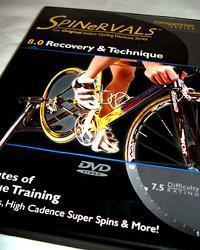 Too cold, too wet, or just don't want to get your bike dirty? Sorry, no excuses - there's still the indoor trainer option, and Coach Troy's waiting with his whip in hand.
After reviewing a training video that came with the CycleOps Fluid2 home trainer a few weeks ago, I realised (after almost wetting myself at Tyler Hamilton and Scott Moninger's bouffants circa 1996) that even for the most motivated individual, one can sometime do with a push, especially when it comes to training indoors.
The video, although still relevant today, turned out to be an old one, and has now been superceded by a set of training videos from Carmichael Training Systems - Chris Carmichael being one of the best known modern-day cycling coaches due to his association with five-time Tour de France winner Lance Armstrong. So Coach Troy Jacobson went to the back of the video cabinet, R.I.P. Or so I thought...
Umm... how did that get here?
Then a new indoor training DVD arrived on my desk: Spinervals 8.0 - Recovery & Technique. "45 minutes of technique training - one leg drills, high cadence super spins & more," read the blurb at the bottom. 'Well, that doesn't sound too bad,' I thought to myself. Doing absolutely nothing, ummm... I mean, recovery is one of my fortes. And my technique on while recovering on the couch, err, I mean... bike is, according to my friends, one of the best. Then I saw the difficulty rating: 7.5/10; on the Spinervals scale, that's halfway between moderate (a 5/10) and extreme (10/10) - quite high for a recovery session... I was hoping for a score in the low 3s.
As I turned to the back cover, my fears were confirmed: Coach Troy was back, and he wasn't looking happy, at least not in the shot of him pictured next to a guy who didn't have bucketloads of sweat pouring off his head and arms. The back cover also revealed the truth behind the somewhat unassuming title: "Whether you are a novice cyclist or an experienced pro, you will get results by using Coach Troy Jacobson's Spinervals Cycling Workouts." OK, now I was starting to get scared...
Baby steps
After locking my rear wheel into the Fluid2, I shuffled over to my DVD player and tentatively fed the Spinverals 8.0 video into the slot, thinking, 'Wouldn't it be a shame if it weren't compatible with my video player?'
No such luck: up came the health warning: "This and all Spinerval Cycling workouts are designed to be used by experienced and conditioned cyclists." Well, I am experienced, though whether one would consider me to be 'conditioned' is highly debatable.
Like most DVD movies you watch, the main screen allows you to choose the whole video or a particular segment, although Coach Troy does ask you - very nicely - to try and complete the whole workout. For now, I was happy to oblige.
After a brief warm-up where Coach Troy introduces himself and the six cyclists who have chosen to participate, you're soon popping it in the 53x15 for 3x30 second intervals - a warm-up routine common to all Spinervals workouts. I prefer a little more warm-up time - another five minutes would do the job - so I paused the video and kept spinning along in an easy gear before going to the 'big dog'.
No need to ask Coach Troy twice
Now don't make Coach Troy mad...
Photo ©: Cyclingnews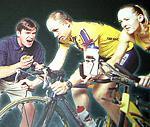 Everything's easy to understand and read; if you miss hearing an instruction, no problem - on-screen graphics give you all the information you need: an intensity bar in the top left, the gear ratio in the bottom right and time remaining in the bottom left. Also, each session is followed by a recovery session of 1-2 minutes depending on the level of effort and duration of the interval, so there's plenty of time to take a breather and get some fluids into you.
One leg drills - something I haven't done a lot of - are next up, consisting of 5x30 second intervals (a 10 minute interval in total), pedaling in an easy gear - big chainring and the 23 cog on the back. If you haven't done one leg drills before, they take some getting used to, so don't get down on yourself if you have trouble at first - it doesn't take long for your body to adapt. Coming back from a knee operation on right leg, my left leg was clearly the stronger, so those with a dominant leg may want to repeat the interval on their weaker leg or miss the interval on their stronger pin to even things out.
The 'Super Spin' is next: 10x1 minute intervals at varying gear ratios, always pedaling at a cadence of 120 r.p.m. (revolutions per minute). Here, the object of the exercise is to work on improving your suppleness by pedaling with less force and more fluidity, so some may find the trickiest gear ratio will be pedaling at 120 rpm in their lowest gear (largest sprocket) on the back while in the small ring.
The final third of your workout sees you going back to one leg drills - this must certainly the 'technique' part of the video's title, because it sure ain't recovery! This time, you use a slightly larger gear (small ring and 15 cog at the back), however, you're still expected to be pedaling at a high cadence. By this stage, I was really feeling the pinch, and wasn't so sure recovery and technique-related intervals are complimentary... at least the guys in the video were also having a hard time.
Last, another interval focused on spinning in a low gear - this time, it's 3x30 second intervals, increasing the cadence every 10 seconds within each 30 second interval. The final 10 seconds is done flat-out, so those with good spinning technique are likely to reach cadences of more than 170 rpm, giving your lungs a great workout. Once you've spun yourself silly, the video concludes with a five minute warm down; as with the warm-up, I went a tad longer, which I'm sure most of you would also do.
The verdict
With winter well and truly on its way for many, Spinervals 8.0 - Recovery & Technique is a great way to keep the motivation going throughout the chilly season without overdoing it. However, for those who want to really kill themselves on the indoor trainer, this version isn't for you - Spinervals 9.0, appropriately titled Have Mercy will be the one you're looking for. Also, if you've just gone for a big ride the day before and your legs are smashed, then Spinervals 8.0 isn't a good idea either - a real easy ride or taking the day off is likely be more beneficial than doing one leg drills and high cadence repetitions.
So is this something I'd use again? Definitely - and the advantage of having the workout on DVD means you can go back and work on a specific exercise again and again. A minor gripe is that the warm-up and warm-down period should be longer; that said, you're not paying to see a bunch of guys dawdle on their bikes, and most cyclists would probably take this into account anyway.
Recommended retail price: $US29.95
Length: 45 minutes
Pro: Excellent tool to maintain motivation and fitness during winter; very user-friendly
Con: Too short warm-up/warm down periods; hard to "recover" doing one leg drills!
Cyclingnews Rating:
More information: Spinervals website
Recent tech
Tour tech: Zipp's slippery new wheel revealed
On test: Klein Palomino XV
June 25 news: New Giant carbon, Crank Bros, Colnago proto, Scott, Topolino
Book review: Lance Armstrong: Images of a champion
New bike for Van Moorsel
New bikes from BT
Cicli Pinarello displays its racing history: Fifty years of classic bikes
June 17 new arrivals: Specialized, Crank Bros, Thomson, Bicycling Science, Drop In
Pro bike: Iban Mayo's Euskaltel-Euskadi Orbea TT climbing prototype
On test: Campagnolo Eurus G3 wheels
Pro bike: Lance Armstrong's Trek Madone SSL proto
Pro bike: Emanuele Sella's Battaglin
June 8 news, part 1: Giro's Rev Six revs up at Dauphine, Rebellin conquers on Wilier carbon proto, Giant spy photos at the T-Mobile Service Course
June 8 news, part 2: Specialized unveils new kit, Cervelo & CSC fine-tune at MIT, New forks from Alpha Q, Paint job of the year?
Pro bike: Dede Demet-Barry's T-Mobile Giant TCR Carbon
Bikes of the Giro part 2: The mountains
New arrivals: DMT, Jaggad, Blue Steel, Cannibal, Ellsworth, LeMond Fitness, Atomic Mount
On test: Park Tool IB-1 & IB-2 multi-tools
De Marchi responds
On test: Giro Monza
On test: De Marchi Contour bib shorts,
On test: DeFeet Armskins
May 21 news: Petacchi's new Pinarello, Mayo's Orbea TT secret weapon, adidas, Mavic, Ambrosio, True Temper
On test: White Industries Eccentric ENO hub
World exclusive pro bike: Marion Clignet's Look 496 track bike
On test: Carnac Quartz road shoes
Repair & maintenance: Recording MTB position
Pro bike: Chris Horner's Webcor Lemond TT bike
May 13 news: New Shimano wheels, 29inch victory, CycleOps, Naviion
New arrivals: Crank Bros, Park Tool, Sports Instruments, Morningstar & Panasonic,
New arrivals: 2004 clothing from Campagnolo
On test: Orbea Orca - Real-world team issue
On Test: Specialized Bar Phat tape
Bikes of the Tour de Georgia
Apr 30 news: Campagnolo, Klein, Giant, Sports Instruments, Burley, La Ruta
Apr 27 news: IRD, Oval, Fi'zi:k, Camelbak