Road test: Orbea Starship Carbon Euskaltel 03 Team
Photo: © Cyclingnews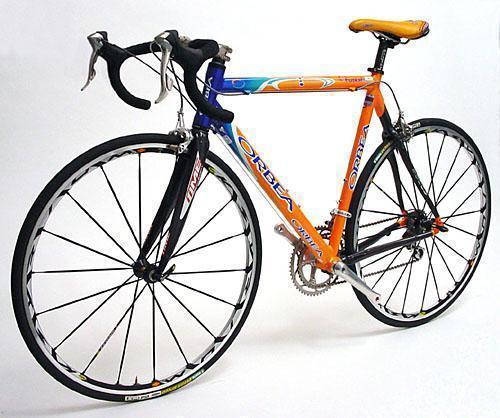 More than a race replica
The business end
Photo: © Cyclingnews

Spanish bike manufacturer Orbea is one of the fastest-rising names in the world of high-end bikes. Its sponsorship of the Euskaltel-Euskadi team has taken the Basque builder from 'Who?' to 'Wow!' in a few short years. Kerry Moroz takes the bike Orbea supplies to Euskaltel for a spin.
The Orbea Euskatel 03 Team has no trouble raising an eyebrow on members of even the most hardened scratch bunch. For these guys lightweight race bikes are a way of life and race replicas are scattered throughout the peloton.
But the Orbea goes one further. It's not a wannabe knock-off paint replica or something loosely based on what the current pro team are riding. It is the Team Euskatel bike. As you see it is as they race it.
And not just Euskaltel-Euskadi. Perhaps realising that pro bums on your seats brings credibility and useful feedback from riders who really clock up the miles, Orbea has expanded its sponsorship this year to include Portugal's Milaneza - MSS team, Poland's CCC - Polsat, Jelly Belly in the USA, Germany's WINfix - techem and the Japanese Orbea - Etxe Ondo team.
First impressions
Crank it over
Photo: © Cyclingnews

To say that the paint is striking is an understatement. Its effect is almost magnetic, drawing cyclists and non-cyclists alike to view the vivid color scheme and immaculate finish. And it deserves the attention; there are no scruffy stickers hastily applied to cheap two tone paint here. All of the intricate multi-color fades and team logos are part of the paint work.
This effect is created using multiple layers of deep metallic paint sprayed on one by one. The paint scheme is further highlighted by the intense black carbon stays and forks, and crowned by the gleaming Ksyrium SL wheels.
You'd expect it to be light, and it is. At 6.8kg (without pedals), it's light but not silly light to the point that you have to consider the type of roads you feel safe competing on.
Beyond the paint
Butt it up
Photo: © Cyclingnews

The 03 Team is available in both compact and traditional versions - our test bike has the conservative lines of a horizontal top tube, a bit of a contrast with the extrovert colour scheme, but somehow it all works - to these eyes at least.
Constructed from the new Columbus Starship tube set, the Euskaltel 03 Team makes use of some of the latest aluminum alloy and carbon bonding technology. The Starship 6000 series tubes feature careful shaping to increase frame stiffness and ultra-thin walls - as little as 0.6mm in places.
Orbea hasn't smooth filed or filled the welds but instead left on display the obviously more-than-competent skills of the craftsman who wielded the torch. The TIG welding is tidy with clean with uniform beading on all joins.
At the end of the Zeus Aerodynamic Carbon Composite System rear triangle Orbea has included a replaceable rear derailleur hanger. Orbea expects this bike to be raced in all conditions and this feature helps with repair after the inevitable criterium pileup.
There is some debate between builders about the stiffness of replaceable hanger mounts but I found that there was no noticeable slop or flex when shifting. Many other manufacturers have opted to stay with the traditional solid tip, but the simple task of aligning a replaceable tip is nothing when compared to the saga of fitting a new dropout to a bonded carbon stay, a job that usually involves a length return to the factory.
Dressing up
Ahead of the competition
Photo: © Cyclingnews

Careful selection of components continues the lightweight theme while maintaining bike integrity and rider comfort. Standard fitment included Shimano's Dura-Ace group, Mavic's Ksyrium SL wheel set and choice product picks from component manufacturers including Selcof, ITM and Selle Bassano.
Shimano Dura-Ace and Mavic Ksyriums are common on pro bikes and many other high end machines, and for good reason. The component group is designed not only to win races but to remain intact throughout the season, while the Ksyriums have proven generally reliable.
Orbea could have gotten silly with the gram scale. There are lighter wheels, ultra light carbon bars and a myriad of feather-light parts available, but pushing the scales down toward the legal limit - or even past it - was not the goal.
Many manufacturers have been tempted down this road, but you can't win a race when your bike collapses 10km from the finish and for most racers there isn't a bottomless spares van at the end of a race.
I thought the component choice was a good compromise between weight, strength and price.
Putting it all together
Sssssuper
Photo: © Cyclingnews

The Orbea didn't really surprise me; it was all had expected a team bike to be.
The Dura-Ace gears shifted flawlessly, with crisp, silent and dependable changes. Shifting between rings under load posed no problem and the levers felt comfortable and firm.
The fact that this bike was fitted with Dura ace rather than a Campagnolo ensemble was the only complaint that some onlookers had. On my first outing with this bike, the word 'sacrilege' was muttered more than once on the way to the race sign in. Sure, Campagnolo Record is nice and even a tad lighter than Shimano's flagship group, but personally, I can't go past the reliability and value for money that is Dura-Ace.
The Selle Bassano Boxter saddle may also not be as light as some of the minimalist models currently used to cut weight from many ultralight bikes but it also doesn't cut the rider in half in the process. I was curious as to how comfortable the Boxter saddle as you don't see very many of then around. Bassano's spec on production bikes and aftermarket sales are dwarfed by those of equivalent Selle Italia and San Marco models. The verdict: this is a comfortable and high quality seat to rival any of the big guns in the saddle industry.
The 41cm ITM bars were a bit narrower than I'm currently riding and I found this a little unnerving to start with. This also seems like an odd spec - 41cm is on the skinny side for a bike that will fit riders in the 6ft/180cm range.
On the other hand, I did like the appointment of the ITM THE Magnesium stem rather than the carbon stems many other manufacturers are choosing. I felt more confident sprinting with this stem than I have on higher priced carbon versions.
However, I would have liked to see a 31.8mm clamp rather than the 26.0mm specced. Riding 31.8mm bar/stem combos on other bikes I've found that the small weight addition of this upgrade is far overshadowed by the added rigidity when sprinting.
Replica #1?
Photo: © Cyclingnews

The shape of the ITM bars is a traditional curved drop which I found uncomfortable compared to ergonomically shaped bars. However, that's very much a matter of taste - some riders prefer the curved shape and it's something you can get your dealer to swap. And while your mechanic is swapping the bars he can fit fresh tape that starts at the end of the bar. Our Team 03 had tape that started in the middle, so the edge of the tape lifted when you rode in the hoods.
The Vittoria Ultra Speed tyres were noticeably quick and were sure footed on off camber and tight 180 degree turns. The selection of 23mm tires made for a comfortable ride on the ever-diminishing quality of road surfaces that most clubs are now being forced to race on.
The Mavic Ksyriums seemed considerably stiffer than some of the other top level wheels that I've ridden. It seems that many wheel manufacturers are happy to sacrifice rigidity in order to shave weight from their race wheels. That's fine if you are building a bike specifically for climbing, but for all round race bikes that must sprint, corner hard and generally tough out all conditions as well as climb, featherweight wheels can feel less than stable. It's good to see that Orbea has taken a sensible approach when picking wheels and opted for a fast yet robust choice rather than a fragile ultra light exotic.
My only serious gripe with the spec was the skinny little seat clamp and alloy spacer shim combination used to retain the seatpost. Orbea has opted to use a 27.2mm post and a shim to make it fit the seat tube, which would otherwise need a 29mm post or thereabouts. This made the seat height hard to adjust and the thin seat clamp was hard pressed to hold the carbon post steady without crushing it. While the shim does prevent the hassle of trying to find an unusual-sized post down the track, the shim/clamp/post combination needs a bit more attention.
The ride
You know you want one
Photo: © Cyclingnews

It's a team bike; you'd expect it to be fast. It is. But what surprised me was the comfort. Soaking up a rough course the Euskaltel Team 03 instilled confidence in descents where other bikes had felt unstable and awkward. Tight corners were made smooth and fluid and the bike was equally stable at speed and on slow turns.
The ride wasn't nearly as harsh as some top end bikes I've ridden. The constant push for shorter wheelbases and steeper seat angles from many manufacturers has seen frame geometry overcooked in order to extract every last drop of performance out of the frame. The end result is a twitchy and uncomfortable bike devoid of stability, a bike that is only good for short criteriums and smooth road cycling. Orbea have avoided this pitfall. This is a bike that's fun and inspiring to ride without being nervous.
Nevertheless the handling might be a bit too nimble for a novice rider who is not used to riding a bike designed for the elite race scene. But for riders who want a bike that can climb and descend as well as to be able to change speed and direction in an instant, the Orbea is more than up to the task.
I also loved the non-compact frame shape, a refreshing change from the current trend of compact and semi-compact frames. Many compact frames require the rider to be perched atop a dizzyingly high carbon post to get the correct leg extension. Yes, I know the saddle, pedals and bars are in the same place, but all that seatpost showing still feels wrong. Call me a retro-grouch if you like, but my body shape is a factor; I'm proportionally longer in the leg than in the torso so the frame shape fitted me perfectly.
I could reach the drops comfortably without feeling I was craning my neck and I felt relaxed even on 100km-plus rides. I also liked the longer head tube and non-integrated headset which reduced the number of spacers needed to lift the stem up to the correct height. I felt at home on the Euskaltel 03 Team immediately, even after the most basic setup and adjustment.
The carbon seat/chain stay combination was comfortable on the rough and often uneven road surface that is my home race course. A patchy mixture of heavy blue metal and pothole infested hotmix was confidently soaked up, even on relatively high tire pressures. Climbing was greatly enhanced by the noticeably low frame weight as well as the responsive carbon rear end. The Orbea felt at home both hitting relatively large hills in the big ring as well as blasting off in a bunch sprint.
The Euskaltel Team 03 lived up to what I had expected from a team issue bike and more. I knew it was going to be a bike to remember. I just didn't know I'd enjoy it this much.
So who is it for?
Without a doubt this is a thoroughbred bike for the rider who wants to compete and win at any level. It's an all-rounder for the intermediate to elite level racer. The paint, performance and component package gives any rider the chance to look and feel like a European professional, and if you can't ride like one, it's surely no fault of the bike. A novice or inexperienced rider might find it a bit of a handful, but then few novices are going to jump straight to a bike like this.
As good as this bike is, it's not a bike for the shy. You will encounter a barrage of questions about its heritage, weight and price from anyone who sees it. Think of that as a hidden bonus: not only is it a terrific ride, but it might make you some new friends too!
Hits and misses
Hits
Stunning paintwork and finish
Ride comfort
Performance
Light weight
Misses
Overly narrow bars
Seat clamp and spacer shim combination
Bar tape orientation
Full specification: Orbea Starship Carbon Euskaltel 03 Team

Frame: Columbus Starship 6000 series heat-treated double-butted aluminium; ZACCS carbon composite chainstays and seatstays
Fork: Time Avant Stiff
Colour: Blue & orange Euskaltel team colours
Weight: 6.8kg (without pedals)
Sizes: 46-61cm in 1cm increments


Cranks: Shimano Dura-Ace 53/39
Bottom bracket: Shimano Dura-Ace
Chain: Shimano Dura-Ace
Front derailleur: Shimano Dura-Ace
Rear derailleur: Shimano Dura-Ace
Brakes & levers: Shimano Dura-Ace Dual Pivot
Rear sprockets: Shimano Dura-Ace 11-23

RRP: US$3,999

Wheels: Mavic Ksyrium SL
Skewers: Mavic
Tires: Vittoria Ultra Speed 23mm

Stem: ITM The Stem
Bar: ITM Millennium
Headset: Integrated

Pedals: Not supplied
Seat post: Selcof MC00 Carbon Monocoque
Saddle: Selle Bassano Boxter

Cyclingnews Rating:
More information: Orbea website, Orbea USA website
What do you think of the Orbea Starship Carbon Euskaltel 03 Team? - Tell us your thoughts
Recent tech
Tour tech: Zipp's slippery new wheel revealed
On test: Klein Palomino XV
June 25 news: New Giant carbon, Crank Bros, Colnago proto, Scott, Topolino
Book review: Lance Armstrong: Images of a champion
New bike for Van Moorsel
New bikes from BT
Cicli Pinarello displays its racing history: Fifty years of classic bikes
June 17 new arrivals: Specialized, Crank Bros, Thomson, Bicycling Science, Drop In
Pro bike: Iban Mayo's Euskaltel-Euskadi Orbea TT climbing prototype
On test: Campagnolo Eurus G3 wheels
Pro bike: Lance Armstrong's Trek Madone SSL proto
Pro bike: Emanuele Sella's Battaglin
June 8 news, part 1: Giro's Rev Six revs up at Dauphine, Rebellin conquers on Wilier carbon proto, Giant spy photos at the T-Mobile Service Course
June 8 news, part 2: Specialized unveils new kit, Cervelo & CSC fine-tune at MIT, New forks from Alpha Q, Paint job of the year?
Pro bike: Dede Demet-Barry's T-Mobile Giant TCR Carbon
Bikes of the Giro part 2: The mountains
New arrivals: DMT, Jaggad, Blue Steel, Cannibal, Ellsworth, LeMond Fitness, Atomic Mount
On test: Park Tool IB-1 & IB-2 multi-tools
De Marchi responds
On test: Giro Monza
On test: De Marchi Contour bib shorts,
On test: DeFeet Armskins
May 21 news: Petacchi's new Pinarello, Mayo's Orbea TT secret weapon, adidas, Mavic, Ambrosio, True Temper
On test: White Industries Eccentric ENO hub
World exclusive pro bike: Marion Clignet's Look 496 track bike
On test: Carnac Quartz road shoes
Repair & maintenance: Recording MTB position
Pro bike: Chris Horner's Webcor Lemond TT bike
May 13 news: New Shimano wheels, 29inch victory, CycleOps, Naviion
New arrivals: Crank Bros, Park Tool, Sports Instruments, Morningstar & Panasonic,
New arrivals: 2004 clothing from Campagnolo
On test: Orbea Orca - Real-world team issue
On Test: Specialized Bar Phat tape
Bikes of the Tour de Georgia
Apr 30 news: Campagnolo, Klein, Giant, Sports Instruments, Burley, La Ruta
Apr 27 news: IRD, Oval, Fi'zi:k, Camelbak