Tech News – June 20, 2003
Edited by Paul Mirtschin
Got tech? Send press releases, news, and tech questions to the Cyclingnews tech-heads.
2004 XT - Just like big brother
Nice and new
Photo: © Shimano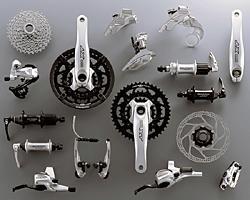 Way back in early March we brought you news of both the 2004 Shimano Saint and 2004 XT groups. You have seen the Saint pics, and now we can show you photos of the new XT group in all its glory.
The first thing that comes to mind with the new group is that it looks just like XTR. The same smooth looks, the same two-piece cranks, the same shifting and the same disc brakes… just in silver. That is pretty much true visually, but slightly heavier materials are used in some areas, as has always been the case.
As with XTR, both disc and V-Brake versions will be available, with the new Dual Control levers and hubs to suit. However, with the weight reduction offered in the new disc setup, we do not feel too many V-Brake groups will be sold; the disc setup is just that much better.
The XT cranks use Shimano's new Hollowtech II design, with the drive-side crank and bottom-bracket axle as one piece, and the non-drive-side crank-arm attaching via a spline and pinch-bolt assembly. Word is that not only will a 44-32-22 crank be sold, but a 48-36-26 crank aimed at the long-distance rider will also be made available.
The new rear mech
Photo: © Shimano
Shimano has reduced the number of derailleurs it will manufacture with just two models of rear and three front derailleurs. The most popular front derailleur is likely to be the top-swing version which can be used with both bottom and top-pull cable assemblies, just as the Deore group has done in previous years. This should make the shops happy as it reduces the number of components that they need to keep in stock. The rear derailleur will be RapidRise to match the rest of the newly designed groups.
The hydraulic disc brake now comes as a one-piece forged calliper, with a twin piston design; a big move from the four-piston design of the old group. Shimano's engineers have worked hard on this design; it's now part of the Saint, XTR and XT groups. The disc hubs use Shimano's new Centre Lock system, the same design used on XTR. Non-disc hubs are also available for those who are meticulous about their weight. Both hubs also come in either XT silver or black; perfect for that stealthy look.
A new disc-overy
Photo: © Shimano

Overall, the group looks perfect for those wanting near-XTR performance without the XTR price tag. For most people, the additional weight, which won't be that much, is a fine counterpoint for the reduced price, and with everything being interchangeable with XTR, you can mix and match if you wish.
Our big question to Shimano is "Will we see a new LX group based on this design next year?"
New carbon from Race Face
Shimano isn't the only MTB component company rolling out new stock in 2004, with Race Face adding some new oversize bars and stems to an already beefy line-up.
The Diabolus line includes a new freeride-inspired riser bar with a claimed 25 percent increase in impact strength and an increase in stiffness of around 100 percent. Using a 31.8mm clamp, Race Face has built what they claim is the strongest bar available. It is not the lightest though, hitting the scales at 390 grams.
A bar that strong needs a stem to hold it in place, the 31.8mm version of Race Face's Diabolus stem. 278 grams of 6061-T6 aluminium in the 50mm version, a 70mm stem is also available.
Made from the same 7050 alloy used in Race Face's North Shore DH cranks, the Diabolus seatpost rounds out the new line. Bead-blasted straight-wall tubing makes for a very strong post,Race face claims, while the seatpost head features a rear twin bolt clamp to provide a large range of tilt and fore/aft micro-adjustability.
And just to make sure the cross-country whippets have something to play with, Race Face has a new carbon fibre Next Lowriser and Next Flat handlebars. The bars use the same technology as the Next LP crankset, and daily destruction testing on each production run will ensure each bar meets the strength needed for the bars to last a lifetime, and a warranty that lasts just as long.
Zipp-idy do dah
Zipping along
Photo: © Zipp

Mountain bikers are not the only ones to receive new products, with Zipp releasing new bars and a new wheelset.
The new carbon bar weighs 220 grams, and has a wing-shaped top sections with an intricate cable grooving to route two cables from the lever, back underneath the wing section where they lay flush. The bar also Zipp's Viscoelastic Constrained Layer Control technology, a microscopic version of the elastomers Specialized is placing in seatposts, forks and the Roubaix. This technology uses elastomer microspheres in the resin to damp vibrations.
The Z3 wheelset weights a claimed 1140 grams for the pair, partially due to the US$1200 worth of ceramic ball bearings used in the hubs. The balls are claimed to be matched within one-millionth of an inch to provide a smoother roll and lowered bearing drag. The hubs weigh 190grams on the rear and 80 grams on the front and uses proprietary ordinance-grade aluminium sourced from Alcoa. Zip call this alloy 7XXX, and claim it is nearly 30% stronger than 7075 and 40% harder. The rear wheel uses a "crow's foot" lacing pattern, mating one non-drive spoke to every two drive-side spokes.
SRAM are X-cited
SRAM is having a great run at the moment, with a number of podium finishes on their new X-0, X-9 and X-7 range.
Last week's Snowshoe NORBA round saw Jimena Florit (Polo-RLX) take her first win of the season, while Todd Wells (Mongoose/Hyundai) took fourth, Kashi Leuchs (Maxxis/Trek) took third and Jeremy Horgan-Kobelski (Polo-RLX) finished second, all running RockShox BlackBox SID forks and SRAM X.O drivetrains. Susan Haywood (Trek-Volkswagen) scored a second place on her SID World Cup in the Women's STXC
In the downhill, Fionn Griffiths (Foes-Azonic) and Missy Giove (Foes) finished third and fourth respectively on their SRAM equipped bikes. Griffiths and Giove raced with SRAM's X.7 Trigger Shifters and X.O rear derailleur, with Giove saying that the new Trigger Shifting system "kicks ass."
This weekend's NORBA round will see some riders using prototype X-0 and X-9 gear, as can be seen in some of the shots here.
SRAM has also announced that the X.7 trigger shifters and X.7 rear derailleur are now shipping. The trigger shifters will carry a retail price of US$67 while the X.0-styled X.7 rear derailleur will sell for $57
The trigger shifters are available in either the Impulse or the Shimano compatible Attack models. SRAM plans to release its X.9 competition level shifters and rear derailleur in the next few months.
It isn't all good news at SRAM however, with a German court finding that SRAM's Powerglide II sprocket design infringed Shimano's patents on its Hyperglide shifting technology.
The law suit was filed against SRAM Deutschland GmbH, its director, Mr. Kai-Uwe Rüde, and SRAM Corporation Europe Livisham Limited by Shimano Europe, and sought to protect Shimano's interest and rights in Shimano's European Patent 0 313 345.
The ruling means that SRAM can no longer sell its 5.0 and 7.0 Powerglide II cassettes in Germany. Cassettes sold outside Germany are not affected. SRAM has said that it is in the process of filing a Stay of Execution in the Munich Court of Appeals that they claim will, if granted, allow SRAM to resume selling the cassettes.
Stefano Zanini's USPRO-winning Cannondale
USPRO Winner
Photo: © Tim Maloney
Stefano Zanini powered his Optimum Fit CAAD7 to victory in Philadelphia at the start of June. Zanini's Cannondale was equipped with Cannondale's integrated Hollowgram crankset and bb, sporting 53/39 rings, Slice fork with a Campagnolo integrated Hiddenset, Fizik saddle, Cinelli bars and stem, and Campagnolo Record front and rear derailleurs.
Zanini's bike was also fitted with an Elite carbon bottle cage and Look pedals, while his Mavic Cosmic Carbon wheels used 11x23 gearing for the steep 17 percent climb of the Manayunk Wall.
Full Speed Ahead for le Tour
Cranky
Photo: © FSA

Just in time for the 2003 Tour de France, Full Speed Ahead has announced that they will be making 200 sets of the Team CSC carbon cranks available to the public.
The cranks will be sold in Octalink 9 speed Shimano, Isis Drive and 10 speed Campagnolo, in 170mm, 172.5mm and 175mm lengths.
Retail Price is US$399.99 and the cranks are available from any FSA dealer or directly from Full Speed Ahead.
151 bars of energy
Powerbar Europe has announced its appointment as the official Energy Bar and Gel of the 2003 Tour de France.
The collaboration will see 30,000 energy bars and 30,000 PowerGels available to help fuel the 198 riders through the races 3500 kilometres; 151 bars and 151 gels per rider if the media doesn't get to them first.
Teschner's new TT bike
Speedy
Photo: © Teschner

Peter Teschner has sent us photos of his new Teschner AeroFx Pro Time Trial bike. The new bike is made from Easton TaperWall Scandium GX2 Aluminium with Aero Ultralite and Sc7000 Scandium Curved "S" Bend stays.
The bike uses a Shimano Dura-Ace 9-speed drivetrain, and also features the Oval Concepts A900 TT bar and M600 stem. Oval's A900 Full Carbon is also used.
Veloflex Record tyres on Zipp 404 wheels allow the bike to roll as easily as possible, while Chris King, Koobi and Tacx components all find a home on the bike.
AU$4995.00 is all it will set you back for the frame, fork, bars, stem and seat post, just hope you have the legs for it.
Joe Murray folds
Two-time mountain bike National Champion and original Mountain Bike Hall of Famer Joe Murray will work with Dahon to design a line of full-size portable mountain bikes. The first bikes, scheduled for 2004 introduction, will consist of Hardtail mountain bikes with classic Joe Murray geometry and design details.
Joshua Hon, vice president of sales and marketing said, "Joe is one of the most respected mountain bike racers and designers in the industry, it's going to be a blast working with him on our new bikes."
Joe, who won 12 straight NORBA victories in 1985, is excited with the task in front of him. "The cool thing about their portable mountain bikes is that with the right frame geometry and components, they'll ride just as well as any other hard tail mountain bike I've designed. Of course, the folding feature adds some weight, but for a lot of people, a few hundred grams of additional weight is a reasonable trade off for a super portable bike."
Want a saddle early
As of next week, fi'zi:k's Arione saddle will be available exclusively on Orbea bikes for no additional charge.
The saddle, which will carry a $125 retail price tag, will be available on Campagnolo Record or Shimano Dura-Ace kitted Orbea frames sold by official Orbea dealers. Frames sold with Centaur or Ultegra kits will include an up charge for the Arione saddle.
The Arione will be officially launched to the press on July 3rd at the UCI World Cycling Center during the fi'zi:k sponsored B World Championships. It will then be made available to the general public in October.
Tapping into your power
CycleOps has announced the addition of the PowerTap Pro to its line-up. The PowerTap Pro now has the ability to provide simultaneous readings of power, heart rate and cadence. The cadence function has been improved with the addition of a hard-wired cadence sensor at the crank.
Memory capacity in the PowerTap Pro has increased with the use of a Texas Instruments 16 bit micro processor allowing storage of up to 180 hours of training data. Downloads from the PowerTap Pro are also nearly four times faster than the current PowerTap. A new feature is that the PowerTap Pro can now be used by cyclists in cycle computer or heart rate only mode when the PowerTap hub is not in use.
The PowerTap Pro hub retails for $899 or $999 built into a Mavic rim. Both options include wiring harness, heart rate monitor strap and PC download hardware and software.
CycleOps & Outdoor Gear Canada has also announced that it will be presenting an event with Allen Lim talking about "Training with Power".
Held during the Canadian National Championships, the talk by Lim, currently coach of USPS rider Michael Barryand Team T-Mobile rider Dede Demet-Barry, will focus on obtaining better performance via the usage of power meters.
The event will be held at the Royal Connaught Howard Johnson Plaza-Hotel on Saturday, June 28 at 1:00pm.
Photos
Recent tech
Tour tech: Zipp's slippery new wheel revealed
On test: Klein Palomino XV
June 25 news: New Giant carbon, Crank Bros, Colnago proto, Scott, Topolino
Book review: Lance Armstrong: Images of a champion
New bike for Van Moorsel
New bikes from BT
Cicli Pinarello displays its racing history: Fifty years of classic bikes
June 17 new arrivals: Specialized, Crank Bros, Thomson, Bicycling Science, Drop In
Pro bike: Iban Mayo's Euskaltel-Euskadi Orbea TT climbing prototype
On test: Campagnolo Eurus G3 wheels
Pro bike: Lance Armstrong's Trek Madone SSL proto
Pro bike: Emanuele Sella's Battaglin
June 8 news, part 1: Giro's Rev Six revs up at Dauphine, Rebellin conquers on Wilier carbon proto, Giant spy photos at the T-Mobile Service Course
June 8 news, part 2: Specialized unveils new kit, Cervelo & CSC fine-tune at MIT, New forks from Alpha Q, Paint job of the year?
Pro bike: Dede Demet-Barry's T-Mobile Giant TCR Carbon
Bikes of the Giro part 2: The mountains
New arrivals: DMT, Jaggad, Blue Steel, Cannibal, Ellsworth, LeMond Fitness, Atomic Mount
On test: Park Tool IB-1 & IB-2 multi-tools
De Marchi responds
On test: Giro Monza
On test: De Marchi Contour bib shorts,
On test: DeFeet Armskins
May 21 news: Petacchi's new Pinarello, Mayo's Orbea TT secret weapon, adidas, Mavic, Ambrosio, True Temper
On test: White Industries Eccentric ENO hub
World exclusive pro bike: Marion Clignet's Look 496 track bike
On test: Carnac Quartz road shoes
Repair & maintenance: Recording MTB position
Pro bike: Chris Horner's Webcor Lemond TT bike
May 13 news: New Shimano wheels, 29inch victory, CycleOps, Naviion
New arrivals: Crank Bros, Park Tool, Sports Instruments, Morningstar & Panasonic,
New arrivals: 2004 clothing from Campagnolo
On test: Orbea Orca - Real-world team issue
On Test: Specialized Bar Phat tape
Bikes of the Tour de Georgia
Apr 30 news: Campagnolo, Klein, Giant, Sports Instruments, Burley, La Ruta
Apr 27 news: IRD, Oval, Fi'zi:k, Camelbak