Recently on Cyclingnews.com
Tech News – December 5, 2003
Edited by John Stevenson
Got tech? Send press releases, news, and tech questions to the Cyclingnews tech-heads.
Fassa bikes arrive just in time for Christmas
Alessandro Petacchi
Photo ©: Cyclingnews

With 24 wins during the 2003 season, 12 more than runner-up in the winners' rolls Jaan Kirsipuu, super sprinter is certainly the right name for Alessandro Petacchi (Fassa Bortolo) this year. Petacchi took his first win in Spain (23 Feb./ Trofeo Puig) and his last one (28 Sept. / Stage 21-Madrid: Vuelta d'Espana) too. Petacchi won a record 15 stages in Grand Tours this season, confirming that he is currently the fastest finisher in cycling.
In early December, Petacchi and his new FB teammates Fabio Sacchi and Alberto Ongarato paid a visit to Cicli Pinarello in Treviso, Italy to pick up their new training bikes for the 2004 season. On hand were Fausto and Andrea Pinarello, and Fausto explained to Cyclingnews that "For Pinarello, it's important to sponsor a top professional team; as our company can provide the best of our resources, both human and technological. The bicycle of a top rider, such as a champion like Alessandro Petacchi, is created from a continual collaboration between our workshop and the athlete to meet the specific needs of the riders. So I can tell you that the work of our engineers and mechanics, who have worked with us for years, have helped very much to successfully build bikes for champions like Miguel Indurain, Jan Ullrich and Erik Zabel, just to mention a few."
Pinarello has already delivered the first round of bikes to Fassa Bortolo for 2004, with the second lot scheduled for the Fassa Bortolo team training camp in January, including Pinarello's top of the range Dogma model. Petacchi's rig was a Prince SL with a new Campagnolo Record 2004 carbon fibre group, Look pedals with Ti spindle, new Mavic Ksyrium SL2 wheels and a new, customized Selle Italia SLR saddle with carbon inserts for reinforcement. According to Pinarello, Petacchi will now be forced to haul around a "cancello" that weighs 7.2kg this winter until he get his even new lighter Dogma.
Fire 1, Bike 0
Photo ©: Richard Bryne

Fire 1 Bike 0
Southern California's recent fires also claimed one or two bikes, including this titanium machine built by San Diego-based custom frame builder Bill Holland. Speedplay's Richard Bryne took these pictures after the owner's 3-storey house was consumed by fire. Imagine coming home to find that?
The recently-molten blob underneath the bike is all that remains of the Campagnolo groupset. It's not surprising that the frame remains more-or-less recognizable and the components are toast, though. Titanium melts at 1660ēC, aluminium at a mere 660ēC. There's a reason supersonic spyplanes have titanium skins.
Niki Aebersold, Dani Schnider & Oscar Camenzind
Photo ©: Phonak

Phonak on Speedplay
As well as long-time Speedplay user Tyler Hamilton, Speedplay will supply the entire Phonak cycling team with pedals in 2004. The whole squad will use the Speedplay Zero adjustable-float model.
The team were recently introduced to the new pedals at a training camp atthe end of November and, as you can see from the photo, Aebersold, Schnider and Camenzind are excited to have some new toys to play with!
Winter gear from Bergamo
Bergamo's Heavy Weight jacket
Photo ©: USG

Bergamo's Light Weight jacket
Photo ©: USG

Professional Bib Knickers: Plenty of Roubaix fabric round the torso
Photo ©: USG

Oakland, California's Upland Sports Group is the US importer of Bergamo cycling wear, a fresh new entry on the US market. USG's Gary Vasconi told Cyclingnews that "Bergamo is based near Milan, Italy and Marcello Bergamo, the owner, has been producing high quality technical cycling wear for over two decades. After his 10 year pro career (11 pro wins and twice runner up in the Italian Pro Championships) Marcello began making his own brand of cycling clothing." Bergamo is a family owned and operated firm, so top workmanship and using only the finest materials and fabrics available is their approach. "Every garment is manufactured in-house and is carefully inspected before it leaves the factory," said Vasconi. "Plus Bergamo has learned much about comfort and quality from their sponsorship of European pro teams like Liquigas."
Bergamo's new Heavy Weight Jacket uses two technical fabrics to offer the best performance. Windtex membrane fabric is used on the chest, sleeves, cuff and collar to block wind & cold from entering in harsh conditions. Closure is via a two-way zip, while Bergamo "Plush" fabric is used on bottom of the sleeves, side panels & back for a great fit. Bergamo recommends that the Heavy Weight is used in temperatures between 32F and 50F. You can have Heavy Weight in Royal Blue, Yellow and Black with 3 pockets (Sizing M-XXXL, MSRP $169.95).
For transitional seasons like fall, spring and the occasional winter thaw, Bergamo's Lite Weight Jacket may be your choice. This garment pairs two technical fabrics; Windtex membrane and Bergamo's "Quattro", which provides excellent wind protection and and water resistance. Lite Weight's chest panels, cuffs and collar use Windtex for max wind protection in key areas, while the Quattro Fleece is on the arms, side panels and back for a professional fit for a superb fit. Bergamo adds reflective piping on side panels, a reflective Bergamo badge and reflective strip over rear pockets for maximum visibility when riding. Bergamo's Lite Weight features a two-way zip for improved ventilation while climbing, and the manufacturer recommends use in 40-60F. temp range. Colors offered are Royal Blue, Yellow and Black with 3 pockets (Sizing M-XXXL, MSRP $129.95)
Three-quarter length knickers have become a popular alternative to tights or shorts with leg warmers and Bergamo's Professional Bib Knickers are a top example of this kind of garment. Manufactured with Miti's Super Roubaix material, Professional Bib Knickers provide for warmth, moisture transfer as well as muscle support. Professional Bib Knickers use Bergamo's professional chamois, featuring multiple thicknesses and are contoured to shape the chamois to the body as well as provide moisture transfer for and anti-bacterial protection for hygiene. Bergamo's Professional Bib Knicker have a cool feature where they add Windtex material in the knee for additional wind projection and support from Bergamo's lateral wrap design. Bergamo's recommends Professional Bib Knickers in temps between 35-65F., and is offered in Navy Blue and Black (Sizing S-XXL, MSRP $139.95)
Litespeed's NiotaTi
Photo ©: ABG

Litespeed gets back into duallies
Tennessee titanium wizards Litespeed are back in the dual-suspension bike game with the Niota Ti, a new model for 2004.
Handcrafted from a blend of 6Al/4V and 3Al/2.5V titanium, the Niota is built around Litespeed's new CLR (Constant Leverage Ratio) linkage. The CLR linkage is designed to provide four to five inches of rear wheel travel while maintaining a constant ratio to the rear shock travel. The benefit, according to Litespeed's Herbert Krabel, is a suspension system that delivers smooth compression and rebound travel throughout the entire stroke of the shock.
The Niota frame is also available in aluminium (as the plain Niota). A Medium size NiotaTi frame is claimed to weigh 2,260g with a Fox Float RL AVA ProPedal shock, which makes it one of very few sub-5lb dual suspension frames at 4.98lb. The frame only retails for $3450 and setup with XTR components retails for US$6475. The aluminium Niota weighs in at 2,450g (5.40lb) and a complete bike with XT components costs a rather less wallet-melting US$2980
Available both in titanium (NiotaTi) and aluminum (Niota) and in choice of components. The aluminum Niota on the other hand is available for with XT components.
Tomac's Eli
Photo ©: ABG

Tomac Eli
Also new in the dual suspension arena is the Tomac Eli, named after John Tomac's son. The Eli features three-position rear suspension giving 4in, 4.75in or 5.5in of travel thorough a unique rocker and sub-link assembly.
Very much an all-mountain or freeride design, the Eli is built from custom double-butted AN-6 aluminum and is claimed to provide smooth, consistent travel and complete stability when climbing; the shock is a Manitou SPV.
In a size Medium the Eli weighs in at a claimed 6.3 pounds and retails in the US for $1,295 as a frame only and for $3,190 with XT/disc components. It is also available with XTR, LX and SRAM components.
RAGT to ride Look
French bicycle manufacturer Look will supply bikes to the RAGT Semences-MG Rover team (ex-Jean Delatour) for 2004. Already the bicycle sponsor for Kelme-Costa Blanca and Credit Agricole, Look adds a third major European professional team to its ranks.
RAGT Semences will ride the KX Light frame, while Kelme and Crédit Agricole are likely to outfit their entire teams with the new KG486 frame, ridden in 2003 only by Oscar Sevilla (Kelme) and Christophe Moreau (Crédit Agricole). Kelme's Alejandro Valverde also rode the KG486 to a silver medal in the World Championships road race in Hamilton, Canada. Look will also sponsor emerging Portuguese team Barbot-Gondomar for 2004.
Recognition for design
Look was also awarded a star from the Observeur du Design in France, which each year highlights the most innovative industrial designs built or designed in France. The award, offered to Look in the sports and leisure category, was presented in November at a ceremony at the Cité des Sciences et de l'Industrie in Paris.
Size does matter
Photo ©: Manitou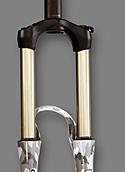 Answer gets seven inches
A couple of years ago it was 'who could build the longest-travel downhill fork' but with double triple-clamp forks now at anywhere between eight and 12 inches the contest du jour in the fork world is for the most travel in a single-crown fork. Marzocchi's 150mm-travel Z150 FR (2,700g) looked to have the prize for this year, but Manitou's 2004 Sherman Breakout Plus tops it with a claimed 170mm of travel.
Manitou takes advantage of the extra rigidity of the onepointfive steerer tube to allow it to extend the legs that little bit more, though both forks end up in the 2.5+kg weight range which makes them definitely for the 'freeride' crowd only.
First Endurance introduces Ultragen
First Endurance has announced Ultragen, a post-exercise recovery drink that First Endurance claims is "the most advanced post-recovery formulation ever produced." According to First Endurance, research has shown that there is a critical thirty-minute "window of opportunity" immediately following exercise when insulin sensitivity is at its highest and exhausted muscles essentially open the door to nutrients. If nutrients are not absorbed quickly enough, however, this opportunity for maximum restoration is lost. But it's not just when nutrients are absorbed, it's also about which nutrients are available, and FE claims Ultragen's components are designed to work synergistically in order to fully maximize recovery, providing the right nutrients to the right place at the right time.
To this end, Ultragen contains hydrolysed protein, glucose, l-glutamine, branched chain amino acids, vitamins, minerals and electrolytes. As well as repenishing depleted energy stores, Ultragen's formulation is claimed to "modulate the damaging effects of cortisol brought on by intense endurance training."
Recent tech
Tour tech: Zipp's slippery new wheel revealed
On test: Klein Palomino XV
June 25 news: New Giant carbon, Crank Bros, Colnago proto, Scott, Topolino
Book review: Lance Armstrong: Images of a champion
New bike for Van Moorsel
New bikes from BT
Cicli Pinarello displays its racing history: Fifty years of classic bikes
June 17 new arrivals: Specialized, Crank Bros, Thomson, Bicycling Science, Drop In
Pro bike: Iban Mayo's Euskaltel-Euskadi Orbea TT climbing prototype
On test: Campagnolo Eurus G3 wheels
Pro bike: Lance Armstrong's Trek Madone SSL proto
Pro bike: Emanuele Sella's Battaglin
June 8 news, part 1: Giro's Rev Six revs up at Dauphine, Rebellin conquers on Wilier carbon proto, Giant spy photos at the T-Mobile Service Course
June 8 news, part 2: Specialized unveils new kit, Cervelo & CSC fine-tune at MIT, New forks from Alpha Q, Paint job of the year?
Pro bike: Dede Demet-Barry's T-Mobile Giant TCR Carbon
Bikes of the Giro part 2: The mountains
New arrivals: DMT, Jaggad, Blue Steel, Cannibal, Ellsworth, LeMond Fitness, Atomic Mount
On test: Park Tool IB-1 & IB-2 multi-tools
De Marchi responds
On test: Giro Monza
On test: De Marchi Contour bib shorts,
On test: DeFeet Armskins
May 21 news: Petacchi's new Pinarello, Mayo's Orbea TT secret weapon, adidas, Mavic, Ambrosio, True Temper
On test: White Industries Eccentric ENO hub
World exclusive pro bike: Marion Clignet's Look 496 track bike
On test: Carnac Quartz road shoes
Repair & maintenance: Recording MTB position
Pro bike: Chris Horner's Webcor Lemond TT bike
May 13 news: New Shimano wheels, 29inch victory, CycleOps, Naviion
New arrivals: Crank Bros, Park Tool, Sports Instruments, Morningstar & Panasonic,
New arrivals: 2004 clothing from Campagnolo
On test: Orbea Orca - Real-world team issue
On Test: Specialized Bar Phat tape
Bikes of the Tour de Georgia
Apr 30 news: Campagnolo, Klein, Giant, Sports Instruments, Burley, La Ruta
Apr 27 news: IRD, Oval, Fi'zi:k, Camelbak