Recently on Cyclingnews.com
Fun & games at the Wachovia Cycling Series
Got tech? Send press releases, news, and tech questions to the Cyclingnews tech-heads.
By Anthony Tan
Wheel change comp gets underway
Photo: © Kristy Scrymgeour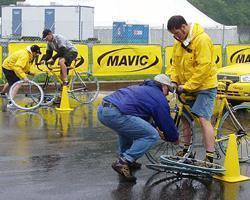 In between the four races that comprise the Wachovia Cycling Series, sponsors were doing their best to keep the crowd entertained during bouts of inclement weather. Cyclingnews correspondent Kristy Scrymgeour's penchant for the curious led her to some very curious goings-on indeed - where she stumbled across the Mavic wheel change competition and took a peek at Mavic's special edition Ksyrium SSC SL Tour de France wheel set.
The Ksyrium wheel set has been the must-have accompaniment for serious (and not so serious) roadies ever since Lance Armstrong's first Tour de France victory four years ago, and is virtually as common as the Reynolds 531 frame was in the days of Pedro Delgado and Greg Lemond. To mark the centenary edition of the Tour and 30 years of Mavic neutral assistance during the world's greatest bicycle race, Mavic released a limited edition model of their ubiquitous Ksyrium wheels at Wachovia.
Mellow yellow
Photo: © Kristy Scrymgeour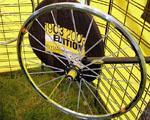 While the wheels may look markedly different with their bright silver anodised finish throughout, from a technological and engineering perspective, the Ksyrium SSC SL Tour de France is virtually the same as its predecessor.
Three-quarters of the 40 gram weight saving is a result of an extra light front hub; the ISM-lightened Maxtal rim with SUP welded joins, the UB control braking surface and the straight pull, bladed Zicral spokes (18 front, 20 rear) remain unchanged. Although not included in the weight comparison, around 20 more grams are saved through the use of titanium axled skewers.
Now if the silver-anodised finish isn't enough to make you the envy of your cycling buddies, the painted TdF yellow spoke should turn their faces greener than Shrek.
Photos
Images by Kristy Scrymgeour
Images by Jonathan Devich/www.wachoviacycling.com
Images by Mavic
Recent tech
Tour tech: Zipp's slippery new wheel revealed
On test: Klein Palomino XV
June 25 news: New Giant carbon, Crank Bros, Colnago proto, Scott, Topolino
Book review: Lance Armstrong: Images of a champion
New bike for Van Moorsel
New bikes from BT
Cicli Pinarello displays its racing history: Fifty years of classic bikes
June 17 new arrivals: Specialized, Crank Bros, Thomson, Bicycling Science, Drop In
Pro bike: Iban Mayo's Euskaltel-Euskadi Orbea TT climbing prototype
On test: Campagnolo Eurus G3 wheels
Pro bike: Lance Armstrong's Trek Madone SSL proto
Pro bike: Emanuele Sella's Battaglin
June 8 news, part 1: Giro's Rev Six revs up at Dauphine, Rebellin conquers on Wilier carbon proto, Giant spy photos at the T-Mobile Service Course
June 8 news, part 2: Specialized unveils new kit, Cervelo & CSC fine-tune at MIT, New forks from Alpha Q, Paint job of the year?
Pro bike: Dede Demet-Barry's T-Mobile Giant TCR Carbon
Bikes of the Giro part 2: The mountains
New arrivals: DMT, Jaggad, Blue Steel, Cannibal, Ellsworth, LeMond Fitness, Atomic Mount
On test: Park Tool IB-1 & IB-2 multi-tools
De Marchi responds
On test: Giro Monza
On test: De Marchi Contour bib shorts,
On test: DeFeet Armskins
May 21 news: Petacchi's new Pinarello, Mayo's Orbea TT secret weapon, adidas, Mavic, Ambrosio, True Temper
On test: White Industries Eccentric ENO hub
World exclusive pro bike: Marion Clignet's Look 496 track bike
On test: Carnac Quartz road shoes
Repair & maintenance: Recording MTB position
Pro bike: Chris Horner's Webcor Lemond TT bike
May 13 news: New Shimano wheels, 29inch victory, CycleOps, Naviion
New arrivals: Crank Bros, Park Tool, Sports Instruments, Morningstar & Panasonic,
New arrivals: 2004 clothing from Campagnolo
On test: Orbea Orca - Real-world team issue
On Test: Specialized Bar Phat tape
Bikes of the Tour de Georgia
Apr 30 news: Campagnolo, Klein, Giant, Sports Instruments, Burley, La Ruta
Apr 27 news: IRD, Oval, Fi'zi:k, Camelbak