Recently on Cyclingnews.com
Bikes of the Tour: Part 1
By Paul Mirtschin
Le Tour 2003 has seen a number of new bikes and components rolled out, as well as minor tweaks to the already fantastic velo's. So as we do every year, Cyclingnews will showcase the bike of the peloton, bringing you the bikes that the pro's ride as they make their way around France in this centenary Tour.
Bianchi
Colour me celeste
Photo: © Cyclingnews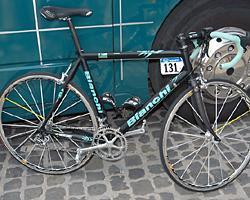 Jan Ullrich's Bianchi XL EV3 is truly a one of a kind, being the only Bianchi on the team with the matt black and celeste paint-job.
As with a number of bikes in the peloton this year, the Bianchi bikes are outfitted with Campagnolo's 2003 Record 10-speed gear in all its glory, with matching Record cranks. ITM bars and stem help keep the Bianchi carbon forks pointing in the right direction, with Mavic Ksyrium SSC SL Tour de France wheels doing the rolling.
Frame: Bianchi
Fork: Bianchi Carbon
Drivetrain: Campagnolo Record 10-Speed with Campagnolo Record cranks
Wheels: Mavic
Pedals: Time
Handlebar: Itm
Stem: Itm
Saeco
Carbon composite
Photo: © Cyclingnews

As we mentioned in the latest Tech News, Gilberto Simoni is riding what will become the 2004 Cannondale CAAD8, sporting an aluminium lugged carbon fibre frame. It isn't just the frame that has carbon either, with Time carbon forks, Cinelli carbon bar/stem combo and Campy's Record 10-speed group.
Mavic supply the Cosmic Carbone wheels, and Time once again supply the pedals.
Frame: Cannondale
Fork: Time
Drivetrain: Campagnolo Record 10-Speed with Cannondale Hollowgram cranks
Wheels: Mavic
Pedals: Time
Handlebar: Cinelli
Stem: Cinelli
Team Telekom
Curvy
Photo: © Cyclingnews

Team Telekom continue to run the deep pink, and deliciously wavy, Pinarello Dogma as they have done all year.
Campagnolo once again supply the 10-speed Record group, and also supply the Neutron wheels. Deda Newton bars and stem as well as Time Impact pedals round out the package.
Frame: Pinarello Dogma
Fork: Pinarello Onda
Drivetrain: Campagnolo Record 10-Speed with Campagnolo Record cranks
Wheels: Campagnolo Neutron
Pedals: Time Impact
Handlebar: Deda Newton 31
Stem: Deda Newton
Team CSC
Colour coordinated
Photo: © Cyclingnews

Colour coordination can mean a lot when publicising a team, and a bike won't get much more colour coordinated than the Team CSC Cervelo, The red, white and black frame is perfectly matched to the ZIPP 404 wheels, and FSA's Team CSC carbon cranks make sure that nothing looks out of place.
CSC is one of the few teams still running a 9-speed group, not making it onto Shimano's 10-speed pilot program.
Easton supply the bars and stem, and Speedplay supply their red Zero pedals.
Frame: Cervélo R2.5
Fork: Cervélo Wolf
Drivetrain: Shimano Dura-Ace 9-Speed with Fsa Carbon Pro Team Issue cranks and SRAM chain and cassette
Wheels: Zipp 404
Pedals: Speedplay Zero
Handlebar: Easton Ea70
Stem: Easton Ea70
FDJeux.com
Global domination
Photo: © Cyclingnews

Brad McGee likes his Lapierre, so much so he imports them into Australia. Brad's Ultimate Scandium framed bike is one of the lucky few to be on Shimano's 10-speed Dura-Ace pilot program, running the gear that will eventually be made available to the public in a few months time.
Shimano have also supplied the "Lance" pedals as well as the new WH-7800 wheels, only recently unveiled to the public and perfectly matching the new Dura-Ace.
ITM's bars and stems are team issue at FDJeux.com, adding a little bit of Italian to the mix.
Frame: Lapierre
Fork: Lapierre Carbon
Drivetrain: Shimano Dura-Ace 10-Speed with 10-Speed Dura-Ace cranks
Wheels: Shimano
Pedals: Shimano
Handlebar: ITM
Stem: ITM
Recent tech
Tour tech: Zipp's slippery new wheel revealed
On test: Klein Palomino XV
June 25 news: New Giant carbon, Crank Bros, Colnago proto, Scott, Topolino
Book review: Lance Armstrong: Images of a champion
New bike for Van Moorsel
New bikes from BT
Cicli Pinarello displays its racing history: Fifty years of classic bikes
June 17 new arrivals: Specialized, Crank Bros, Thomson, Bicycling Science, Drop In
Pro bike: Iban Mayo's Euskaltel-Euskadi Orbea TT climbing prototype
On test: Campagnolo Eurus G3 wheels
Pro bike: Lance Armstrong's Trek Madone SSL proto
Pro bike: Emanuele Sella's Battaglin
June 8 news, part 1: Giro's Rev Six revs up at Dauphine, Rebellin conquers on Wilier carbon proto, Giant spy photos at the T-Mobile Service Course
June 8 news, part 2: Specialized unveils new kit, Cervelo & CSC fine-tune at MIT, New forks from Alpha Q, Paint job of the year?
Pro bike: Dede Demet-Barry's T-Mobile Giant TCR Carbon
Bikes of the Giro part 2: The mountains
New arrivals: DMT, Jaggad, Blue Steel, Cannibal, Ellsworth, LeMond Fitness, Atomic Mount
On test: Park Tool IB-1 & IB-2 multi-tools
De Marchi responds
On test: Giro Monza
On test: De Marchi Contour bib shorts,
On test: DeFeet Armskins
May 21 news: Petacchi's new Pinarello, Mayo's Orbea TT secret weapon, adidas, Mavic, Ambrosio, True Temper
On test: White Industries Eccentric ENO hub
World exclusive pro bike: Marion Clignet's Look 496 track bike
On test: Carnac Quartz road shoes
Repair & maintenance: Recording MTB position
Pro bike: Chris Horner's Webcor Lemond TT bike
May 13 news: New Shimano wheels, 29inch victory, CycleOps, Naviion
New arrivals: Crank Bros, Park Tool, Sports Instruments, Morningstar & Panasonic,
New arrivals: 2004 clothing from Campagnolo
On test: Orbea Orca - Real-world team issue
On Test: Specialized Bar Phat tape
Bikes of the Tour de Georgia
Apr 30 news: Campagnolo, Klein, Giant, Sports Instruments, Burley, La Ruta
Apr 27 news: IRD, Oval, Fi'zi:k, Camelbak