Results and Reports from Australia
Promoters wishing to submit results should send them to Cyclingnews
Trek Bikes Summer Series Rd 5
Heffron Park, February 4, 2003
Strongman Renshaw in charge again
By John Sunde
Easts MC Pat and the Spurge
Photo: © John Sunde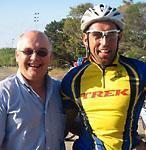 World Teams Pursuit Champion, Mark Renshaw rode an almost copy book version of his race from the previous week when he triumphed in round 5 of the Trek Bikes summer series to grab a 2nd win in as many weeks and a share of the overall lead in the 12 week series. Renshaw, who is using Sydney club racing to prepare for his European season now leads the series with local King, Anthony Spurgeon who, for the 3rd week in a row, only managed to snatch a single point for 5th place.
Numbers were up for this weeks round as 100 riders lined up on a clear, but very windy Sydney summer's evening. C grade once again had the biggest field with over 40 riders showing that with a bit of organisation it is almost possible to hold off the more credentialed A & B grade bunches right to the wire.
Maybe it's the expert advice (and handicapping) from Frank Conceicao, the experience from racing masters like Glen Ion or the sheer enthusiasm of the younger riders, but C grade seem to improve their performance with each weeks racing. Behind them, B grade still can't seem to work out that a handicap is a collective effort and having the 30 strong bunch strung out in the gutter on the first lap doesn't seem to inspire everyone to work together.
Not that it mattered anyway, as on a night when the core of the NSW, Australian and World Championship endurance track team of Chris Sutton, Mark Renshaw, Rod McGee (NSWIS/FdJ) and Steve Wooldridge (Modifiers/Squadra) are pulling 50km turns down the Heffron Park straight, it is going to take a supreme effort to stay away.
One such effort came just before the 7 laps to go sprint prime when A grade where just about to catch B grade, a small group of 4 B grade riders, which included Sprint King leaders Robbie Cater and Chris Jenkins, got away for 2 laps to pick up the points on 7 and 5 laps to go and build on their already considerable lead in the Sprint King competition. But after that little foray, the A grade train were in full flight and set about reducing the C grade lead which was beginning to look threatening.
The race came together on the last lap (maybe next week Frank), when a 20 strong A/B grade bunch swept past C grade and Stuart Dangerfield launched one of his aggressive last lap moves to copy his own win of a few weeks ago. With a big effort from Steve Wooldridge it all came back together before the straight and it was left to Mark Renshaw to lead it all the way to the finish, despite an impressive finishing effort from Randwick Botany super vet, Liam Kelly.
Another impressive effort came from Matt Lucas who finished with the leaders to claim first B grade and young Easts rider, Chris Young won the C grade finish in front the always improving Frank (Mr FRF) Fortuna.
Results
1 Mark Renshaw (Bathurst)
2 Liam Kelly (Randwick Botany)
3 Stewart Campbell (Easts)
4 Jeff Hopkins (Bankstown)
5 Anthony Spurgeon (Caravello)
 
1st B Grade
 
Matthew Lucas (Randwick Botany)
 
1st C Grade
 
Chris Young (Easts)
 
Trek Bikes Pointscore
 
1 Mark Renshaw (A)              14 pts
1 Anthony Spurgeon (A)          14
3 Stewart Campbell (A)          12
4 Stuart Dangerfield (A)         7
4 Robert Cater (B)               7
4 Steve Fitzpatrick (A)          7
4 Liam Kelly (A)                 7
7 Matt White (A)                 4
7 Steve Wooldridge (A)           4
7 Dave Stewart (A)               4
10 Graeme Moffet (A)             2
10 Jeff Hopkins (A)              2
11 Jose Rodriguez (A)            1
 
A/B Grade Sprint King
 
1 Robert Cater (B)              55 pts
2 Chris Jenkins (B)             35
3 Anthony Spurgeon (A)          15
3 Patrick Jones (B)             15
4 Mark Renshaw (A)              10
5 Stuart Dangerfield (A)         8
6 Stewart Campbell (A)           6
7 Liam Kelly (A)                 5
7 Troy Glennan (A)               5
8 John Kenny (B)                 4
8 Steve Fitzpatrick (A)          4
9 Paul Rowney (A)                3
9 Matt White (A)                 3
9 Steve Wooldridge (A)           3
10 Dave Watkinson (B)            3
11 Will Gray (B)                 2
12 Steve Williams (A)            1
12 Dave Stewart (A)              1
12 Jeff Hopkins (A)              1
 
C Grade Pointscore
 
1 Craig Dempsey                 20 pts
2 Dave Jackson                   7
3 Roger Shackleton               6
4 Chris Young                    5
5 Frank Fortuna                  4
6 Stefan Borunivic               1
6 Tim Rice                       1
6 Luke Picton                    1