Results and Reports from Australia
Promoters wishing to submit results should send them to Cyclingnews
Randwick Botany Cycling Club
Heffron Park, Maroubra, February 1, 2003
Formation Finish At Heffron Park
By Tony Horneman
Magnificent seven
Photo: © Tony Horneman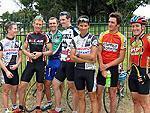 In echelon formation across the track, seven A-Grade riders including Stewart Campbell, Todd Sinclair, Chris Thomas, Patrick Jones, Robert Cater, Jeff Jones and Chris Jenkins, flew down the final straight to decide the final placings in the A-Grade 36km race at Heffron Park on Saturday 1 February 2003. Bret Townsend from the Eurobodalla Club, Moruya tried hard in his first race with Randwick Botany Cycling Club, but finished out of the placings. Setting a cracking average speed of 41kph, final places went to Stewart Campbell from Eastern Suburbs in a time of 53min 19sec, Patrick Jones was second and young gun Cater third. Jeff Jones, Chris Jenkins, Todd Sinclair (North Sydney) and Chris Thomas from St George filled the minor placings.
Randwick Botany's Joseph Sorby had the eighteen-rider 32km B-Grade race won in the final 20m of the finishing straight, only to be rolled on the line by Murray Walsh from the Sutherland Club in a time of 52min 7 sec. Sorby put 200m on the field in the closing stages, but the peleton worked together to catch the breakaway in the last lap. Walsh demonstrated explosive power to storm home and take the win. Second was David McIntosh from Bicisport. Sorby finished third. Average speed for B-Grade was 37kph.
A strong field of C-Graders, including U17 Randwick Botany rider Brittany Orr who won the 2002 National U17 Time Trial championships and New Zealand National U17 time trial and road race, lined up for the 28km event. The eighteen riders set a steady pace with few breakaways. U17 Chris Guillan from the Southern Cross sat mid-field in his debut race at Heffron Park. Orr picked the second placegetter's wheel to draft down the final straight, but faded 200m from home. Guillan came out of the pack to take first place in a time of 48min 40sec and an average speed of 35kph. Ryan Terry from Manly Warringah was second with Karl Bellemy (Sydney) third.
The D-Grade 20km race was contested by seventeen riders. Final placings were Tony Aitchison from Randwick Botany (38min 13sec), Alec Lazich (Waratah Veterans) and Peter Davison (Southern Cross).
The E-Grade 12km event was won by Julia Guinan in a time of 30min 35sec, followed by Ross Fullerton and Kevin Blanchfield.
Nine junior riders competed in Time Trial and an all-in 10km handicap race. Placings and times are listed in the column at the end of this report.
Coverage of local cycling results can be heard on Sydney's Eastside Radio 89.7FM "GAME ON" program, hosted by Brad Cooke, each Saturday morning from 10am.
Randwick Botany Cycling Club conducts racing at Heffron Park, Maroubra NSW each Saturday throughout the year. Juniors start at 1.00pm and Seniors 2.30pm. For more information please contact the club secretary Helen Vella on 02 9667 3307 or email secretary@randwickbotanycc.com or website www.randwickbotanycc.com.
Results
Seniors
A Grade, 36km
 
1 Stewart Campbell (Eastern Suburbs)              53.19 (41kph)
2 Patrick Jones (Randwick Botany)
3 Robert Cater (Randwick Botany)
4 Jeff Jones (Randwick Botany)
5 Chris Jenkins (Randwick Botany)
6 Todd Sinclair (Randwick Botany)
7 Chris Thomas (St George)
 
B Grade, 32km
 
1 Murray Walsh (Sutherland)                       52.07 (37kph)
2 David McIntosh (Bicisport)
3 Joseph Sorby (Randwick Botany)
 
C Grade, 28km
 
1 Chris Guillan (Southern Cross)                  48.40 (35kph)
2 Ryan Terry (Manly Warringah)
3 Karl Bellemy (Sydney)
 
D Grade, 20km
 
1 Tony Aitchison (Randwick Botany)                38.13 (31.7kph)
2 Alec Lazich (Waratah Veterans)
3 Peter Davison (Southern Cross)
 
E Grade, 12km
 
1 Julia Guinan (Randwick Botany)                  30.35 (23.8kph)
2 Ross Fullerton (Randwick Botany)
3 Kevin Blanchfield (Randwick Botany)
Juniors
A Grade 1km Time Trial
 
1 Thomas Murdoch (Randwick Botany)                 3.15
2 Mark Woodhouse (Randwick Botany)                 0.14
3 Andrew Young (Randwick Botany)                   0.20
 
B Grade 1km Time Trial
 
1 Tamas Bykerk (Randwick Botany)                   4.14
2 Matthew Fortuna (Randwick Botany)                0.12
 
C Grade 1km Time Trial
 
1 Adriano Maradini (Randwick Botany)               3.54
2 Elliott Doughty (Randwick Botany)                0.15
3 Sam Buckland (Randwick Botany)                   0.38
 
10km Handicap
 
1 Tamas Bykerk (Randwick Botany)
2 Adriano Maradini (Randwick Botany)
3 Sam Buckland (Randwick Botany)