Recently on Cyclingnews.com
63rd Vuelta a España - GT
Spain, August 30 - September 21, 2008
Vuelta 2008: one for the mountain men
By Shane Stokes in Madrid
Victor Cordero reveals the 2008 route
Photo ©: AFP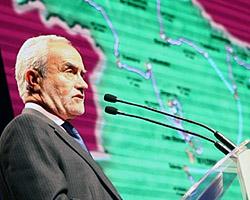 The climbers can celebrate. A return to the gruelling Angliru, a very tough day in the Pyrenees, an uphill time trial, a total of five summit finishes and just 40 kilometres of flat time trial for the specialists against the clock; this is, in truth, a Vuelta tailor-made for those who shine when it comes to battling with gravity.
Starting in Granada on August 30th and concluding in Madrid 23 days and 3169 kilometres later, the Grand Tour will be fought on uphill terrain and should see some epic tussles by the mountain riders in the battle for the final maillot oro.
"I think the race will be for the climbers," said race director Victor Cordero to Cyclingnews. "We have four summit finishes plus the uphill time trial. We will have surprises, we have things to offer the climbers and the time trial kilometres have been really limited.
"The first time trial is just 40 kilometres. It is not the longest time trial to have been in the Vuelta and the specialists will be limited as regards what they can gain. Because of that, I believe that this is a race that is more for climbers than time trialists."
The 2008 edition of the race gets underway in Granada with a 7 kilometre team time trial, almost exactly replicating the 7.2 kilometre test which kicked off the 2006 Vuelta in nearby Málaga. After three mainly flat stages, the riders cross swords in a 40 kilometre race against the clock based around Ciudad Real, then have one more leg before the first rest day. A transfer to Barbastro in the north east of the country gets three tough climbing legs underway, with the first of these – a summit finish to Andorra (Naturlandia – La Rabassa) the longest, and quite probably the hardest, of the race.
Two more mountain legs follow (including a summit finish at Pla de Beret, where defending Vuelta champion Denis Menchov won the 11th stage of the 2006 Tour de France), then three flatter stages precede another transfer and the second rest day. The climbing mayhem begins again immediately afterwards with the 199 kilometre race to the summit of the backbreaking l'Angliru and another mountain-top finish at the ski station Fuentes de Invierno.
A respite from climbing gives the sprinters and roulers four flattish stages to target – five if they get over the two early first category climbs on stage 19 – before a climatic 16 kilometre uphill time trial to the Puerto de Navacerrada. That stage will surely reveal the 2008 victor with just the final processional stage to Madrid standing in between him and the Grand Tour title.
The Vuelta's big names
Photo ©: AFP

Carlos Sastre (CSC) was one of the main animators of this year's race and the 2007 runner-up liked what he saw. "I think that this is better for the climbers," he stated at the launch at the IFEMA centre in Madrid. "There is only a small amount of time trials and in that way it is good for me…I am not a heavy rider, I have to suffer a lot not to lose time in long, flat time trials.
"This type of route is not easy but it is better for me to get something. If I do the Vuelta a España, for sure this type of course is hard and is good for a climber like myself."
There is much hype about the return of the Angliru, reckoned by many to be one of the hardest climbs in Europe. However Sastre thinks another day may be more decisive. "I think that the stage to Andorra is a more difficult stage than that to the Angliru. The stage to La Rabassa [in Andorra] is the biggest mountain stage in this Vuelta a España, it is a real mountain stage. For sure the Angliru is popular, for the media it is important, and it is a hard climb, a hard stage. But I think that in the previous times it was used, it didn't make a big difference to the final result."
Alejandro Valverde seems happy
Photo ©: AFP

Caisse d'Epargne team-mates Alejandro Valverde and Oscar Pereiro were in agreement with this. "I think the Angliru and also the first day in Andorra will be the most important stages," said Valverde. "The second of these is very long, 224 kilometres, and so that is going to be tough."
"The Angliru is hard, it is mythical," said Pereiro. "But I think the hardest stage is the one in the Pyrenees. That stage to Andorra is very difficult."
Valverde felt positive about his chances, Pereiro less so. "I think it is good," said the former. "I think it is a fairly mountainous Vuelta, a tough Vuelta, and that should suit me well. I have improved in time trials but there are still others who are better than me there. If there are less kilometres against the clock, that's good for me. If there are more kilometres climbing, that is good for me as well."
Pereiro appears to see himself playing a likely support role for Valverde or another from the team. "I think it is a really hard Vuelta. It is probably too hard for me to win. At the moment I think I will aim to go to the race in my best form to help the other riders."
José Ángel Gómez Marchante (Saunier Duval – Prodir) was smiling after seeing the profile. "Less time trial kilometres are better for me, the route is very interesting. I think the race is good for me.
"Every day will be important. It is necessary to be good each day. But there are some tough mountain stages. I think that the stage to Andorra will be very important and so too the Angliru. That's a very difficult climb."
Marchante had a difficult 2007 season due to illness, and he's banking on a return to full health. "I hope to have luck because this year I didn't have any. I think the course is very nice, spectacular, very mountainous. I think it is better than the last edition, a very nice course!"
The 2008 Vuelta route
Photo ©: AFP
The 2007 Vuelta was, rightly or wrongly, criticised by some as being boring. A very tough opening week was followed by some conservative racing. Denis Menchov took a vice-like grip on the race and, save for repeated attacks by Sastre, the other riders seemed content to scrabble over the other podium places. However Team High Road's Alan Peiper liked what he saw, and thinks a great race will be in store in 2008.
"A lot of the media said this year that the Vuelta was boring, but it depends on what you were used to in the past. It depends on what you are comparing it to. If you are comparing it to the Tour de France then for sure, it is a different race. But if you look at the last few days of this year's Vuelta, it was really exciting.
"Looking at the 2008 course, I think it is probably a bit more difficult than it was in 2007. This year it had the characteristics of the new style in cycling – not too long, not too many mountain stages, not too many time trials. Now they have made it a fraction more difficult, with three stages in the Pyrenees and a couple of stages over there in Asturias.
"I think it is very well balanced and very well put together for that time of the year. Most of the stages are 160, 175 kilometres long, which is sensible in this time as well."
What about his tips? "I think you saw the contenders today, Sastre and the other Spaniards," he answered. "Menchov is not Spanish but the race seems to really suit him as well. I think that if Valverde does ride, he will want to do well in his home race."
Predictor Lotto's Hendrik Redant also echoes Peiper's assertion that the 2008 edition should be a slightly tougher one. "I think the route is more difficult than this year. There is a very hard time trial already in the first week and then they will go almost immediately to Andorra where you have at least three hard stages. Also the region of Asturias with the Angliru and all the rest is really hard. You have an uphill time trial at the end, too, so it will be a really hard race."
Race director Cordero undoubtedly wants to see a return to glory for the Vuelta, which has been affected by a drop-off in crowds and prestige in recent years. He knows that the ongoing doping problems in cycling are responsible for some of the absent spectators and in speaking to the riders and the others at the launch, stressed the absolute necessity for the sport to return to credibility.
Cordero emphasised that the sport needs
Photo ©: AFP

"We are coming out of a very delicate situation in cycling and we had to do something to get people talking about cycling itself," he said, speaking about the Angliru. "This is a Vuelta of hope. We want a clean, credible and spectacular race."
This aim – as well as the search for an aggressive, exciting contest at the late stage of the season – have influence the organisers in coming up with the route. "We have just one stage of over 200 kilometres, one which is 224 kilometres in length, and there is another which is just about 200 kilometres [the 199 km stage to l'Angliru]," he told Cyclingnews. "It's more in the style of the recent years of the Vuelta. The total length of the race is just 3,169 kilometres, while the Giro and the Tour are longer.
"This permits us two things. Firstly, for a rider coming towards the end of his season, he doesn't have to do a huge amount of kilometres. Also, it helps with the recovery of the riders. We have looked at things carefully. Heading towards both the second and the final week, there are two stages each with summit finishes. With both of these, there is a long stage followed by a short one. That should stop the riders becoming over-tired and ensure that we have an exciting race."
Vuelta 2008 details
21 stages, total distance of 3,169 kilometres
10 flat stages, 8 medium and high mountain stages
1 team time trial
1 individual time trial
1 mountain time trial

Other facts:
5 summit finishes (Andorra Naturlandia-La Rabassa, Pla de Beret, Alto de l'Angliru, E.E. Fuentes de Invierno, Puerto de Navacerrada)
3 Categoría Especial (hors categorie) climbs
13 first category climbs
9 second category climbs
15 third category climbs
First time start locations: San Vicente de la Barquera Cudillero La Granja de San Ildefonso San Sebastián de los Reyes
First time finish locations: Naturlandia - La Rabassa (Andorra) Suances Ski station of Fuentes de Invierno
The Mountains
Stage 7 - September 6: Barbastro - Andorra, 224 km
Category 2: Port de Montllobat, 1,085m
Category 3: Collado de Faidella, 1,260m
Category 1: Alto de la Rabassa, 1,860m
Category Esp. (HC): Andorra (Naturlandia-La Rabassa), 2,050m

Stage 8 - September 7: Andorra - Pla de Beret, 160 km
Category 1: Puerto del Canto, 1,730m
Category 2: Alto de Enviny, 1,220m
Category 1: Puerto de la Bonaigua, 2,070m
Category Esp.: Alto Pla de Beret, 1,880m

Stage 9 - September 8: Viella - Sabiñánigo, 198 km
Category 3: Alto del túnel de Viella, 1,450m
Category 2: Coll de la Espina, 1,410m
Category 2: Puerto de la Foradada, 1,020m
Category 1: Puerto del Sarrablo, 1,290m

Stage 13 - September 13: San Vicente de la Barquera - Alto de L'Angliru, 199 km
Category 3: Alto Ortiguero, 440m
Category 3: Alto la Faya de los Lobos, 700m
Category 1: Alto de la Colladiella, 850m
Category 1: Alto del Cordal, 780m
Category Esp,: Alto de L'Angliru, 1,580m

Stage 14 - September 14: Oviedo - E. E. Fuentes de Invierno, 158 km
Category 3: Alto del Padrún, 200m
Category 2: Alto de San Emiliano, 530m
Category 3: Alto La Camperona, 600m
Category 3: Alto la Faya de los Lobos, 700m
Category 1: Alto de la Colladona, 850m
Category 1: E.E. Fuentes de Invierno, 1,496m

Stage 20 - September 20: La Granja de San Ildefonso - Alto de Navacerrada (ITT), 16 km
Category 1: Puerto de Navacerrada, 1,870m
For more information on the route, as released at the 2008 launch, click here.