Scott Sunderland's Vuelta diary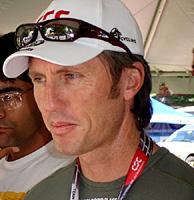 CSC-Saxo Bank's Directeur Sportif, Scott Sunderland
Photo: © Sabine Sunderland
CSC-Saxo Bank's Directeur Sportif, Scott Sunderland, will be guiding the Danish team's nine riders – including Tour de France winner Carlos Sastre – through the hot and testing three-week Vuelta a España. Back with years of experience and just off a win in this year's Tour, he will be providing Cyclingnews' readers with an exclusive insight to one of the most dominant teams.
September 4, 2008
Expect the unexpected
Greetings from a hot and busy Spain!
I have two phones and they are both ringing off the hook tonight. It's just crazy with phone calls! I guess everyone thought I had an easy day today, so they are all calling me.
The last few days it has been all up and down…literally. We've been lucky with crashes and that it wasn't more serious for Carlos Sastre. He lost a few seconds, but we're happy that he didn't lose more and that he wasn't seriously injured. He has some scrapes and some scratches on his knuckles, but he's ok otherwise.
The main problem is that some of our riders have been having a lot of trouble dealing with the heat. It's mainly been our two Danes - those guys from the far northern hemisphere just aren't used to it. But it's ok, and should get better as we move north.
We're quite happy with the time trial. We have two in the top 10 and Carlos at 15th. More important than the placing is the time loss. We are happy that Carlos didn't lose more time on Alberto Contador.
As for the general classification, we think that Alberto Contador is the favourite here, and for Carlos to stay within striking distance of him is very good.
Thursday will be a long day. We have the stage up to Toledo, then quickly into the showers, then to buses that will take us to the train station. There we will board the high-speed trains that will take us up north for the long transfer. It is good to travel tomorrow, that way we can have dinner when we arrive at the hotel that evening, the hotel where we will stay two nights. Then we can relax on the rest day Friday.
There will be a training ride mid-morning Friday, then the guys can have the rest of the day to relax and kick back. They will have the day to themselves, which they will need when we look at what comes next.
Saturday is the first big mountain stage, ending in Andorra. We end up going up the same mountain, the Rabassa, twice. I think early in the stage an escape will form and the teams must try and control it. The first time up the Rabassa, I think that is where the grupetto will form.
It's hard to predict what will happen and who will do well. This is the first of the big mountain days. We'll have to see how everybody is. Some people probably won't have the climbing legs that we expect them to have. The Olympic Games have claimed a few scalps, made a few people tired.
The usual suspect will be up there, plus a couple of young guys who are riding well and are motivated and eager to show what they can do.
Expect the unexpected, then you can't go wrong!