Scott Sunderland's Vuelta diary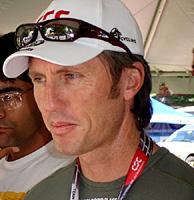 CSC-Saxo Bank's Directeur Sportif, Scott Sunderland
Photo: © Sabine Sunderland
CSC-Saxo Bank's Directeur Sportif, Scott Sunderland, will be guiding the Danish team's nine riders – including Tour de France winner Carlos Sastre – through the hot and testing three-week Vuelta a España. Back with years of experience and just off a win in this year's Tour, he will be providing Cyclingnews' readers with an exclusive insight to one of the most dominant teams.
September 5, 2008
Moving on to new challenges
Because of certain rumours having found their way into the international press, I am using this moment of rest in the Vuelta to put a stop to the speculations and rumours.
Indeed it is so that the 2008 season will be my last as Sports Director with Riis Cycling. In 2009 I'll fill the position of Sports Manager with the new Team Cervélo.
It was my intention to make the announcement about my departure after this three-week tour has been run. This, because I definitely wish to remain very much focused on doing the best possible job here in Spain with my current Team CSC-Saxo Bank. I'm now issuing this personal statement and hope you all understand that I won't be available to answer more detailed questions on this issue until the end of the current season.
Truth is that I really had to reflect intensively on my decision to leave CSC-Saxo Bank in order to pursue a further growth in my career.
After having spent four huge years with Bjarne Riis's number-one-team, I won't just be leaving fantastic colleagues but mostly very good friends behind at Team CSC-Saxo Bank.
I have known Kim Andersen, our first team director, since our days together when he was my director at Team Fakta. From him I have learned so much. I call him a good friend and his influence will definitely be present during the rest of my career. He's a very knowledgeable and enjoyable man to work with and does a great job.
Bjarne has been an inspiration to me all along! I said before that it had been an aspiration for years to work with him while I was still racing and I'll be forever appreciating that he believed in me and gave me the chance to develop my directing skills under his management at Riis Cycling.
I have nothing but praise for Bjarne Riis and the staff and the awesome riders I still work with at this moment in this Danish team.
I'm convinced we'll all remain good mates!
Since I joined Team CSC end of 2004, we have been very successful and secured remarkable maiden wins in my favourite races, the Spring Classics; that was an unforgettable experience. However, I have been blessed, or maybe cursed - it's how you look at it, with a restless and adventurous nature and especially since our Tour de France victory, I have felt an increasing urge to move on to different challenges, get off the beaten track once again.
When Gerard Vroomen from Cervélo told me about his project, it was something I simply could not ignore.
Not only because some of Gerard's ideas were dreadfully similar to a concept I had been cultivating myself but also because of my keen interest for the management aspects of a global cycling team.
My desire to further my career encouraged me to accept the offer to move up a step and become Sports Manager with Team Cervélo.
In 2009, I will again get the opportunity to work with some pretty amazing business people.
As always, I'll be extremely motivated to further assist the process which moves Cycling into a new era, where clean and fair sportsmanship will be attracting a bigger interest from the corporate world.
The companies supporting this project have invited me to help develop a thriving team out of the group of both prominent and younger riders and skilled staff from 2009 onward.
I hope to accomplish just that. Team Cervélo will have no stress concerning actual race results in its first season, that's only a realistic starting point, but knowing the ambitious temperament of all the people involved in this team; there won't be any economising on efforts.
Besides all that, I love seeing my team succeed, that part of it has become very addictive!
Thank you very much for your interest!
Yours in cycling,
Scott