The current time in Athens is 03:03 on October 4, 2023
Olympic Cycling News for August 25, 2004
Edited by John Stevenson
A points race lap-fest and two tough sprints
Track Day 5 Round Up
By Rob Jones in Athens
Mikhail Ignatyev (Russia)
Photo ©: epicimages.us
Three gold medals were awarded tonight on the track - both sprint titles and the men's points race. Mikhail Ignatyev gave Russia its first track cycling medal of the Games, with a win in the points race, while Canada's Lori-Ann Muenzer took the women's sprint title, and Ryan Bayley of Australia the men's sprint.
Russian rouleur takes points
This was a race of lapping the field, and Ignatyev was the master, lapping the field an incredible four times - at the 50 lap, 90 lap, 110 lap and 140 lap sprints. However, he wasn't alone - silver medalist Joan Llaneras of Spain, the defending Olympic champion lapped three times, as did bronze medal winner Guido Fulst (Germany), Greg Henderson (New Zealand) and Milan Kadlec (Czech Republic). Five more riders lapped the field twice.
Muenzer historic Canadian first in women's sprint
Canada's Lori-Ann Muenzer, the oldest rider in the competition, fought back from a first ride loss to Anna Meares (Australia) to take the Olympic gold medal - Canada's first ever Olympic gold in cycling. When Meares and Muenzer were matched up for the semi-final, everyone, including the Canadian, remembered that Meares won the same match up at the world championships - by one pixel on the photo-finish. It looked like deja vu when Meares took the first ride, but Muenzer dug in and overpowered the Australian in the next two rides to move on to the final.
Bayley vs Bos in men's sprint rematch
Ryan Bayley (Australia) and Theo Bos (Netherlands) easily advanced through the semi-finals with two straight wins apiece, setting up a replay of the world championships semi-final between the two riders. At the World's Bos won the semi-final in three rides and went on the win the world title. The gold medal final began the same way, with the Dutch rider coming from behind to pip Bayley at the line. However, Bayley recovered to beat Bos in the same manner in the second ride, and then was dominant in the third ride, finishing far enough in front to raise his hand as he crossed the line. In both the first and second rides Bayley was pulling so hard on his bars that he lifted his front wheel off the ground.
Full Track Day 5 Round Up
Men's Points Race
Women's Sprint Semi-finals
Women's Sprint Finals
Men's Sprint Semi-finals
Men's Sprint Finals
Bayley's secret: to get even, get angry
Theo Bos (right) won the first round of the men's sprint, putting Bayley into the angry zone.
Photo ©: AFP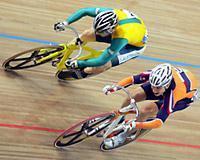 Losing the first heat of the men's sprint final by just a tyre's width was all the incentive Australian Ryan Bayley needed last night to stir him up for the final two rounds and Australia's fourth cycling gold medal at these games.
World champion Theo Bos of the Netherlands beat Bayley in the first heat of the three-race showdown. Forced to lead out, Bayley went for it with 250 metres to go, stretching out to two lengths ahead, but the Dutchman steadily reeled him in and caught him on the line.
After that, Bayley feared a repeat of the world championships semi-final in Melbourne in May when Bos beat him in three races.
"I got off my bike, got very aggro, got very pissed off, which for Theo is bad news, when I get pissed off I get really fast," he said. "I just got on the track and wanted to nail every single pedal. At the line I threw the bike, front wheel went off the ground, unbelievable.
"I went just across the line in that last one. My head just stopped, I didn't know what was going through my head in that last one. "All I know is that I crossed the line and looked at him and thought, 'Yeah, I'm in front. Wicked'."
Wicked indeed, and the culmination of a remarkable comeback for Bayley, who almost stopped training a couple of years ago after winning the 2002 world keirin championship at just 19 years old.
After winning that victory, Bayley said he lost the drive to compete, believing that he had already achieved everything. Until the Olympics came within sight.
"I loved riding my bike but I didn't have the passion to go hard and to train hard," said Bayley. "Probably some time in 2002 I realised the Olympics are coming and I was sick of being back in 12th place, I wanted to be the guy at the front. I worked for two years to put me in the position I am now."
Bayley said the gold medal win was unimaginable. "I don't how to describe it really," Bayley said.
"It's been a lot of years, trying to dream of going to the Olympics for starters. To be here was absolutely unbelievable, to see the crowd and the support was unbelievable. And to win is, I just have no idea, it's something you can't describe, can't imagine."
AAP contributed to this story
Canadian track team triumphs
The Canadian track team celebrates
Photo ©: epicimages.us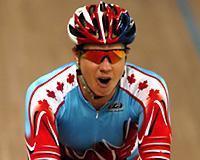 The Canadian track team at Athens has been the butt of some good-natured ribbing, given that it consists of exactly one rider. But last night that rider, sprinter Lori-Ann Muenzer, proved that it's not how many riders you have that counts, but how good they are, as she won Canada's first ever cycling gold medal.
Muenzer, 38, needed just two races to beat Russia's Tamilla Abassova, 17 years her junior. "I'm on cloud nine. It's unreal," she said. "At this moment I am not conscious of what has just happened.
"To be up there with the other great Canadian cyclists is an honour. It hasn't sunk in yet. If you'd have told me 10 years ago it would take this long I'd have challenged you on that."
"We've been working for this week for five years and this week has been my fastest week, my strongest week and my smartest week of racing ever."
"I have trained very hard. Step by step I came closer to the podium. Today I told myself that I wanted to be the first woman who crosses the finish line. That's what I did."
The woman Muenzer beat, Russia's Tamilla Abassova is now looking to the future. "The result is enough, I'm satisfied, but I hope in the next Olympics in Beijing to succeed in getting the gold," she said. "That's my desire and for that I will work from now on."
In going down against Muenzer in the semis, eventual bronze medallist Anna Meares (Australia) had finally succumbed to the pressure of the Olympics, according to Australian track coach Martin Barras. "In the scheme of things that probably is the best thing that could have happened to her," said Barras.
"She cracked under pressure, the pressure finally got to her, she pulled off the first ride (against Muenzer) because she's a great quality rider, but the pressure really got to her and she got it back together for the bronze medal and that's the best thing that could have happened for her."
Dawson happy, even without medals
Coach Macca ready to buy medals himself
Although the Australian Olympic Committee has added its voice to the clamour for medals to be awarded to all riders who took part in Australia and Britain's gold and silver team pursuit campaigns, at least one of the riders in question says he's happy that his team won, whether or not he takes home a gong.
The AOC and British Olympic Association have requested that medals be awarded to riders who took part in the earlier rounds of the team pursuit - Australia's Stephen Wooldridge and Peter Dawson and Britain's Chris Newton and Bryan Steel.
In 2000 all member of the victorious German team took home medals after the team appealed, and a similar decision is being sought this time.
"Hopefully they'll go on the same generosity system, and Stephen and myself will be given a medal," said Peter Dawson, who was a member of the team that qualified fastest for Australia. "But if not I'm still happy to be a part of it."
Webb reveals track work
Track construction specialist Ron Webb has revealed some details of the work that went into preparing the track at the Athens velodrome for the 2004 Olympics. Webb, who also built the tracks at the Dunc Grey velodrome in Sydney, the Manchester Velodrome and Britain's new track in Manchester, spoke to Cyclingnews in an effort to correct a few widespread misconceptions about the Athens track.
For a start, says Webb, the track is not made from the commonly used Baltic pine. "We built the track 15 years ago as an outdoor track, he said. "The timber is hardwood - a West African wood by the name of Azelia. It is a very dense and heavy timber, 833kg per cubic metre."
Webb was called in earlier this year to prepare the track for the 2004 Games, part of an effort that also involved roofing the previously open velodrome.
"In the 15 years since build, no maintenance appears to have been carried out," Webb told Cyclingnews. "An enormous amount of repairs of defects to the surface was necessary. You will see these repairs when you look close to the surface. Lengths of rotting timber were replaced. Then the surface was sanded down, a new fence capping added and the track remeasured and lines painted. Under the track, repairs were also made. This work I supervised through April and May.
"So the track with its heavy hardwood surface and the massive trusses we designed (and use on all tracks) make the track very solid."
Pearce battles as Russian takes four
Colby Pearce was the sole US rider in last night's track races at Athens, finishing 14th in the points race after never quite managing to get into medal contention. Gold medalist Mikhail Ignatyev (Russia) lapped the field an unprecedented four times on his way to collecting 93 points. Each one of those extra laps was worth 20 points, giving Ignatyev an insurmountable advantage.
Over the course of the race, all but eight riders went a lap up, starting from the early stages when Alexey Kolessov (Kazakhstan), Marco Arriagada (Chile), Angelo Ciccone (Italy), Milton Wynants (Uruguay) and Milan Kadlec (Czech Republic) escaped just after the first sprint.
Pearce clawed a lap back late in the race to bring his total to 21 points, but it was not enough as a subsequent final effort to take another lap failed and the leaders continued to lap the field and widen the gap.
"It was a difficult race to read tactically," Pearce said afterwards. "There were five favourites going into the race and 10 others that could have won the race on any given day so it was hard to decide which breaks to go with. Normally, my strength is to get in a break and lap the field and then try and go again right away. I tried to do that at the end and that was the final bullet in the gun. I raced the last 20 laps cross-eyed."
"The race was stop-and-go all night which is unusual for a race of this calibre," Pearce went on the say. "And there's always one guy that comes out of nowhere. Tonight that was the Russian."
Eadie heads for down time
By Paul Mulvey, AAP
Sean Eadie wants to be bored.
The burly Australian sprinter's Olympics, and two months of turmoil, has ended without a medal and with hardly a whimper. He was the weak link in the team sprint which finished fourth and bowed out in the repechages of the individual sprint.
Now, after a ride-off to earn his place in the team, a court case to win it back after being sacked over drugs allegations and the prospect of losing it again through Ben Kersten's appeal, he wants to do nothing for a month.
"Just have some quiet down time, put things in perspective and start again," he said. "Not have to worry about deadlines, preparing for court, any of that. Hopefully I get the chance to be bored."
Eadie said he'd been too busy to become bitter since young cyclist Mark French was banned for two years in June and then named Eadie and four others as serial injectors. But Eadie said he bore no malice toward French, whose claims almost cost him his place in the team and led to Jobie Dajka's sacking.
"We've all done stupid things as kids," Eadie said. "In the sporting context, in an Olympic year it's a cut-throat business as we've all found with what Ben and myself and Jobie have gone through. It's cut-throat, it's lethal, people are out to get themselves forward by climbing over anyone they can. I've got no animosity toward Mark, I feel a little bit like it's a shame or a waste or whatever but you can only do what you think's right."
Eadie admitted some mud was bound to stick. "I'm 35 years old, I'm 100 kilos, I'm racing at the Olympics, there's always people going to say `hang on it's a young man's sport'," he said. "And that's fine, but it's about application and discipline and what you want to do."
Eadie was named only for the team sprint but also took Dajka's place in the individual event with little specific training when the South Australian was sacked. So he was not surprised to lose in the repechages but was looking forward to next year's world championships in Los Angeles.
"I'm very happy with the way I rode the races considering I haven't trained for it, it was inevitable I was going to run out of gas," he said. "When you don't train for an event you should get smacked."
Eadie said he would continue riding until there was "someone better than me". And he named Kersten as one who could fit that bill. "Ben Kersten stepped up this year and made it to his first Olympic team, but I'm going to go out kicking and screaming."
(All rights reserved/Copyright Knapp Communications Pty Limited 2004)