The current time in Athens is 04:09 on October 4, 2023
Olympic Cycling News for August 24, 2004
Edited by Jeff Jones
Barras not celebrating big yet
By Rob Jones in Athens
Martin Barras, from Ste Foy, Quebec (Canada) is the head coach of Australia's phenomenally successful track program. We spoke with him after the men's Team Pursuit squad had claimed the gold medal in the final against the Brits.
The Aussies on the podium:
Photo ©: AFP

Cyclingnews: Are you on track for the results you wanted to achieve in Athens?
Martin Barras: We have expectations, of course, but we will know in two days if we have met them. Our goal is to come out of the Olympics recognised as the best track team in the world. By giving the riders the services, training and support they need, then it will happen.
CN: How big is this Team Pursuit win?
MB: It means so much to the country, it is like Canada winning hockey two years ago (in Salt Lake). The Team Pursuit is what the track cycling program has been built on for the last 20 years. All the AOC (Australian Olympic Committee) was here tonight, despite fact they are fighting with us.
CN: What about tomorrow's sprint finals? Where do you see Lori-Ann Muenzer?
Canadian Lori-Ann Muenzer
Photo ©: AFP

MB: We have prepared for Lori-Ann, she is one of the ones we are most concerned about. Lori-Ann is a very crafty rider, she doesn't make mistakes. So, you don't try to set her up like you might with other riders. Her arsenal of weapons is not large, but what she has, she uses to 100 percent.
She is aggressive and forceful in races. You have to grab any opportunity, because you can't recover if you make a mistake against her.
CN: What about the rest of the sprints finals?
MB: I am very interested to see how the Russian final sets up (Grankovskaya versus Abassova). Grankovskaya is smart and subtle. But if she let's Abassova run her course, then (Abassova) is a very powerful rider, she has a big engine, and could win.
It is the same with the men. There were five clearly above the rest, but Bourgain lay down, let Gané through. The Wolff - Bos race is between two drag racers, and Gané - Bayley is between two jumpers! It should be very interesting to watch.
Bos looks forward to semi-finals
Defending world sprint champion Theo Bos
Photo ©: epicimages.us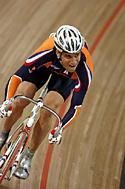 Dutch world sprint champion Theo Bos is looking forward to his match up with German Rene Wolff in the semi-finals of the men's sprint today. Bos used his superior speed to take care of Britain's Ross Edgar in two straight heats in the quarter-finals, and is now in with a real chance of a medal.
Bos said of Wolff: "We have the same early speed and it will be a tactical race. I think Wolff wants to begin out in front, so I have to accelerate out of his wheel. Wolff defeated me once in the World Cup in Moscow, and I have beaten him in Hannover, it will be a tough battle."
The other semi-final will be between Ryan Bayley (Australia) and Laurent Gané (France). Bayley has looked to be the faster of the two in the early rounds, but Gané has more experience behind him.
© AAP
Meares up against Muenzer
Anna Meares (Aus)
Photo ©: epicimages.us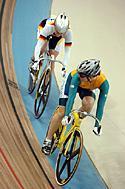 In the women's sprint semi's, Australian Anna Meares will go up against Canadian Lori-Ann Muenzer in her heat. Meares, riding with confidence after she set a world record in winning the 500m time trial gold medal on Friday's opening night, beat German Katrin Meinke 2-0 in yesterday's quarter-finals.
"Everything has been working well up to now," Meares said. "I have already won one gold medal, so I am happy. The pressure is gone. I have ridden three times against Lori-Ann and I have won twice, so the competition is going to be really tight."
World sprint champion Svetlana Grankovskaya of Russia won her battle with Natallia Tsylinskaya of Belarus to set up a semi-final with fellow Russian Tamilla Abassova, who had to race four times against Lithuania's Simona Krupeckaite to eventually beat her.
© AAP
British and Australians appeal for extra team pursuit medals
By Gerard Knapp
Both the British Olympic Association and the Australian Olympic Committee are to appeal to the International Cycling Union (UCI) and the International Olympic Committee (IOC) for medals to be provided to all riders who competed in the team pursuit, not just the four from each squad who rode in the final.
Share the wealth
Photo ©: AFP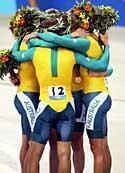 Last night at the Athens Velodrome, the Australian team defeated Great Britain in the ride-off for gold in the 4km team pursuit final. However, the gold and silver medals were only provided to the riders who competed in the final, even though both squads featured two other riders in the qualification heats (Aust, GB) and first rounds (GB).
Many observers pointed out that in other Olympic sports, such as swimming, members of relay squads who competed in either qualification heats or finals are presented with medals. The reaction from within the cycling community was swift, as most considered it grossly unfair.
"The decision not to give medals to any team member that progressed the team to the finals is disgraceful," said Phill Bates, a former board member of Cycling Australia. "It does not happen in any other sport. It has not only affected Australia but the UK team that replaced two riders."
The contributions of the riders in qualifying and the first round is considered almost as important as the riders in the final, given that the first round ride in particular determines whether the squad rides for gold or bronze. Further, the riders who are left out of the final are not recorded as Olympic champions, nor are they given a medal or any recognition for their contributions.
Six of the best?
The Brits with their medals
Photo ©: AFP

Cyclingnews understands that the British Olympic Association was first to lodge an official appeal with the IOC, as GB used six riders in its campaign for the team pursuit. The squad in the final included Steve Cummings, Rob Hayles, Paul Manning and Bradley Wiggins. However, Chris Newton rode both the qualifying ride and first round but missed the final, and Bryan Steel also rode in qualifying.
It was similar for the Australian squad, where Stephen Wooldridge and Peter Dawson helped Australia qualify fastest, but these two were replaced by Luke Roberts and Brad McGee for the first round and final. They joined Graeme Brown and Brett Lancaster, the two riders who completed every round.
On Tuesday morning in Athens, a spokesperson for the Australian cycling team said Craig Phillips, the director of sport for the AOC, "will be talking to the UCI and the competition management in Athens to address this matter". Therefore, with both countries' respective Olympics organisations making appeals, it appears possible that all six riders from both countries could be presented with medals.
It's worth noting that in the bronze medal final of the team pursuit, Spain defeated Germany using the same four riders in all rounds of the event. In fact, Spain continues to be the revelation of endurance track racing in Athens, with Sergi Escobar in particular also winning bronze in the individual pursuit, as well as the team pursuit. It could be said that Escobar has completed more hard laps of the Athens velodrome than any other rider so far.
Different to Commonwealth Games
It would not be unprecedented for cycling at the Olympics, as all members of Germany's victorious team pursuit squad at the Sydney 2000 Olympics were given gold medals. It's understood that Ray Godkin, now vice-president of the UCI but the then competition manager for cycling at the Sydney Olympics organising committee, insisted that all riders be rewarded with medals.
Phill Bates pointed out that in the 2002 Commonwealth Games, Australia's Stephen Wooldridge "did not ride the final, stepping aside for Brad McGee and Luke Roberts, was at least awarded a gold medal and accepted as a gold medal winner and a member of the team. How can you have one rule for Commonwealth Games and one rule for the Olympics?"
Bates said the Sydney rider is "a wonderful ambassador for the sport, has won three world titles, ridden at the Olympic Games for the team that won the Olympic Games gold medal, but he is not considered an Olympic Games gold medallist.
"In previous Games or World Titles, if you raced two rounds of what was then a four round series you received a medal. Now that there are just three rounds it should be for any rider," he said. "At least in Australian titles if you race in the team at any stage you win the National title and receive the gold medal."
Bring in the big guns - O'Grady to ride Madison
By Gerard Knapp
Australia's endurance track coach, Ian McKenzie, is hoping to capitalise on the excellent racing form of Stuart O'Grady by enlisting the Cofidis professional in the country's Madison pairing for tomorrow evening's 60km race, the penultimate event on the Athens 2004 track racing schedule. O'Grady will team up with 2004 teams pursuit gold medallist Graeme Brown as Australia sets out to defend its gold medal won by Brett Aitken and Scott McGrory in the 2000 Olympics.
The decision to use O'Grady will come as a surprise to many, given that it was assumed that either Mark Renshaw or Luke Roberts would team up with Brown. However, with Renshaw set to ride in the 40km points race this evening, and Roberts also competing in the individual and teams pursuit, it was thought a pair of relatively fresh legs could be a deciding factor.
O'Grady had been in contact with McKenzie for several months prior to the Games, with the Australian coach looking to the experienced road rider as a possible rider in either the points race or Madison.
Although O'Grady has not worn the national colours on the boards since the 2000 Olympics points race, the talented sprinter is certainly no stranger to the Madison. In fact, as an amateur he was the regular Madison partner of Aitken and won Australian championships, as well as competing with Aitken in the amateur Six Day series in the European winter before he turned pro. O'Grady has also raced professional Six Days in Dortmund and Munich.
Speaking from Athens, he told Cyclingnews that he was "really happy with the selection. My form's been good since the end of the Tour (de France) and I'm ready to have a really good crack at it".
Recovered from the road race
Stuart O'Grady
Photo ©: epicimages.us

O'Grady has already been in action in Athens, finishing 33rd in the 224.4km road race, among a large group that was 12 seconds behind race winner Paolo Bettini (Italy). After the race, O'Grady commented, "It was definitely the hardest one-day race in my life. The conditions, the heat, the technical course just made it a very, very hard race."
After finishing the Athens road race, O'Grady returned home to Toulouse and "it took a few days to recover, the heat really took its toll. But then I went out and did a long steady ride behind the motorbike. So it's about maintaining my strength and building up the leg speed."
He has now returned to Athens and is inspired by the performances of his team-mates. On the night of the teams pursuit final, O'Grady could be seen in the infield and helping out carrying pursuit bikes around. "It's just absolutely brilliant to be here. It's really phenomenal being a part of it. The team has so much confidence and watching the teams pursuit was inspiring. Their precision is absolutely amazing...just awesome and it's a big inspiration."
As for the tactical side of the Madison, O'Grady believes "It's not something you forget how to do, it's not something you lose. Put it this way, I'm not going out there to make a fool of myself." Since returning, he and Brown have been in practice on the Athens track, working on their hand-slings and timing, a critical part of the Madison.
On the O'Grady radar during the event will be the teams from Switzerland, Spain, Argentina and the New Zealand combination of Hayden Roulston and Greg Henderson, who may surprise a few teams. In the past, O'Grady has made good use of his track craft to secure many great victories on the road, and he's confident that form can be transplanted back to the boards for tomorrow's Madison. "Let's just say, tomorrow's going to be very interesting."
S.A.T.S. reacts to Valen comments
Danish Team S.A.T.S. has reacted to the allegedly disparaging comments made by one of its riders, Anita Valen, about Sara Carrigan's win in the women's road race. Norwegian newspaper Verdens Gang quoted Valen questioning Carrigan's buildup to Athens, during which she did not compete for two months, talking about Carrigan training in "a secret room in their [Australian] sports facility."
Valen claimed that she was misunderstood by VG and did not mean to imply that Carrigan was taking drugs. The Norwegian Olympic Committee also asked Valen to apologise to Carrigan, which she did.
Valen's trade team, Team S.A.T.S. also wished to distance itself from her comments, whether true or not. "We wish to make it absolutely clear that the story published in the Norwegian newspaper in no way reflects the position of Team S.A.T.S.," the team said in a statement. "We are extremely upset that the unfounded statements in the VG article were attributed to a member of our team. We congratulate Sara on her fantastic accomplishment and can only hope that this episode does not detract from it. The Norwegian Olympic Committee was correct to insist that Anita apologize to Sara.
"As a matter of team policy, Team S.A.T.S. takes very seriously its responsibility to uphold the integrity of our sport. Team members are expected to show respect and courtesy to all fellow competitors. If it is true that Anita made such unsupportable statements concerning Sara and the Australian cycling program, then there has been a clear violation of this most basic team policy."


Previous News Next News
(All rights reserved/Copyright Knapp Communications Pty Limited 2004)