The current time in Athens is 10:53 on June 2, 2023 - For current weather, click here
28th Olympic Games - JO
Athens, Greece, August 14-28, 2004
Results Qualification First round Finals Track 101
August 23: Men's Team Pursuit finals
No worries for Australia
The Aussies
Photo ©: AFP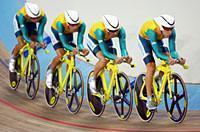 The pride of the Australian track squad, the team pursuit squad, achieved what was expected of it this afternoon in Athens by winning the gold medal in the final against Great Britain. Australia clocked a fast time of 3:58.233 (60.445 km/h), two seconds off the world record set yesterday, but more than enough to beat Britain in 4:01.760. Australia had its nose in front after two laps and never gave up time to the Brits after that.
The same quartet was used as in round 1, with Brad McGee, Brett Lancaster, Graeme Brown and Luke Roberts sharing the workload. Unfortunately for Peter Dawson and Stephen Wooldridge, who helped qualify Australia in the top spot yesterday morning, only the four finalists received gold medals, even though Australia probably would have won with any combination of the six. It was a stark contrast to four years ago in Sydney when the Aussies did not even make the semi-finals, being beaten by Germany in the quarter-finals.
McGee, Lancaster, Brown and Roberts
Photo ©: AFP

The final today saw both teams make a good start, with Britain 0.16 seconds up after the first lap. But Australia reversed the deficit after two laps and continued to put pressure on Britain. After a 1.03.139 first kilometre, the Aussies were already 1 second ahead, riding a blistering second kilometre in 57.330 seconds to put them under World Record pace. By that stage, they were almost two seconds ahead of the Brits and were not looking like losing it. The third kilometre was a little slower in 58.376, then Brown appeared to be inadvertently tailed off the back by a team-mate - who was also slightly behind the two leaders - with just under a kilometre to go. As he had just completed his turn on the front, Brown was unable to close another gap and sat up. Despite this slight hiccup, the three remaining riders pulled together and did the final kilometre in 59.388 - well outside the new world record, but more than good enough to win gold by 3.5 seconds.
The relief was apparent on all the winners' faces, particularly an emotional Brett Lancaster who was congratulated by Stuart O'Grady shortly after the race. And it was a big moment for team captain Brad McGee, who in his third Olympics has finally won a gold medal. As always, McGee paid tribute to his teammates, who have set the standard in this event in recent years.
Brad McGee watches
Photo ©: AFP

"This is not about me," he said. "Look around you and see all these happy Australians. This is about the team and everybody else who is involved. This gold medal is for Australia. This is so important for the nation."
McGee, who missed out on gold in the individual pursuit against Brad Wiggins, said that his next aim will be the time trial at the World Championships in Verona. "I am in good condition and I want to perform very well in Italy," he said.
As for the British team, it improved on its bronze medal in Sydney and wasn't too disappointed with silver in Athens. "We did the best that we could do," commented Brad Wiggins. "We have watched the Australian team many times and we tried to confront them. We tried very hard and the silver medal is OK."
In the ride off for the bronze medal, the Spanish team of Carlos Castano, Sergi Escobar, Asier Maeztu and Carlos Torrent rode a strong final half to overhaul Germany to win the country's first ever medal in the team pursuit. Spain's time was a relatively modest 4.05.523, but the Germans were 1.6 seconds slower in 4.07.193, a far cry from their Sydney form where they became the first team ever to break the four minute barrier. Two members of that team, Robert Bartko and Guido Fulst, were in the 2004 line up.
The British team pursuit
Photo ©: epicimages.us

"I am sad that we lost against Spain, but I am very happy with the fourth place," commented Bartko. "Our expectations were not so high before the Olympic Games. I think Germany will return to the top of the world. It will take some time, because there is still a gap, but we are following the good road."
Related story: Coach Ian McKenzie of Australia's track endurance squad on turning talent into champions.
Photography
Images by www.epicimages.us
Images by AFP Photo
Images by Rob Jones/www.canadiancyclist.com
Results
For the bronze         1 km       2 km       3 km       4 km
                       
3  Spain               1.05.697   2.05.076   3.05.004   4.05.523 (58.650 km/h)
   Carlos Castano
   Sergi Escobar
   Asier Maeztu
   Carlos Torrent
4  Germany             1.04.508   2.04.609   3.05.547   4.07.193
   Robert Bartko
   Guido Fulst
   Christian Lademann
   Leif Lampater

For gold and silver    1 km       2 km       3 km       4 km 
                       
1  Australia           1.03.139   2.00.469   2.58.845   3.58.233 (60.445 km/h)
   Graeme Brown
   Brett Lancaster
   Brad Mcgee
   Luke Roberts
2  Great Britain       1.04.076   2.02.418   3.01.467   4.01.760
   Steve Cummings
   Rob Hayles
   Paul Manning
   Bradley Wiggins