The current time in Athens is 22:30 on March 31, 2023 - For current weather, click here
28th Olympic Games - JO
Athens, Greece, August 14-28, 2004
Monday, August 16, 2004
Australia's track endurance squad: Ready to rock
Coach Ian McKenzie turning talent into champions
For the past three years the Australian pursuit team has won the world title. Before the first victory, they became only the second squad to finish the 4,000m event in less than four minutes. The winning ride at the Commonwealth Games set a world record. It was an impressive achievement, but last year another fine combination obliterated that time by over two seconds. The new endurance coach, Ian McKenzie, was turning talented riders into champions. Ride Media's Rob Arnold spoke to the man behind the success to find out what he expects will happen to them and the rest of the endurance team in Athens.
The Australian teams pursuit squad on their way to a hat-trick of world titles at the 2004 Track World's in Melbourne
Photo ©: Mark Gunter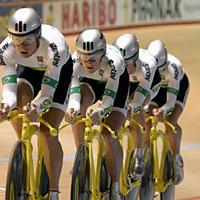 "We didn't have a very successful year in 2001 so we changed a few things around and it all came together in the last week in the lead-up to the Commonwealth Games in Manchester," said Ian McKenzie in an attempt to summarise the alterations which turned a squad of contenders into world beaters. The Australian track endurance coach is not the sort of guy who likes to talk too much, but there's obvious pleasure in his voice as he remembers the time when he had a point to prove. Instead of spending time training on the velodrome in northern England, Ian asked his troops to get out on their road bikes and add to what was already a solid base of miles. It was just days before Graeme Brown, Peter Dawson, Mark Renshaw and Luke Roberts became only the second formation ever to finish the 4,000m team pursuit in less than four minutes. Two years before the Olympics, it was enough for them to be labelled favourites for the event. But a lot more was yet to come.
It's not unusual for pursuiters to spend time preparing out on the road but it was hardly an approach McKenzie's predecessor, the enigmatic Charlie Walsh, would have opted for so close to a crucial competition. But, as they say, the times are changing. In the final of the Commonwealth Games, the four-man team pushed gears that were significantly larger than Walsh ever asked them to ride and a world record was the result. "I had a 102-inch gear and so did everyone else in the group," said Brown of that day in Manchester. "At the Sydney Olympics I rode a 97-inch... quite different to the full set-up for the world record ride which was 175mm cranks, a big gear, disc wheels and you-beaut tyres!"
Brown is an animated character even in his quiet moments. He loves to get pedantic about the equipment he uses but he's prone to doing so in a language all of his own. When he's going well he's "on fire", riding with a big gear is "thumpin' the big dog", and when he's frustrated by some aspect of his bike he has been known to declare that he wants "a new pig - 'cause I'm sick of rootin' this one!". Despite their contrasting personalities, Graeme is one of Ian's favourite riders. And it's likely that Brown will be in the starting line-up come Athens although he's been fighting an Achilles tendon problem since the start of the 2004 season.
McKenzie has developed a good working relationship with all his riders that is reciprocated because of the coach's willingness to listen to their suggestions at the same time that he's offering advice. It doesn't bother Ian that he has to contend with a range of personalities. From the boisterous Brown to the anxious but astute Katie Mactier, McKenzie's approach is one that ensures the best possible results for all his riders.
In 2004 the focus is clearly on Athens even if the world titles were contested in Melbourne this May. With a day of competition at the championships yet to come, Ian offered his appraisal on what he expects will happen in Greece this August. McKenzie was keen to reflect on the changes he had made to the squad for Manchester. It was there that it became obvious that he'd brought his riders back up to a competitive level after a very average year.
"Brownie" one of McKenzie's favourites
Photo ©: Shane Goss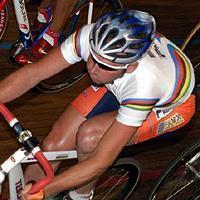 "We had an excellent result there but we had to try and reproduce it seven weeks later. Thankfully the boys were able to do that," he said about the year when the World's followed the Commonwealth Games. "We got the victory in the team pursuit and it also worked well in the individual pursuit.
"We've just carried on from what we've learned in the past. I'm confident in our program and so are the riders."
His winning formula is based on much more than road miles, bigger gears and longer cranks. All these components have helped but so has the fact that there's something of a routine in place. This is what's required when he's drawing on the talents of a broad mix of riders. Some are fully committed to the track while others have contracts to race for professional teams in the European peloton.
There are obvious legacies from the Walsh era, and one which McKenzie is proud of is the training base for the squad during its time away from the Australian track camp at the Del Monte (an old pub, the building at Henley Beach near Adelaide has been a haven for cyclists and cricketers for years). In the lead-up to major international events there's a German equivalent in Buttgen. "We're going back to a place that we're very familiar with," said Ian about the overseas centre which boasts its own velodrome. "When we go there, everyone knows they're there to do the job and it's a really good environment."
After the World's, the shadow Olympic squad was bound for Buttgen. And while the final selection for Athens had not been named at the time of publication, the obvious candidates had been summoned for the final preparation period. The riders who Ian is responsible for are those those who contest the endurance events in Athens. The pursuiters as well as the candidates for the Madison and points races are under his guidance. These are the riders we spoke about at length during a series of discussions which began at the national championships and concluded in this interview on the penultimate day of competition at the World's.
Do you think that Katie Mactier can find a couple of extra seconds? How do you think you can help her achieve that?
Katie Mactier took silver at the 2004 Track World's
Photo ©: Mark Gunter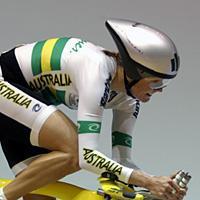 Ian McKenzie: "That's a very good question and one I was considering while I watched her race in front of a home crowd at the world championships. I need to discuss some things with Katie and her personal coach, John Beasley. Together we need to think about how she can improve on what she's already achieved in such a short time as a pursuit rider. We don't want to change her approach too dramatically but there are a couple of areas where we can lift her performance by about five per cent.
"Quite clearly it's the pacing strategy that we need to alter slightly while maintaining an approach that best suits the way she rides. She starts at a very rapid speed and that's her strength, but the trick is to try and get her to maintain that through the entire three kilometres. The other thing is to get a bit more control over the whole race procedure, including the pre-race. We need to look at the way she manages herself and try to relieve some of the stress which she puts herself under.
"She realises that she doesn't cope too well with the pressure but Katie is already working on that. She has put some steps in place to improve how she deals with the strain, and I'm happy with her approach. It's good that she realises that this in an area in which she has to improve. It was a similar scenario at the World's in 2003. I spoke with her and John at the end of last year - just outlining that managing stress is an area that I thought needed addressing - and they did some work on trying to ensure that she maintains her calm, but obviously it still needs a fair bit of work.
"She really needs to come up with a routine that gets her in the ideal arousal state. She doesn't want to be too excited and she doesn't have the sort of character that would see her ever approach a race under-aroused, but she just has to be comfortable.
"I think that's the job of the coach as well as the athlete, the psychologist and anyone who she has real faith in. But it needs to be a coming together of different perspectives and, if she has confidence in the people who are trying to help, then I think we will see Katie find enough belief in herself that she'll make it work."
Kate Bates tried a bigger gear in her final qualifying ride at the World's and clearly Sarah Ulmer is riding a large combination. Are you tempted to start trying a similar approach with Katie to help her keep the pace alive through to the end of the third kilometre?
Kate Bates will most likely use a larger gear for the IP
Photo ©: Shane Goss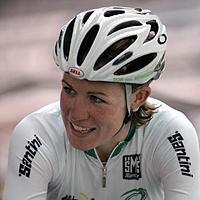 "We could do something there, but once again it's something that Katie has to be agreeable with. She likes everything to be in place and she needs to have confidence in what she's doing. So if we decide to go for a larger gear, it would also be Katie's decision and she would need to do plenty of work on it to make sure she's confident that it's the right thing. But that's probably the way we'll go."
It's good to see Ashley Hutchinson being part of a winning combination in the team pursuit. He seems to be very strong - especially given that you put him in as the starter in qualifying - do you see him replacing Graeme Brown in that position at the Olympics?
"I consider Graeme to be the best starter in the world at the moment and don't think Ash is quite at that level yet. He's been an asset to the team as we've seen at the World's and, although he got into a little bit of trouble at the end of the race, he showed that he really wanted to be there. That's very admirable.
"Steve Wooldridge did a lap and a half turn in the qualifying and in the final we saw him put the team back in front with a huge two-lap effort. He took it upon himself to do this because the team had just dropped off the pace slightly in the second kilometre and he decided that he'd put in a really big effort in an attempt to get the momentum back. It was an excellent call and it also gave Ashley an extra half-lap of relief. What Steve did was a really good thing for the whole team.
"These guys are so experienced that they know what's going on out there. It's too hard for a coach to try and dictate details like how long a turn at the front should be during the race. I'm concentrating on the race schedule and I have to have faith in the guys on the track to call those things themselves."
What are your thoughts on Bradley McGee's ride in the Giro d'Italia. He was supposed to go there for the prologue and a bit of good training... then he finishes in the top 10 overall?
Brad McGee will be going for gold in the men's IP
Photo ©: Nick Rosenthal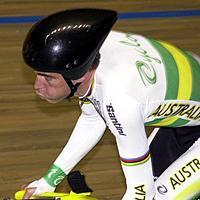 "First of all, I think it's a fantastic effort by Brad. He's a superb athlete and I think he's still finding his limit... if there is one. He just keeps getting better and better. Judging on what he's doing this year, he's clearly at the height of his physical powers and I think it should all go well in the lead-up to the Tour de France. In the last couple of years, he's learnt what his body is capable of in terms of recovery. So he and his team should be experienced in managing his progress through the Tour and I fully expect that he'll come out of that race at another level. That's an exciting prospect for the Olympic Games."
We've talked about the chance of there not being an Australian Madison partnership at the Olympics. Is that still the case?
"It depends on what happens. We've got to see the entire make-up of the actual Olympic team; whether the endurance riders get six or seven riders, and that's up to the selectors. They'll be looking at which events represent the best medal prospects."
Going into the Sydney Olympics, there was always a big focus on Charlie's role in the team. He got more headlines than you ever have, but you've achieved more results. How are you coping?
"First of all, I prefer to stay out of the spotlight. I do this job because I enjoy it. I want to win, but as soon as I stop enjoying it, I'll stop. All the extra hassles that can be created are ones which I'd rather avoid. If there is another option to steer clear of dramas, then I'll try and find it. There is always more than one way to go about solving a problem. These riders put their lives on hold significantly in an attempt to achieve a result so I try and give them the best opportunity to show that they're good enough."
What's the highlight since you've become the endurance coach?
Manchester a highlight for McKenzie
Photo ©: D.J. Clark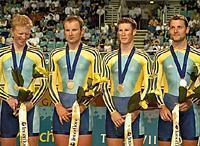 "There's been a few. The world record in Manchester at the Commonwealth Games. I don't think there was one person - including myself - who thought we could get the world record, let alone win, so that was a real highlight. But, honestly, it was more of a shock than anything else.
"Then to have a bit of pressure and come back and beat the rest of the world seven weeks later - just to prove that it wasn't just luck - that was, in my opinion, a great achievement. It was a sign that we were on the right track and doing things well.
"To try and reproduce that again the next year was a big ask, but for the guys to come out and ride a 3:57 at the World's in 2003 was phenomenal. The highlight was the winning ride in Stuttgart. The ride was as close to perfection as I've ever seen in a pursuit."
Luke Roberts doesn't think the record will drop again for quite a while because the track in Stuttgart was longer and more suitable for faster times. Do you agree?
"I'm not really sure. Earlier in the year, I saw the results from the German national championships and there were some very quick times there. So I thought the record would be broken by whoever won the title, but I didn't think a 3:57 was possible."
When the Australian team rode 3:57.280 in the pursuit in 2003, the media didn't seem to focus on the fact that they had ridden the fastest time ever, or the world championship title. Instead it just created a headline that the Australian team was now the favourite for the Olympics. Do you find that frustrating?
En route to another WR in Stuttgart
Photo ©: Hennes Roth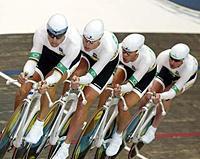 "I'm in two minds about that. The people in cycling - and that's who I care about - they're the people who give the riders and the team as a whole respect. If they witness something special, they realise what's been done. Since then, 3:55 is a time that's been mentioned, but don't think about that sort of thing. If we win in Athens this year, then I'll be happy. To talk about a time, is academic. It's just a figure to me. I think it's probably a little bit more important for the riders. What it does for them is it gives them a goal. It stops them from resting on the laurels and keeps them motivated. Sure, they want to win but in the back of their minds, they want to get the 3:55 because it's been mentioned so much. But it's never something that I have spoken about. It's more speculation from others outside the team environment."
The reaction from the Italian media when the team broke the world record for the second time wasn't particularly complimentary. Is there a way of explaining this constant improvement?
"I don't know how you're going to eliminate skepticism. It's been around for so long. These days there is always suspicion, if a team is successful there's doubt. Now that we're on top and doing some fantastic times, we've got to expect that other nations are going to start questioning us. We just have to cop it on the chin, still play the game clean like we do, and try and set an example to show that extraordinary things can happen when you're doing it properly.
"The reason why we're now on top now is all about the whole structure of cycling that was implemented in Australia back in the 1980s. The current success is a carry over from the foundation that was laid down years ago. There's a slightly different system in the last three years. We're now using riders who have a different development base than what was available before the last Olympics. This is an evolution of the whole process. None of this would ever have happened if we didn't get the whole of Australian cycling up to a professional level with state institutes and the national institute. And that goes for more than just what's happening on the track but also what's happening in races all over the world.
"We've just developed the infrastructure to such a point that we're now reaping the rewards now, and it's happening in every one of the cycling disciplines."
Looking at Athens, what's a realistic forecast for what we can expect from the Australian team?
"I'm not going to put out medal predictions, but I think we'll be very competitive in the individual pursuit - with Bradley and Luke. I think we'll see Luke in better condition than what he was at the world championships in Melbourne. The teams pursuit; I believe we are very competitive there. The Madison and the points race... well, there's still a bit of work to do there, but hopefully we can put in a good performance.
"On the women's side, I think that with Katie Mactier and Kate Bates in the individual pursuit we have two very good riders. At this stage, I think Katie is our strongest medal chance. But in the women's points race, whoever gets the start there - and I think that'll be Kate - will be competitive.

Rob Arnold is the publishing editor of Ride Cycling Review. This article appeared in the latest edition of Ride Cycling Review. For further information about this title and to subscribe, click here