The current time in Athens is 01:46 on October 3, 2023 - For current weather, click here
28th Olympic Games - JO
Athens, Greece, August 14-28, 2004
Wednesday, August 25, 2004
Dawson happy, even without metalware
Coach Macca ready to buy medals himself
Peter Dawson (3rd R), in the TP qualifiers
Photo ©: epicimages.us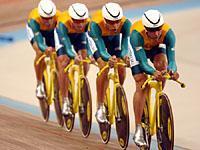 Although the Australian Olympic Committee has added its voice to the clamour for medals to be awarded (see previous story: British and Australians appeal for extra team pursuit medals) to all riders who took part in Australia and Britain's gold and silver team pursuit campaigns, at least one of the riders in question says he's happy that his team won, whether or not he takes home a gong.
The AOC and British Olympic Association have requested that medals be awarded to riders who took part in the earlier rounds of the team pursuit - Australia's Stephen Wooldridge and Peter Dawson and Britain's Chris Newton and Bryan Steel.
In 2000 all member of the victorious German team took home medals after the team appealed, and a similar decision is being sought this time.
"Hopefully they'll go on the same generosity system, and Stephen and myself will be given a medal," said Peter Dawson, who was a member of the team that qualified fastest for Australia. "But if not I'm still happy to be a part of it."
Australia's endurance track coach Ian McKenzie said it was a painful situation to drop Dawson and Wooldridge, both world champions, said he'd happily foot the bill for extra gold medals if necessary.
"It's a horrible, horrible position to have to be in," McKenzie said. "I'm confident we would have won with Pete or Steve in, absolutely no doubt and it was a tough decision.
"If we have to buy medals, I'll pay for them myself personally."
Brad McGee, who rode the first round and final, said he had been thinking about the riders who missed out as the team won. "That's all I thought about as soon as I crossed the line, the boys who weren't there," McGee said. "It's bullshit there are only four medals."
Dawson and Wooldridge both shed tears when McKenzie told them on Sunday night they would be on the outer for the final after McGee, Roberts, Brown and Lancaster broke the world record. Dawson rode in all three of Australia's world championship wins in 2002, 2003 and 2004 and Wooldridge was in the 2002 and 2004 teams.
It was too much for Wooldridge who stayed in the athletes' village and didn't go to the velodrome. But Dawson couldn't miss seeing his teammates win gold, even though it was the hardest thing the West Australian had done in his 22 years.
"I can't really describe it. It's something I've been working for for four years," Dawson said. "To be told you're not going to be a part of the final part is pretty devastating, it's obviously hurting. Now we've won the gold medal, I'm sure I'll get over it and look for Beijing in 2008. Steve is the same as me, he's obviously finding it hard. He's not here.
"I can't believe I was able to stand up there and do that today. Probably the hardest thing I'm ever going to do in my life is stand there and watch those boys do what they did and watch them get the medals without me on the podium. I'm extremely happy for them. Look out 2008 because we'll win again."
He helped his teammates with their bikes as they went to the line, stood in the pits in tears as they won the gold, embraced them trackside when they finished and then scampered off to get them all beers to celebrate.
AAP contributed to this story