The current time in Athens is 17:04 on September 30, 2023
Olympic Cycling News for August 17, 2004
Edited by Jeff Jones
Van Moorsel will ride TT
The favorite for the race, Leontein Van Moorsel
Photo ©: epicimages.us

Leontien Zijlaard-van Moorsel is expected to start in the Olympic women's time trial after her bruising fall during the cycling road race on Sunday. The 34 year-old Dutch world and Olympic champion badly bruised her shoulder, elbow and hip when she crashed two laps from the finish in the road race won by Australian Sara Carrigan.
Zijlaard-van Moorsel was badly shaken and was unable to rejoin the race after landing heavily on the road near the start-finish line. She was too sore to train on Monday and intends taking part in open training for the road time trial on Tuesday.
"I will go for it," said Zijlaard-Van Moorsel on Monday. "I've not trained so hard for nothing. The time trial will hurt anyway, so a little bit more pain won't matter. When I lay on the asphalt yesterday, I thought it was over then. But this is not the way in which I want to end my career, that's why I am prepared to do it on Wednesday."
Dutch NOC official Nathaly Smeeman said on Monday, "This morning she still had a headache and her hamstring was painful."
Smeeman said Zijlaard-van Moorsel will decide after the time trial whether to compete in Saturday's 3km individual pursuit on the track, an event she won at the 2000 Sydney Olympics.
© AAP
An interview with Michael Rogers
Time trial favourite
Micheal Rogers
Photo ©: epicimages.us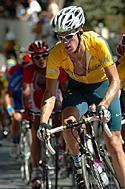 Australia's Michael Rogers, the de facto world champion after David Millar's confession of EPO use, spoke with Cyclingnews' Athens correspondent Rob Jones for a few minutes Monday evening after his first ride on the Olympic time trial course - 24 kilometres out and back run along the coast starting and finishing in Vouliagmeni, which the men do twice for a total of 48 kilometres.
Cyclingnews: Now that you have had a chance to ride the course, what are your impressions of it?
Michael Rogers: Well, it is certainly quite a hard course. The wind will be a major factor, and there are enough rolling climbs to make it very difficult. It was really gusty out there today, and in six kilometres the wind can change directions two or three times.
CN: How does it suit you, personally?
MR: For me, it couldn't be better. The climbs and the false flats will make it very, very difficult, and suited to my riding.
CN: With all the wind, does that mean any change to your setup. For example, will you reconsider using a disc?
MR: No, I certainly expect to stay with my standard setup, my standard TT wheels. I will use a disc on the back and a Mavic 5 spoke on the front.
Click here for the full interview
Wood aims for the TT
Australian Oenone Wood, who sacrificed her chance of a medal in the women's road race for the greater good of the team, was Monday confirmed as Australia's starter in Wednesday's time trial at the Athens Olympics.
World Cup leader Wood was expected to be Australia's major medal hope in Sunday's 118.8 kilometre race around Athens' city streets, but in an act of selflessness, the 23-year-old gave away her chance to help teammate Sara Carrigan, who edged out German Judith Arndt for gold in a tremendous surge to the finish. Wood will now get her chance in the individual time trial at Vouliagmeni tomorrow.
With 10km to go in Sunday's road race, Wood gave Carrigan the call to attack and chase down the gold medal, while she remained in the pack waiting for a move which didn't eventuate.
"That's what you have to do, the reason we won is because we're one of the few teams who came totally committed to working as a team," Wood said. "It was a fantastic day. We couldn't have had a better team on the day.
"That's what we said before the race, we're all committed to the team result and that's what we got, we got the gold medal. To come to the Olympics and win a gold medal and know that you've contributed to that, that's fantastic."
Team coach James Victor praised Wood for the sacrifice denied of a bronze medal by centimetres. "Oenone's teamwork, making that call for Sara to go and sitting back and letting all the other teams use their energy to chase, that's the most unselfish act you could ever ask of a teammate," Victor said.
© AAP
Australian track team arrives
The Australian men's cycling team arrived in Athens from Germany yesterday and were more than happy to talk at the airport - amongst themselves. Despite talk of a rift in the group key figures Ben Kersten and Sean Eadie seemed reasonably happy, the former waving and smiling at the assembled media and chatting with teammates.
Kersten, who has been told by coach Martin Barras he will only be a reserve for the team, had initially challenged Eadie's spot in the men's sprint.
Kersten had been due to appeal his initial non-selection for Athens on the grounds that the selection rides by Eadie and himself had been held under different conditions. The appeal was not heard however as Kersten gained a spot in the team when Jobie Djaka was dropped from the squad after he admitted lying to the Anderson enquiry into drug use at the Australian Institute of Sport.
© AAP
(All rights reserved/Copyright Knapp Communications Pty Limited 2004)