The current time in Athens is 03:15 on October 4, 2023
Olympic Cycling News for August 16, 2004
Edited by Jeff Jones
Arndt angry at German federation
Arndt nonplussed
Photo ©: AFP

Women's road race silver medalist Judith Arndt was fined 200 Swiss francs by the UCI for unseemly behaviour, after raising her middle finger as she crossed the line in Athens yesterday. The top-ranked German bristled during the post-race press conference over her cycling federation's refusal to nominate her partner Petra Rossner for the Olympic road race.
Asked by reporters if her finger gesture was aimed at winner Sara Carrigan, Arndt said, "It wasn't anything to do with Sara."
The 28 year-old blamed the federation for making the German team's task so much harder to win the gruelling 118.8 kilometre race around Athens' city streets. "Of course, we're happy about the silver medal but if the nomination had been given to Petra and she had been on the start line then things would have been different," Arndt said. "We wouldn't have had to race so recklessly and after all she is the fastest sprinter in the world.
"The anger about Petra's non-nomination has not gone away. We gave the gold away," she said. "Petra is the best sprinter in the world. I'm sad that she did not ride with me. I dedicate my medal to her."
Judith Arndt expresses her frustration
Photo ©: AFP

37 year-old Rossner, from Leipzig, won the 3000m individual pursuit on the track at the 1992 Barcelona Olympics. She finished a disappointing 30th in the Olympic road race at Sydney in 2000, but bounced back to win the German national title this June.
Arndt's displeasure struck a chord with the Australians, celebrating Carrigan's triumph just seven years after she was first given a road bike as part of a talent identification program at her local high school. "I'm glad she (Rossner) didn't get a ride," Australian women's road coach James Victor said. "They would have been a bigger threat if she did. "It (Rossner's omission) destabilised the Germans with a bit of friction there."
Arndt's sourness was in sharp contrast to the ebullience of Carrigan, savouring her major success in cycling. "It's absolutely awesome, to be Olympic champion is incredible. I will treasure this day forever," said Carrigan, who regards Arndt as one of her cycling heroes. "I've always dreamed of going to the Olympics when I was very young, I wasn't sure at what sport. To be here celebrating a gold medal is absolutely fantastic.
"Contrary to what people believe, cycling is a team sport and it was a matter of which Australian ended up on the podium. We'd been talking throughout the race and asking how each other felt and whether we were still sticking to our plan.
"I had fantastic legs and when I went, it wasn't too far from the end. When I was away by myself and found out I had 40 seconds on the bunch, it was all or nothing then, just go for the gold."
© AAP
Cooke "devastated"
After finishing fifth in the women's road race, British hope Nicole Cooke said she was "devastated" and "deeply disappointed" with the result. " I came to get Gold, but that's road racing, and I'm not sure I could have done much else," she said on her website, Nicolecooke.com. "Secondly congratulations to Sara Carrigan, she deserved it. You won't find a harder won Gold medal at these games, or in any race."
Nicole was frustrated in the final laps, when the breakaway didn't work as well as it could have. "When six or seven of us got away with a little less than two laps to go I expected that to be the decisive selection, and I thought the make up of the group was good. Slyusareva wouldn't work though. She wanted to save herself for the sprint and there were others who didn't contribute fully to the group.
"It's sport, and I believe it's only fair that everybody in a group should do their fair share of the work. I think that's the right belief, but maybe in future I should be more sly."
Cooke added that when Carrigan and Arndt attacked, she had just done a turn, and no-one else took the responsibility to chase. "If I'd gone again and chased them down I wouldn't have had the energy to get a medal. Sometimes you have to risk losing to win.
"I'll now prepare for the Time Trial, but honestly the Road Race was my best chance of Gold, and it will be hard for you to understand how disappointed I am."
Van Moorsel hopeful for the TT
Race over for defending champion Van Moorsel,
Photo ©: AFP

After crashing in the women's road race with 26 km to go, Dutch favourite Leontien Zijlaard-van Moorsel is in doubt for the time trial on Wednesday, but nevertheless hopes to be able to defend her Olympic crown there. The 34 year-old multiple world and Olympic champion badly bruised her shoulder, elbow and hip when she crashed two laps from the finish in the road race, won by Australian Sara Carrigan.
Zijlaard-van Moorsel was badly shaken and was unable to rejoin the race after landing heavily on the road in front of the stands near the start/finish line. "She is badly injured, but she is already thinking towards Wednesday's time trial," Dutch team doctor Tjeerd de Vries said late Sunday. "We shall examine her every day and we will see if it's possible for her to ride in the time trial."
The Dutch queen of cycling said that she was also suffering from bad headaches and was definitely not happy about crashing out of the road race. "I'm very disappointed. It's very bad to lose my title this way", she said.
Zijlaard-van Moorsel is one of the greats of women's cycling and won the individual pursuit/time trial/road race triple at the 2000 Sydney Olympics.
© AAP
Bessette doing better
Canadian Lyne Bessette is faring a little better after being involved in the same crash as Zijlaard-van Moorsel. Canadian team manager Sean O'Donnell told Canadian Cyclist that, "Everything looks okay. She is a little stiff, and some bruising will come up over the next couple of days, but it is nothing that will keep her out of the time trial."
Thomas Dekker crashes
Dutch rider Thomas Dekker, scheduled to ride the time trial on Wednesday, has crashed during training on Monday. Dekker was riding close to the Olympic village when he lost it on a hairpin bend. Fortunately, he wasn't seriously injured and it shouldn't affect his chances in the time trial.
Bäckstedt calls it a season
Magnus Backstedt (Swe)
Photo ©: AFP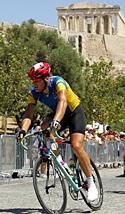 Swedish rider Magnus Bäckstedt (Alessio-Bianchi), who made the longest breakaway in the Olympic men's road race of over 110 km, has decided to call it quits for the season due to ongoing back problems. He will therefore not be riding the time trial on Wednesday.
The winner of this year's Paris-Roubaix told Cyclingnews that, "I was suffering from them (back problems) that bad in the road race I had to stop, and seeing that they have been going on since the Tour I have decided to call it a season. I will fly to Sweden and do an MRI scan and see a back specialist at the end of the week, just as a precaution. Then I will start some kind of a rehab program as soon as possible to be able to get back in to training as soon as possible, but not until I have trained my back muscles to be strong enough to cope with the pressure."

(All rights reserved/Copyright Knapp Communications Pty Limited 2004)