The current time in Athens is 20:50 on September 23, 2023
Olympic Cycling News for August 16, 2004
Edited by Jeff Jones
Women's Road Race: Post race comments
The Olympic women's road race was a hard fought, aggressive and very tactical affair, a marked difference from the rather damp race in Sydney four years ago. In winning a two-up sprint with German Judith Arndt, Australia's Sara Carrigan scored the biggest victory in her still young career, the second road cycling gold medal for Australia after Kathy Watt's win in the road race in Barcelona 1992. And given Oenone Wood's fourth place and Olivia Gollan's 12th, it was clear that Australia got it right on the day to put their riders in the best position.
Cyclingnews' correspondent in Athens, Rob Jones, spoke to the riders after the race.
Sara Carrigan (Australia, 1st)
Sara Carrigan (Australia)
Photo ©: epicimages.us

An Olympic gold medal is the dream of most Australian athletes, and Queenslander Sara Carrigan achieved this ambition today in Athens. "It's absolutely awesome to be the gold medal winner," she exclaimed at the finish. "I will treasure this day forever. The race today was a complete team effort by the Australian team."
Carrigan described the finale, where she was alone in front before being joined by German motor Judith Arndt. "When the break started to close on me, I increased my pace, and then Judith came across. Once Judith was with me, I did not have to work so hard. Since Oenone (Wood) was behind and she is an excellent sprinter, so I could sit on. Judith did most of the work, but I did some. It was a perfect situation.
"We knew if it came down to a bunch sprint, that Oenone would get the support. She is the World Cup leader and the best sprinter. Otherwise it meant we were more flexible when others were in breaks."
Carrigan credited the team's success to good preparation, out of the spotlight of the drug scandal-focused media in Australia in recent months. "Training in Italy we were not exposed to the constant Australian media. We could concentrate on perfect preparation," she explained.
Judith Arndt (Germany, 2nd)
Judith Arndt expresses her frustration
Photo ©: AFP

After doing most of the work in the winning break with Sara Carrigan, only to finish with silver, Germany's Judith Arndt came across the line and flicked the bird "to the world". Later, when confronted by officials, she claimed that she did not, that it only looked that way and she was being misunderstood. But it is well known that she is extremely angry with the German Cycling Federation for not choosing her good friend and teammate Petra Rossner for the team. She was later fined CHF200 for "unseemly behaviour" for the gesture.
"I caught up to Sara and did a lot of work," said Arndt. "It would have been different if Petra (Rossner) had been here. She is the fastest sprinter in the world."
Arndt also experienced a mechanical problem early in the race with a plastic bag getting entangled in her wheels, but she brushed this off as a minor matter. "That was bad luck, but the mechanic removed it quickly and it was never really a problem."
Olga Slyusareva (Russia, 3rd)
Olga Slyusareva (Russia)
Photo ©: AFP

The top Russian rider Olga Slyusareva won the sprint for the bronze medal, 39 seconds behind winner Carrigan. "I really don't know what to say, it will only sink in in a few hours. All I can say now is that I am very happy."
Asked about the crash of Leontien Zijlaard-Van Moorsel, Slyusareva replied, "The crash of the Olympic Champion is a real pity, because no one wants to win this way."
Sue Palmer-Komar (Canada, 11th)
Canada's best placed rider was Sue Palmer-Komar, who finished in 11th place, 1'13 down on Carrigan. The loss of Lyne Bessette to a crash really hurt the Canadians chances, but Palmer-Komar tried to make the best of it.
"During the race Lyne (Bessette) and I discussed tactics and also with Eric (Van Den Eynde). We wanted to be the ones being chased, rather than the ones chasing. I think we gave it a really good shot and were a factor in the race. It was just bad luck Lyne (Bessette) having a crash.
"We had instructions from Eric. I think I was to go (when Lyne went), but the radios were not that clear, so Lyne thought she was to go. When she was getting caught, Eric told me to counter. So I made my way to the front and attacked. I felt better once the race started than I thought I would, but still not my best day. Otherwise I think I could have stayed away, I think.
"It could have been worse, but I wanted better. I think we had a better team than the results showed."
Women's road race coverage
Full results, report & photos
Live report
Photos
Related link: Aussie women all fired up - Shortly before the Games, the three riders of the Australian women's team spoke to Kristy Scrymgeour about their chances and the road to Athens, and revealed a team unified behind one goal: a gold medal or two.
Americans come up short
The US team enjoys a light minute
Photo ©: epicimages.us

Although the American team of Kristin Armstrong, Dede Barry and Christine Thorburn was expected to be one of the major players in the women's road race, the squad missed out on a medal, with Kristin Armstrong the best placed finisher in 8th, 42 seconds behind the winner.
When the eight woman break formed on the second last lap, the Americans missed it and Thorburn drove the peloton in pursuit. The gap was only 18 seconds at the finish line with one lap to go, and Armstrong and Edita Pucinskaite (Lithuania) made it across to the break. But when Carrigan and then Arndt made the winning move on the last lap, Armstrong couldn't respond and ended up in the group that was sprinting for bronze, finishing 8th after a late attack with 750m to go.
"I analysed who was with me in the break at the end and it was full of pure sprinters," Armstrong said in reference to the presence of Slyusareva, Melchers, and Wood. "I tried to make a move at the end for the bronze and just wanted to say I tried at the end of the day."
The women rode in relatively cooler but windier conditions compared to Saturday's men's race, and that made for a difficult day. "Given the difficulty of the course and the conditions, we wanted to stay at the front," explained Dede Barry, who finished 16th. "But at the same time we needed to conserve our energy for the last few laps."
At the end, the U.S. team was satisfied with its efforts, but not with the result. "The team was strong and we rode well," commented Barry. "Things obviously didn't pan out the way we had hoped, but we gave it our best shot."
Christine Thorburn chases the lead group
Photo ©: epicimages.us

Thorburn rode an impressive race to finish 15th. "We had the ability to medal," explained Thorburn, "So in that regard we're disappointed. On the last lap I pulled quite a bit to help get Kristin across to the break. Dede didn't quite have the punch in her legs today, but she'll be good for the time trial."
Barry and Thorburn will contest the time trial on Wednesday as the road cycling events conclude before giving way to track cycling. "I have good form. I confirmed that today," Thorburn assured. "The time trial course is definitely hard, but not technical."
Van Moorsel hurt
Leontien Van Moorsel goes down,
Photo ©: AFP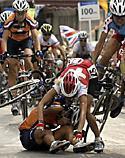 Dutch rider Leontien Zijlaard-Van Moorsel saw her hopes of a second women's road race gold vanish with 26 km to go in the race when she crashed hard and abandoned. Unfortunately she only had herself to blame as the crash happened when she was looking back over her shoulder. She clipped the wheel of Swiss Nicole Brändli, bringing both her and Canadian Lyne Bessette down. Brändli was the only rider able to finish, but lost more than four minutes to the winner.
After the crash, Zijlaard-Van Moorsel remained on the ground for several minutes, before being taken away in an ambulance. She suffered from a bruised shoulder and hip, which may affect her chances in next Wednesday's individual time trial.
Voeckler experiences the Olympics
French champion Thomas Voeckler was the best placed French rider in the men's road race, finishing 20th, 12 seconds behind winner Paolo Bettini (Italy). Voeckler was well placed all day, but didn't have the power to follow Bettini and Paulinho on the penultimate lap.
"It was a very hard race," he told Reuters. "The objective wasn't to show the jersey, but to give it the maximum. The whole French team was well beaten. Richard (Virenque) in particular tried, and he could have succeeded with a little more luck. I'm a little disappointed, but we were more than 150 at the start and there are only three medals awarded."
Voeckler said that the hot weather made it particularly difficult, but he had no illusions of winning a medal. "I've discovered the Olympic Games," he said. "But the Tour remains my most beautiful experience. For the Games to be as good, it would be necessary for me to win a medal, perhaps."
McEwen feels the axe
A very tired and disappointed Robbie McEwen
Photo ©: epicimages.us

Australian Robbie McEwen says he felt like his legs had been chopped off in the sprint finish in the Olympic men's road race. McEwen finished 11th in the 224km race in searing heat around Athens' ancient city when for once his legs couldn't respond in the final sprint.
"In a word, excruciating. Six hours in, I don't know how hot it was, it felt like 50, it was probably only 41," he said. "It was just a really tough race with that climb 17 times. Normally you start to sprint and it's on automatic and you just go. I was literally having to push left and right and making my legs go around because when I started to go and tried to sprint it was like someone took an axe and chopped my legs off."
McEwen's teammate Stuart O'Grady called it the hardest one-day race of his life, with the 17 laps featuring a tough climb up the gruelling Lykavittos Hill.
"The last three laps was just pain the whole time just getting over that climb," McEwen said. "We both cramped in the last straight, you tend to get that after six hours in the heat and 225k. In the Tour de France we have days when it's hot like this. But it's different sort of racing, this is more intense.
© AAP
The "joys" of covering the Olympics
Olympic cycling is not the same as regular cycling when it comes to getting up close an personal with the riders. In Athens, like any other Olympics, media access to the riders is a major headache, brought on by strict Olympic rules and very tight security, as our correspondent Rob Jones writes from Athens.
Access is proving to be the biggest bugbear of the Games. Cycling press (and the UCI media liaison, Enrico Carpani), are used to being able to mix with the riders both pre- and post-race, and photographers are used to being able to go pretty much anywhere they want.
However, as we are constantly reminded "this is the Olympics". There is no access to the barricaded course - police with machine guns will immediately pounce on you. We have a few photo zones, but they are also behind the barricades, which sort of defeats the purpose. There are no photo shuttles: usually there are vehicles that constantly circulate the course, and photographers flag them down to be transported to different areas. Here, you use the subway and walk/run everywhere. To enter the finish area, you must go through security screening - x-ray and metal detector - each time.
Click here for the full feature

(All rights reserved/Copyright Knapp Communications Pty Limited 2004)