The current time in Athens is 23:28 on January 28, 2023 - For current weather, click here
28th Olympic Games - JO
Athens, Greece, August 14-28, 2004
Monday, August 16, 2004
An interview with Michael Rogers
Time trial favourite
Micheal Rogers
Photo ©: epicimages.us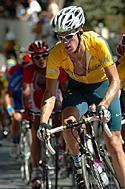 Australia's Michael Rogers, the de facto world champion after David Millar's confession of EPO use, spoke with Cyclingnews' Athens correspondent Rob Jones for a few minutes Monday evening after his first ride on the Olympic time trial course - 24 kilometres out and back run along the coast starting and finishing in Vouliagmeni, which the men do twice for a total of 48 kilometres.
Cyclingnews: Now that you have had a chance to ride the course, what are your impressions of it?
Michael Rogers: Well, it is certainly quite a hard course. The wind will be a major factor, and there are enough rolling climbs to make it very difficult. It was really gusty out there today, and in six kilometres the wind can change directions two or three times.
CN: How does it suit you, personally?
MR: For me, it couldn't be better. The climbs and the false flats will make it very, very difficult, and suited to my riding.
CN: With all the wind, does that mean any change to your setup. For example, will you reconsider using a disc?
MR: No, I certainly expect to stay with my standard setup, my standard TT wheels. I will use a disc on the back and a Mavic 5 spoke on the front.
CN: Switching to another topic - you are, for all intents and purposes, the Time Trial World Champion now that Millar has admitted to EPO use. Has the UCI been in touch with you to discuss a medal ceremony, or providing you with the rainbow jersey?
MR: No, I have had no contact from the UCI at this point. Right now I am concentrating on the Olympics, but I would like to have the opportunity to wear the (rainbow) jersey before the World's. There is GP Nations and Eddy Merckx coming up.
CN: Not having had the chance to be on the podium and receive the title and recognition last fall - is that something that will motivate you here?
MR: Certainly, it would have been nicer to receive the medal and jersey, and stand on the podium, but now that is in the past, and all I can concentrate on is Wednesday's race.
CN: Finally, who are you picking as your main rivals?
MR: Well, on the day anyone can win, and I expect there will be five or six unexpected good performances, because anything can happen. However, the main riders I expect to do well are, of course, (Jan) Ullrich, (Viatcheslav) Ekimov and (Jose Ivan) Gutierrez.